So often, athletes are trained to give canned responses to media questions. Coaches, sponsors and managers walk them through every step of dealing with an interview. The result becomes a series of pre-packaged quotes and vague optimism that makes one athlete indistinguishable from the rest. You see it everywhere from the Olympics to the amateur contest at your local beach break.
Photos: Rincon Super Session
onClick="window.open('http://espn.go.com/action/surfing/gallery?id=4926210','Popup','width=990,height=720,scrollbars=no,noresize'); return false;">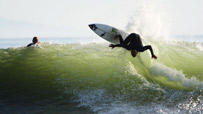 WIDTH="203" HEIGHT="114" BORDER="0" ALT="Bobby Martinez">
Martinez isn't the only big-name surfer ripping Rincon. onClick="window.open('http://espn.go.com/action/surfing/gallery?id=4926210','Popup','width=990,height=720,scrollbars=no,noresize'); return false;"> Gallery »
Bobby Martinez, the Association of Surfing Professional's (ASP) 2006 Rookie of the Year and 2009 No. 8-ranked surfer, speaks pretty candidly -- no canned responses here. The reigning Teahupoo champ opens fire on the "bridge" year that will transition the tour from 45 to 32 surfers, the new one-tier ranking system that connects the World Tour with the World Qualifying Series, and even surfing's untouchable man, Mr. Kelly Slater. And he gets through the whole thing without saying "stoked" one time, which may be a surf media first.
Be honest here. Do you understand all the changes the ASP has implemented for 2010?
No. Not at all.
Well, how does the One World Ranking affect your approach to the season? Will you be doing more 6-stars than usual or otherwise approaching things differently than past years?
I'll do just a couple 6-stars. Other than that, I'm keeping the same routine.
Is the midseason cutoff going to wreak complete havoc, or do you think the surfers are prepared for it?
I don't know. I don't think anyone really knows, but it's the dumbest thing surfing has ever done. People are tripping, trying to think that if it's a one-ranking system, the sport will grow. I think it's stupid.
So, I guess you're not into the "bridge year" they've created for the 2010 tour?
I think of it like this: Unless you surf, you're not going to [care] about surfing. No one cares how many off the lips you do to win a contest. The only people who care are the surfing fans and the die-hard surfers. Other than that, people don't care. It looks boring unless it's the Eddie. With an event like that, people can be in awe of the big waves, but they're not into the number of maneuvers it takes to win at Snapper Rocks. It's just the fact. I've watched surfing with people from where I grew up -- people who don't surf at all. They ask me, "Why does everyone do the same thing?"
That's just what it looks like when people don't know about surfing and don't care to know about it. They think this one-tier system will make more people watch surfing, but it's not going to do anything except confuse people about how the rating system works.
So you think the ASP was better off in 2009?
Yeah! And if you'd asked a bunch of surfers what they really think they will say the one-ranking system is [bull]. At least that's what a lot of them have said to me!
Would you be a vocal supporter of a new tour by another governing body?
Yeah, I think so. If it was something I believed in, then yes. But if not, I wouldn't.
What would that tour be? What are the ingredients everyone is looking for?
For me, it's just surfing against the best, to maybe one day see your dream come true by winning amongst the best. But I know the surfers as a whole. All it comes down to is money. No one cares what tour they're on, just as long as they can make the most money as possible before they retire. That's it, in black and white. We have these meetings on the ASP tour with all the surfers. When this Rebel Tour came up, the only thing that mattered was the money. Everyone wanted to go to this Rebel Tour because they were saying that last-place earnings were the same as first in an ASP event. So if anyone wants the best surfers in the world to compete on one tour, all they have to do is put a lot more money for prize winnings and [the surfers] will all jump on board. That's the truth. I'll go with them too if I get an invite.
Do you foresee the increase in prize money drawing new top-level surfers out of the woodwork?
No, I don't.
Well, what used to be an obligatory one-year WQS slog can be trimmed to a matter of months by a hot surfer in the new system, right?
I guess that's their plan, but why have someone come on halfway through the year if they can't even win a world title, no matter how good they do?
How does your new deal with O'Neill affect you going into this year's tour?
I am very happy to be with O'Neill. It's the first real surf company I've ever been with, and it feels good to have a great support team. It definitely takes pressure off me, because in the back of my mind I don't have to hope for a sponsor. Now I have one. I can forget about that and just try my best surfing this year. It feels like a weight has lifted off my shoulders.
Let's talk about Kelly Slater for a minute. Is he at risk of becoming like Brett Favre -- tarnishing his legacy by staying in the competition spotlight for too long?
I don't know and I don't care. I just hate how he says he's not doing the tour and then he does the whole year. Obviously, he loves the spotlight, but to me I don't care what he does.
His board experimentation is clearly having an effect on design on and off the Tour. Have you made any changes to your quiver based on his ideas?
He's only riding fishes because he can't get a good shortboard. That's why I left Channel Islands. Like I said though, none of this is affecting me. I'm just going to go out in 2010 and do my best.