It's been two and a half months since Joel Parkinson finished runner-up to Mick Fanning in the race for the 2009 ASP World Title. And while the pain of defeat might have dulled slightly since that fateful day at Pipeline, there can be no doubt it's still at the forefront of his mind. He's had ten weeks to brew on it, to stew on it, to come to terms with the fact that at one point during the year him winning the title was a foregone conclusion and it was all for not. But being the resilient fighter that he is, after a brief cooling off period he refocused and retooled, and is eager to give it yet another go. The following are his thoughts going into the 2010 season.
Quiksilver Pro Preview Gallery
onClick="window.open('http://www.espn.com/action/surfing/gallery?id=4936893','Popup','width=990,height=720,scrollbars=no,noresize'); return false;">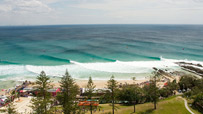 WIDTH="203" HEIGHT="114" BORDER="0" ALT="Quiksilver Pro Preview">
Get caught up on the Gold Coast stories to watch: onClick="window.open('http://www.espn.com/action/surfing/gallery?id=4936893','Popup','width=990,height=720,scrollbars=no,noresize'); return false;">Gallery ».
How are you feeling about the start of the tour?
I feel good. Really good.
How about compared to the state you were in this time last year?
Compared to last year ... I think I was a bit more anxious and nervous last year. The lessons I've learned and the knowledge I've accumulated in the last year means I'm way more relaxed now than I was back then. Last year I put a lot in, and I was a bit unsure how I was going to go. I'd put so much in that I was getting a bit unsure whether I was doing the right thing, unsure of whether I was trying too hard. Now I feel like I can juggle it all better. One bad surf would get to me at the start of last year. Everything had to be 100 per cent on. This year I know I just need to have a couple of key little points ticked off leading up to the event and everything else should just fall into place. The next week will just be light training and some enjoyable surfs. I'm not going to oversurf this week, that's a key. I've found a couple of good boards, so I'll just do a little time on them this week.
Lessons learned from last year?
It was an emotional rollercoaster, last year. At the end of last year I had a straight month of everything doing laps in my mind. I learned you have to be able to expel negativity out of your mind, and you've got to find ways of quickly gaining confidence in situations.
Has it been hard to bounce back after losing the title last year?
Yep, and it took me a while. It wasn't till the New Year started that a bit of the heartache went away, then when I started training for this year a bigger chunk of the heartache went away, and when we got that first swell and I started surfing for a new year I felt like it was almost completely gone. I'm sure I'm always going to have a taste in my mouth, I got so close, but I can't ever dwell on the bad things that happened last year. The good things I can take out of it is that I rode that rollercoaster last year, I went to hell and back on it, and if you put me on it again then I've already been there and know how to ride it. Anything in between those extremes two will be butter.
How's your surfing program been going?
January was pretty bad for waves here on the Gold Coast, but the first 10 days of February were really good. I surfed heaps of Snapper, so I don't even really need to surf it that much now leading into the contest. Once a week has been plenty. It's a zoo. I got up eight early mornings out of those 10 days of swell in the dark, and five of those days I surfed snapper from quarter-to-five till six-thirty. That's when you can ride it properly; you're surfing it with 10 guys and you can tune in so much quicker than surfing it Sunday lunchtime, which is impossible. During that swell there were no pros here, it was so much more relaxed. Now I can't even get a park down there. I feel like the circus arrives and I back off. I'm so tuned with that wave after those morning sessions that I'd rather get to know D-Bah a bit better, because we might end up around there. If I surf Snapper once a week I just try and find a window where I can have a quick surf and enjoy it.
Is the bank at Snapper in shape?
I haven't surfed it for four or five days, but when I surfed it last weekend it was pretty nice. It's deep out the back, which means if it's six feet it will handle it. A lot of the banks we have around here now from those huge swells last year that destroyed everything are all really deep, which means that if there is six or eight foot of swell they'll handle it.
Andy's been around ... you guys been hanging out?
Yeah, been surfing with Andy a fair bit. When he first got here three weeks ago we were surfing together most days, but I haven't seen much of him the past 10 days. I've been in Japan, and this week leading into the contest I think we'll do our own thing. I can't wait to see how he goes.
And what about the crop of new guys on tour?
Wow, there are some really good names in there. Owen, I think, will be unreal, as will Dusty. There aren't too many guys, the real freaks, who can jump on tour straight away and do well. I struggled to requalify on my first year. Kelly was a freak back in the day and he won the title, but first time around the tour can be overwhelming and a bit different, and it takes a bit of time to adjust. There's nowhere to hide when you surf a heat. I'm not saying they'll struggle, but look back at Adriano. He got a third here in his first event and didn't make a heat for a while after that. The tour first year is tough, but it's changed this year with it going back to 32. Everyone might be in a new boat. If it had been the same as it's been for the past 10 years I think we'd have a big advantage over the new guys, knowing the ins and outs, but we're a little more in uncharted waters. But the names that are there, I don't think it will take long for them to be up there challenging.
Someone who might surprise us all?
I'd like to say Jordy, but sometimes I think it depends what mood he's in. When he's on he's unbelievable. At the start of last year he started to learn how to switch himself on and off a bit. His surfing has always impressed me.
Been tinkering with your boards at all?
My boards haven't changed radically, but my fins have. I've been playing around with my fins. JS has started a new fin company called Kinetic Racing and he's got a model that's my usual fin, just core-filled and in a slot fin, and I've really been enjoying riding it. I've been moving them forward and putting bigger ones in the back. I'm riding a 6'2", and one board might be loose and slippery with the fins right up front, and then I've got a couple that are set back and tighter. It's been great playing with them 'cause I've ridden fixed fins for so long now.
And this will be the first year you've been on tour and Perry Hatchett hasn't been the head judge. What are you expecting?
I've been trying to think of life without Perry there and it's hard. I don't really know Richie, the new guy that well, but the panel that has been there the last few years is all still there. I just hope the experience is all still there with them.
The ASP Tour was criticized in certain circles last year about not rewarding progressive surfing enough. Do you think there will be a reaction to that this year, especially with a few air specialists making the cut?
It's always in the front of my mind to make my surfing more progressive. I think every guy on tour is trying to make their surfing more progressive. But progressive surfing isn't just airs and tricks. Progressive surfing is bigger harder faster as well. The worst thing you want to see is someone getting a 7.5 for six taps to the beach, while a guy who does two huge turns gets the same score.
For more from Joel Parkinson check out his blog at JoelParko.com.