Quiksilver Pro Round 3 Gallery
onClick="window.open('http://www.espn.com/action/surfing/gallery?id=4962422','Popup','width=990,height=720,scrollbars=no,noresize'); return false;">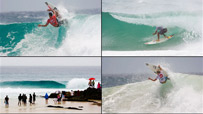 WIDTH="203" HEIGHT="114" BORDER="0" ALT="Quiksilver Pro">
Photo highlights of Round 3. onClick="window.open('http://www.espn.com/action/surfing/gallery?id=4962422','Popup','width=990,height=720,scrollbars=no,noresize'); return false;">Gallery »
Winning the world title was tough enough for Mick Fanning, but with a heady crop of talent hot on his heels, and some intriguing ASP rule changes this year, defending the title may be harder than he thought. But then Fanning takes it all in stride -- calm, cool and collected until he flicks the competitive switch. We caught up with him prior to the start of the Quiksilver Pro. We got the man's take on the new rules, his new boards and why his mates on the World Tour better know what the "cut off" means.
Looking back on it, what do you know about winning a world title now that you didn't when you won your first one?
Well, I know how to do it without letting it completely consume my life. I've worked at finding a way to flick the competitive switch on and off. My prep time for heats was a lot shorter last year which basically helped me reduce my stress levels and let me enjoy my time away even more.
What was harder, surviving the world title race or surviving the parties afterward?
Haha! Those parties were pretty intense. The title race was definitely a bigger challenge, though. Joel [Parkinson] put together a pretty remarkable early season. After J-Bay I knew if anyone was gonna catch Parko they'd have to get at least two wins. That was a tough challenge but that's why we do what we do.
You've had a few months to rest and recoup, are you ready to go for two?
That break is so short. Just when you finally get into chill mode you're suddenly down the beach pulling on an event jersey and getting ready to paddle out for your first heat. I'm prepared, though. I've been back into my training for a solid month and we've had some fun waves. I still don't have that magic stick yet but I've got the board that won me three events last year all cleaned up and ready to go if I need it.
Does getting asked if you're going for another title get old? How over it do you think Kelly Slater is of getting asked if he's going for a 10th?
If I'm on tour I think it's obvious I'm going for the title. I've never had a make-up-the-numbers mentality. If I'm on tour I'm there to win. Kelly's probably very bored of the 10th world title question, but it's a problem he's kind of created for himself. Instead of just saying he wants the 10th title he kind of avoids the question. Maybe he's worried about creating this expectation for himself and for other people. If he doesn't come out and claim that the 10th world title is what he's aiming for he retires having achieved everything he set out to and more. If he has that goal set in his head and doesn't get it he'll always be thinking about it.
Speaking of Kelly, what's your take on what down with him, the "Rebel Tour" and the ASP?
I think Kelly's made professional surfing what it is today. The rebel tour talk was a catalyst for the positive enhancements made to the ASP and without Kelly's openness to change it may not have happened.
His board experimentation is clearly having an effect on design both on and off the Tour, have you made any changes to your quiver based on his ideas?
At the start of 2009 I had my shaper, DHD, take almost an inch off the tail of my all-rounder. I thought I'd experiment a little with length after watching Kelly dominate the 2008 season on shorter boards. I really loved the way he was surfing and the variety in approach. I could feel the changes I made to my boards instantly. I felt like I had more options with my top turns and I've stuck with it ever since.
On to 2010, how well do you understand all the changes the ASP has implemented for the upcoming years?
I'm really clear on them, I played a part in introducing those changes. The challenge will be introducing the new ASP to the greater surfing audience and spectators so that they're clear. There will obviously be a period of adjustment but I feel we're on the right path.
How does the One World Ranking effect your approach to the season? Will you be doing more 6-Stars than usual or otherwise approaching things differently than past years?
I'm actually doing a couple of qualifying events but I'm not too concerned by the WQS, I'm confident I can hold down a position toward the top end of the ratings. I think the big changes there will be for the guys at the back end of the ratings. They'll be fighting hard to place in the top 32 after event five.
Is the midseason cutoff going to wreak complete havoc, or do you think the surfers are prepared for it?
We've all had plenty of time to get our heads around the midseason cutoff. The guys that haven't got their heads around it will be groveling on the WQS after event five.
Of the new rookie crop of surfers on tour, whose surfing are you most familiar with?
Owen Wright. We both ride for Rip Curl so I've been on trips with him and hung out with him in Hawaii. He's got that perfect blend of flow and explosiveness, when he puts them together on a waves it's absolutely insane to watch.
Who do you consider the greatest competitive threat out of the group? Why?
I'm going to say Owen. I think he's got what it takes in big and small waves. He's got power and flare. Perhaps his biggest advantage though is his World Tour experience as a wild card.
Do you foresee changes in the ASP judging staff altering the course of business on tour this year?
We'll see at the first event. All the ASP judges have come through the same system, they're all very experienced. What I'm looking forward to seeing is how the latest amendments to the judging criteria play out on the scorecards.
What about the schedule shakeup? Any opinion on J-Bay and Teahupoo getting flip-flopped? What about the loss of Mundaka and the addition of Portugal?
We had to try something new. We've been skunked at some of those events for too long on the old schedule. The new dates we've gone for are generally solid for swell, so fingers crossed we got it right. The loss of Mundaka was tragic but inevitable. Unfortunately that wave just can't deliver often enough in the event window and the backup destinations just didn't cut it. But I want to personally send a huge thank you to the people of the Basque Country for their incredible hospitality over the years. I've made friends for life at Mundaka and will definitely head back there if there's an event on the schedule or not. I love the place. The addition of Portugal is a great thing. That event went off last year, the waves were solid, the crowds were epic and there were top backup options depending on the conditions.