Vive Flores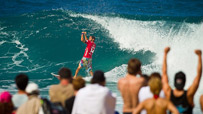 WIDTH="203" HEIGHT="114" BORDER="0" ALT="">
In an unlikely final, Jeremy Flores bested Kieren Perrow at the 2010 Pipeline Masters. Gallery

When the Billabong Pipeline Masters wound down to the semifinals, the Fantasy Surf world was abuzz. You could almost feel the middle-aged web addicts, early Pipe casualties and gushing teenagers building their excitement to a screaming idol-worshipping climax. Kelly Slater vs. Dane Reynolds; surf fanatic fantasy was about to become Pipeline reality.
The only thing standing between them was France's Jeremy Flores and Aussie Kieren Perrow, the very unassuming fellas who came into the season in the Number 14 and 21 slots. But despite how much the growing surfing internet fan base loves huge slob air attempts, ten titles, renegade biopics, Pipeline pedigrees, and hand-drawn logos, strategic surfing, wave selection and long barrels were going to determine the 2010 Pipe Masters finalists today.
Against Perrow, Reynolds caught one wave -- a very "unDane" 6.83. And Slater, sitting on a 9.83 for a perfect running Backdoor tube to roundhouse, made an uncharacteristic mistake. After Flores nailed a 9.57, Slater answered. But holding the lead and priority, he let Flores sneak into a final wave. In reality, it looked like an unimpressive medium-sized bump to most -- but Slater is supposed to know those waves better than most. Flores pulled in and got spit right into history, with a 7.93.
"It was my wave to take, and I let him get the wave," said Slater, "It was a little mistake. I didn't think the wave was great, but I heard he rode it great."
Flores had never won an event and in seven years on tour, Perrow had never made a final. But throughout this event, Flores had found those impossible caverns, right when he needed them and Kieren Perrow was on the sets, as if he were Skyping with the Pacific Ocean.
Perrow took command of the 35-minute final, putting Flores in combo-land and executing a mistake-free heat. But just as the Aussie flags started coming out for the second year in a row, Flores did what he'd been doing all along. With under two minutes remaining, he need an eight and pulled his disappearing act for a 9.37.
It wasn't exactly a frenzied mob to attack Flores near the podium when his friends carried him up the beach, but an emotional inner circle of Frenchies. He immediately got on the phone with his father, Patrick Flores, who works for Quikilver Europe. Patrick was with a crowd of 300 people in New Caledonia watching the webcast. That's where the real frenzied mob was.
"Hawaii is my favorite place in the world he said," and then compared the size and people of Oahu to his home island.
Earlier, Flores said he didn't consider his tactics as "out Slatering" Slater, but trying to get into an Andy Irons mindset. Irons still stands the only surfer who had Slater's number at Pipe before his tragic death earlier this year. Flores had a big A.I. drawn on his own board, in memory.
Also decided today was the Vans Triple Crown. 29-year-old Joel Parkinson, who lost his Round 3 heat yesterday, still secured his third Triple Crown, when Adrian 'Ace' Buchan lost to Slater in the quarterfinal.
Billabong Pipe Masters Final Results:
1. Jeremy Flores 14.54
2. Kieren Perrow 13.77
Billabong Pipe Masters Semifinals Results:
SF 1: Jeremy Flores 17.50 def. Kelly Slater 17.23
SF 2: Kieren Perrow 15.03 def. Dane Reynolds 6.83
Billabong Pipe Masters Quarterfinals Results:
QF 1: Jeremy Flores 14.00 def. Owen Wright 7.43
QF 2: Kelly Slater 12.94 def. Adrian Buchan 3.16
QF 3: Kieren Perrow 13.00 def. Jordy Smith 12.00
QF 4: Dane Reynolds 17.00 def. Taylor Knox 3.37
ASP WORLD TOUR TOP 10 (Following Billabong Pipe Masters)
1. Kelly Slater (USA) 69000 Points
2. Jordy Smith (ZAF) 52250 points
3. Mick Fanning (AUS) 44750 points
4. Taj Burrow (AUS) 42000 points
4. Dane Reynolds (USA) 42000 points
6. Bede Durbidge (AUS) 39000 points
7. Adrian Buchan (AUS) 37250 points
7. Owen Wright (AUS) 37250 points
9. Jeremy Flores (FRA) 35750 points
10. Adriano de Souza (BRA) 32000 points