Many pro surfers describe Sunset Beach, the venue of the second of jewel of the Vans Triple Crown of Surfing presented by Rockstar Energy drink, as a football field. This comparison stems from the surf breaks wide-variety of takeoff spots and the vast space between the peaks. The gridiron analogy of Sunset Beach was fitting for the start of the O'Neill World Cup of Surfing and O'Neill Women's World Cup of Surfing yesterday.
O'Neill World Cup Of Surfing Final Gallery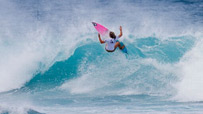 WIDTH="203" HEIGHT="114" BORDER="0" ALT="">
A look at who was ripping in the final day of action at Sunset. Gallery

The World Cup of Surfing is the final event of the 2010 Women's World Tour season, and the first two rounds were completed yesterday in 8-to-12 foot wave face heights. A handful of females like Stephanie Gilmore, Sally Fitzgibbons and Carissa Moore -- charged Sunset bravely and skillfully. But, the majority of the women resembled Dallas Cowboys quarterback John Kitna, getting sacked in the pocket. Sunset Beach set waves blitzed many of the competitors in the O'Neill Women's World Cup of Surfing. If breaks on the North Shore were football players then Sunset Beach led the league in sacks yesterday.
The guys of the O'Neill World Cup of Surfing did a better job of avoiding the rush, and pulling into barrels on the West Bowl. Just like in football, size and strength were factors of success at Sunset Beach. Conditions were ideal for big boards and power surfers like linebacker-esque Pancho Sullivan and Sunny Garcia. Both Hawaiians advanced out of the first round, riding 7'6" boards for extra paddling power and longer rails for arcing turns.
"From watching all the surfing going on it looks like everyone is having to multiple stage their turns because they don't have enough rail to set coming off the bottom," said Sullivan, who posted two-wave total out of a possible 20 points yesterday. "On a normal free surf day, I would probably ride that size board anyway."
Sullivan advanced out of the first round behind his good friend and former Vans Triple Crown of Surfing Champion, Myles Padaca. Another former Triple Crown winner, Sunny Garcia, also won his heat at Sunset Beach. Garcia's approach to surfing Sunset is like Bengal's linebacker Rey Mauluga: explosive, Polynesian power.
Garica, who is a six-time Vans Triple Crown of Surfing champion, recently moved back to Hawaii after residing in Southern California for the past few years, and is glad to be home shredding overhead Sunset bombs.
"I'm back here, just trying to win another World Cup and see how we go after that," said Garcia, who won this event twice and is a former ASP World Champ, "I've been living in the mainland for a while, so I just moved back home. I'm living right across the street. I've been surfing this all summer long. Early winter we got some good waves here, so I'm ready -- just got to catch waves."
Fellow Hawaiian and football fan, Joel Centeio, also won his round one heat yesterday. Currently, Centeio is the highest ranked Hawaiian in the overall Triple Crown standings for his third place finish at the Reef Hawaiian Pro. Centeio looked the part of the Patriot's Wes Welker -- once he got into the flow, the touchdowns catches came easy.
"I felt good. I was actually a little nervous," admitted Centeio, "You come off such a big result like Haleiwa and you want to follow up with another big one. First round, I just want to get a couple of waves, but it felt like I was a little out of rhythm at the beginning and then I got in rhythm at the end and that's when I got my scores."
The O'Neill World Cup of Surfing and the O'Neill Women's World Cup of Surfing is off for Thanksgiving. Thus, giving all of us on the North Shore an opportunity to get a surf, eat some Turkey and watch some football.

O'Neill World Cup of Surfing
Men's Round of 128 Results
H1: Nathan Hedge (AUS) 10.57; Dege O'Connell (HAW) 10.40; Tyler Newton (HAW) 10.17; Lincoln Taylor (AUS) 9.50
H2: Miguel Pupo (BRA) 12.47; Chris Ward (USA) 10.34; Derek Ho (HAW) 6.86; Romain Cloitre (FRA) 6.20
H3: Flynn Novak (HAW) 11.17; Austin Ware (USA) 9.16; Dane Gudauskas (USA) 6.73; Kai Barger (HAW) 3.53
H4: Hank Gaskell (HAW) 12.94; Albee Layer (HAW) 12.56; Tim Reyes (USA) 11.83; Bernardo Miranda (BRA) 11.47
H5: Rudy Palmboom (ZAF) 15.34; Adam Robertson (AUS) 11.57; Jason Shibata (HAW) 10.00; Liam McNamara (HAW) 5.37
H6: Joel Centeio (HAW) 13.83; TJ Barron (HAW) 11.03; Makai McNamara (HAW) 10.63; Chris Waring (USA) 9.30
H7: Sunny Garcia (HAW) 13.64; Hizunome Bettero (BRA) 9.27; Kevin Sullivan (HAW) 7.90; Landon McNamara (HAW) 7.57
H8: Myles Padaca (HAW) 13.37; Pancho Sullivan (HAW) 13.17; Maxime Huscenot (FRA) 12.83; Jayke Sharp (AUS) 7.83
H9: Yuri Sodre (BRA) 12.83; Jesse Merle-Jones (HAW) 9.93; Clay Marzo (HAW) 9.33; Messias Felix (BRA) 5.17
O'Neill Women's World Cup of Surfing
Round 1 Results
H1: Sofia Mulanovich (PER) 12.66; Coco Ho (HAW) 11.27; Nikita Robb (ZAF) 9.00; Sage Erickson (USA) 8.00
H2: Stephanie Gilmore (AUS) 12.74; Lee Ann Curren (FRA) 11.33; Malia Manuel (HAW) 11.04; Rebecca Woods (AUS) 6.93
H3: Silvana Lima (BRA) 12.94; Melanie Bartels (HAW) 11.77; Tyler Wright (AUS) 11.37; Bruna Schmitz (BRA) 6.34
H4: Sally Fitzgibbons (AUS) 14.83; Alana Blanchard (HAW) 4.73; Claire Bevilacqua (AUS) 4.00; Rosanne Hodge (ZAF) 3.23
H5: Carissa Moore (HAW) 12.67; Jessi Miley-Dyer (AUS) 9.80; Paige Hareb (NZL) 5.50; Jacqueline Silva (BRA) 2.10
Round 2
H1: Tyler Wright (AUS) 12.00; Malia Manuel (HAW) 9.07; Rebecca Woods (AUS) 8.20; Rosanne Hodge (ZAF) 7.74; Nikita Robb (ZAF) 4.70
H2: Sage Erickson (USA) 12.16; Bruna Schmitz (BRA) 11.43; Clare Bevilacqua (AUS) 8.93; Paige Hareb (NZL) 8.17;Jacqueline Silva (BRA) 2.07