O'Neill World Cup Of Surfing Final Gallery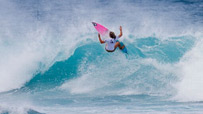 WIDTH="203" HEIGHT="114" BORDER="0" ALT="">
A look at who was ripping in the final day of action at Sunset. Gallery

The statistics at the O'Neill World Cup of Surfing were staggering yesterday -- 39 mens' heats completed and over 1,000 waves ridden in one day of competition. These numbers were produced due to contest organizers making the most of small swell that looks to be the only shot at waves in the remaining waiting period by running heats simultaneously at Kammie Land and Val's Reef. The Round of 128 to the round of 64 were put in the books yesterday. While all of these numbers are significant, it also seems appropriate to highlight a milestone in pro surfing history: this is Association of Surfing Professionals (ASP) Tour Manager Al Hunt's one thousandth event.
What referee Dick Bavetta is to the NBA, Al Hunt is to the ASP: an institution. Hunt has been working for the governing body of pro surfing since its inception. A former pro surfer on the International Professional Surfers tour (IPS), Hunt seamlessly transitioned from competing to administrating when the ASP was born in 1976.
"I've been coming to Hawaii since '72 and I haven't missed a season since then," proudly states Hunt, "I always love coming to Hawaii."
Yesterday was not your typical Vans Triple Crown day. Kammie Land and Val's Reef are more grom surf breaks than World Class venues. Although a full waiting period without real surf is bizarre for the Triple Crown, Hunt isn't shocked. He's seen this scenario before.
"It's actually quite funny," said Hunt, of the small surf and simultaneous heats, "About four or five days ago I was talking to (Vans Triple Crown Contest Director) Marty Thomas and remembering when we did Kammie Land and Val's Reef years ago. Marty went, 'I remember. I got stuck out at Kammie Land and I wanted out at Val's Reef.' And then, here we are, less than a week after that conversation doing that same thing."
It was all high performance surfing and groveling yesterday at Sunset Beach (the general area of both Val's and Kammie's.) Joel Parkinson continued his quest for another Triple Crown title, advancing through two more rounds over the likes of Alex Smith and Taylor Knox.
"Val's Reef is the weirdest little reef in the way it comes in and the way it breaks," Parkinson said. "It's really tricky to surf. It's probably the best waves I've ever had at Val's. I'm lucky because I had a good shortboard -- a good little 6'1 and if I didn't have a good shortboard I wouldn't know what to do. It is what it is and you've got to wake up and do what you can do.It's like surfing two different events. You basically have to go out there with two different strategies of what you would do over here. I've never surfed either (break) in a contest."
Australia's Julian Wilson, 22, posted the highest two-wave total of the day a 15.83 out of a possible 20 points, but most of the action was sub par. It seemed more fitting to talk about Al Hunt's milestone with some of the people that have known and worked with the 60-year-old Aussie for years.
"I've known Al Hunt since his first day on the tour when he actually used to surf. He used to paddle around with Simon Anderson in those days and then he got so stoked that he got a job working in the old IPS days, which was the predecessor of the ASP. Knowing that's he's been to a 1,000 events shows his dedication, and it's stalwarts like him that makes the pro tour what it is today," said Randy Rarick, Vans Triple Crown of Surfing Executive Director. Rarick competed in the IPS with Al Hunt.
"Don't argue with Al Hunt because you're going to lose. Al's like a walking computer for the ASP. He knows all the stats and rules. Any question you ever have about anything about surfing, Al's the guy to go to. He's a walking encyclopedia," added 2000 ASP World Champion Sunny Garcia. Garcia, has won the World Cup of Surfing twice (2000 and 1994), but failed to advance out of the Round of 64 yesterday.
Today should be the final day of competition. Al Hunt and the rest of the ASP will look to run from the Round of 32 through to the final. The surf is forecasted to be similar.
O'Neill World Cup of Surfing Mens' Results
Round of 64

H1: Blake Thornton (AUS) 14.40; Adrian Buchan (AUS) 11.37; Cory Lopez (USA) 11.34; Miguel Pupo (BRA) 9.23
H2: Josh Kerr (AUS) 12.33; Nathan Hedge (AUS) 10.93; Tiago Pires (PRT) 8.24; Kai Otton (AUS) 7.04
H3: Nathaniel Curren (USA) 14.67; Kieren Perrow (AUS) 12.70; Billy Stairmand (NZL) 11.66; Dusty Payne (HAW) 11.50
H4: Julian Wilson (AUS) 15.83; Ben Dunn (AUS) 13.10; Flynn Novak (HAW) 6.33; Michel Bourez (PYF) 4.90
H5: Luke Munro (AUS) 15.30; Joel Centeio (HAW) 12.33; Chris Davidson (AUS) 11.90; Gabriel Medina (BRA) 8.47
H6: Travis Logie (ZAF) 13.46; Tanner Gudauskas (USA) 11.34; Jeremy Flores (FRA) 10.86; Willian Cardoso (BRA) 8.23
H7: Adam Melling (AUS) 13.93; Daniel Ross (AUS) 12.56; Stu Kennedy (AUS) 11.53; Nathan Yeomans (USA) 10.53
H8: Jordy Smith (ZAF) 13.03; Wigolly Dantas (BRA) 12.37; Sunny Garcia (HAW) 9.33; Billy Kemper (HAW) 7.50
H9: John John Florence (HAW) 15.06; Mick Fanning (AUS) 14.33; Dion Atkinson (AUS) 11.80; Glenn Hall (IRL) 11.77
H10: Matt Wilkinson (AUS) 13.14; Brett Simpson (USA) 12.37; Dylan Graves (PRI) 12.04; Yuri Sodre (BRA) 9.90
H11: Raoni Monteiro (BRA) 14.50; CJ Hobgood (USA) 11.90; Dayyan Neve (AUS) 11.73; Dean Morrison (AUS) 11.10
H12: Jadson Andre (BRA) 10.73; Nat Young (USA) 9.76; Roy Powers (HAW) 8.73; Rodrigo Dornelles (BRA) 7.57
H13: Kekoa Bacalso (HAW) 13.23; Yadin Nicol (AUS) 12.86; Damien Hobgood (USA) 12.43; Evan Valiere (HAW) 8.83
H14: Joel Parkinson (AUS) 13.67; Taylor Knox (USA) 11.53; Luke Steadman (AUS) 10.77; Nic Muscroft (AUS) 8.50
H15: Patrick Gudauskas (USA) 14.50; Shaun Cansdell (AUS) 13.00; Tom Whitaker (AUS) 12.07; Heitor Alves (BRA)
H16: Granger Larson (HAW) 15.00; Alejo Muniz (BRA) 12.66: Taj Burrow (AUS) 12.33; Jay Quinn (NZL) 6.90
Round of 96
H1: Blake Thornton (AUS) 13.23; Nathan Hedge (AUS) 9.50; Chris Ward (USA) 6.46; Marc Lacomare (FRA) 6.17
H2: Josh Kerr (AUS) 14.77; Miguel Pupo (BRA) 13.30; Dege O'Connell (HAW) 13.00; Richard Christie (NZL) 9.90
H3: Billy Stairmand (NZL) 14.30; Flynn Novak (HAW) 12.63; Albee Layer (HAW)10.43; Gabe Kling (USA) 10.40
H4: Julian Wilson (AUS) 15.00; Nathaniel Curran (USA) 11.63; Austin Ware (USA) 11.23; Hank Gaskell (HAW) 9.10
H5: Gabriel Medina (BRA) 11.47; Willian Cardoso (BRA) 10.84; TJ Barron (HAW) 10.76; Rudy Palmboom (ZAF) 3.82
H6: Tanner Gudauskas (USA) 12.77; Joel Centeio (HAW) 12.04; Hodei Collazo (EUK) 9.43; Adam Robertson (AUS) 8.00
H7: Nathan Yeomans (USA) 12.20; Sunny Garcia (HAW) 12.00; Royden Bryson (ZAF) 10.07; Pancho Sullivan (HAW) 7.73
H8: Wiggolly Dantas (BRA) 12.63; Stu Kennedy (AUS) 9.14; Hizunome Bettero (BRA) 8.27; Myles Padaca (HAW) 8.00
H9: Dion Atkinson (AUS) 11.30; Yuri Sodre (BRA) 10.34; Olamana Eleogram (HAW) 8.27; Masatoshi Ohno (JPN) 6.20
H10: Dylan Graves (PRI) 12.77; Glenn Hall (IRL) 9.37; Jesse Merle-Jones (HAW) 8.40; Neco Padaratz (BRA) 6.00
H11: Dayyan Neve (AUS) 11.67; Rodrigo Dornelles (BRA) 11.03; Jay Thompson (AUS) 8.70; Pablo Paulino (BRA) 8.50
H12: Nat Young (USA) 13.13; Raoni Monteiro (BRA) 12.04; Ian Walsh (HAW) 8.94; Alain Riou (PYF) 5.60
H13: Yadin Nicol (AUS) 14.10; Nic Muscroft (AUS) 11.94; Gony Zubizarreta (ESP) 11.07; Marco Giorgi (URY) 8.26
H14: Joel Parkinson (AUS) 15.50; Evan Valiere (HAW) 10.83; Alex Smith (HAW) 10.14; Gavin Gillette (HAW) 8.27
H15: Heitor Alves (BRA) 13.97; Jay Quinn (NZL) 13.17; Kiron Jabour (HAW) 12.13; Sebastien Zietz (HAW) 11.43
H16: Alejo Muniz (BRA) 12.83; Shaun Cansdell (AUS) 12.00; Torrey Meister (HAW) 7.73; Jeronimo Vargas (BRA) 6.40