A north/northeast swell forced O'Neill World Cup of Surfing competitors to takeoff past the traditional Sunset lineup yesterday and surf the Bone Yard -- a barreling section east of the point near Backyards. Australia's Tyler Wright, 16, and Brazil's Raoni Monteiro, 28, brilliantly linked up the tricky section to the inside to win the second jewel of the Vans Triple Crown of Surfing.
O'Neill World Cup Of Surfing Final Gallery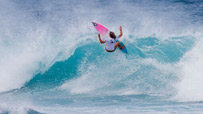 WIDTH="203" HEIGHT="114" BORDER="0" ALT="">
A look at who was ripping in the final day of action at Sunset. Gallery

Tyler Wright, who placed third at the Cholo's Women's Hawaiian Pro last month, was also awarded the female Triple Crown Rookie of the Year presented by JN Automotive. The young Australian saved her best surfing for the final. She posted the highest scoring ride of the event: a 9.57 out of a possible 10 points. Furthermore, she had the entire field needing a combination of scores within the first five minutes of the final.
"I just really had nothing to lose in these events. I just went in there to have fun and catch some waves," said Wright, who posted a two-wave total of 17.24 out of a possible 20 points in the final. "It started pulsing there for a little bit and I was happy."
Wright will be joining her fellow finalists on the World Tour next year after qualifying at Haleiwa. Australian Sally Fitzgibbons finished in fourth place. Current ASP World Champ Stephanie Gilmore bowed out in third, and Sunset Beach's Coco Ho claimed runner-up position.
"It was super fun. It was north (swell direction) and we were kind of sitting on the Boneyard (section)," said Ho of the conditions and 4-foot waves at Sunset yesterday. "It's a fun wave were you can get six turns. It's a picture perfect point. The Boneyard -- you catch it from deep and it's a barreling section that you can float or do whatever on."
Ho, who is the daughter of Michael and sister of Mason, grew up surfing at Sunset and is familiar with the subtleties and hazards of the break. The Boneyard is a notoriously shallow takeoff spot.
"I was glad I didn't meet the Boneyard," said Ho of the sketchy reef out there.
On the men's side of competition, Raoni Monteiro seemed to link up the longest rides, becoming the first Brazilian, since Fabio Gouveia in 1991, to win the O'Neill World Cup of Surfing. He also joins Gouveia as one of the only two Brazilians to win a Vans Triple Crown of Surfing event.
"It means a lot to me because I've been trying to do well in Hawaii for so long," said Monteiro who has been coming to the North Shore for the past 15 seasons. "I just tried to sit out there and I know when the sets come, the wave first breaks on Boneyards out there, deep. So I knew if you get the waves that go all the way through the bank you can make some good turns. So I just tried to do that and it worked."
Monteiro won the event with a two-wave total of 14.27. He also felled Triple Crown favorite, Joel Parkinson, in the quarterfinals. Australian Julian Wilson finished in second place, and was also awarded the male Triple Crown Rookie of the Year. Maui's Granger Larsen claimed third place and Australia's Josh Kerr finished in fourth.
The O'Neill World Cup of Surfing and Sunset Beach are known for giant waves, but this year's event was a different story. It was small, stormy conditions for the majority of the second jewel of the Vans Triple Crown of Surfing, but Monteiro was ready.
"You have to be prepared for every condition so I was prepared and ready for small waves," said Monteiro. "I'm from Brazil so I know how to surf small waves and I'm very happy."
2010 O'Neill World Cup of Surfing Results:
Final
Raoni Monteiro (BRA) 14.37; Julian Wilson (AUS) 14.20; Granger Larsen (HAW) 12.47; Josh Kerr (AUS) 11.66
Semi-Finals
H1 Julian Wilson (AUS) 13.43; Josh Kerr (AUS) 13.07; Adrian Buchan (AUS)13.00; Ben Dunn (AUS) 9.57
H2 Granger Larsen (HAW) 15.90; Raoni Monteiro (BRA) 15.20; Mick Fanning (AUS) 13.50; John John Florence (HAW) 5.53
Quarter Finals
QF1: Josh Kerr (AUS) 16.87; Adrian Buchan (AUS) 15.50; Tanner Gudauskas (USA) 11.74; Luke Munro (AUS) 10.50
QF2: Julian Wilson (AUS) 14.93; Ben Dunn (AUS) 12.33; Daniel Ross (AUS) 11.23; Jordy Smith (ZAF) 8.29
H3 John John Florence (HI) 15.8; Raoni Monteiro (BRZ) 15.37; Joel Parkinson (AUS) 13.06; Taylor Knox (USA) 5.74
H4 Mick Fanning (AUS) 14.33; Granger Larsen (HAW) 13.53; Alejo Muniz (BRA) 11.80; CJ Hobgood (USA) 9.27
Round of 32
H1: Josh Kerr (AUS) 14.83; Benn Dunn (AUS) 12.13; Kieren Perrow (AUS) 11.10; Blake Thornton (AUS) 9.93
H2: Adrian Buchan (AUS) 13.30; Julian Wilson (AUS) 12.64; Nathaniel Curren (USA) 9.27; Nathan Hedge (AUS) 6.10
H3: Daniel Ross (AUS) 14.86; Luke Munro (AUS) 11.57; Travis Logie (ZAF) 10.50; Wiggolly Dantas (BRA) 6.10
H4: Jordy Smith (ZAF) 13.67; Tanner Gudauskas (USA) 10.80; Joel Centeio (HAW) 10.20; Adam Melling (AUS) 9.66
H5: John John Florence (HAW) 14.37; CJ Hobgood (USA) 12.57; Matt Wilkinson (AUS) 10.23; Nat Young (USA) 6.90
H6: Raoni Monteiro (BRA) 14.44; Mick Fanning (AUS) 13.00; Brett Simpson (USA) 9.33; Jadson Andre (BRA) 8.00
H7: Alejo Muniz (BRA) 11.80; Joel Parkinson (AUS) 11.17; Shaun Cansdell (AUS) 9.83; Kekoa Bacalso (HAW) 8.63
H8: Granger Larsen (HAW) 13.97; Taylor Knox (USA) 13.00; Yadin Nicol (AUS) 9.17; Patrick Gudauskas (USA) 5.46