Pico Alto Gallery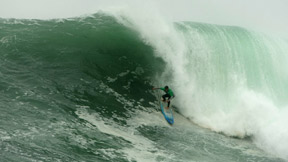 WIDTH="203" HEIGHT="114" BORDER="0" ALT="">
What does perfect 35-foot Peruvian surf look like? Check it out

In very contestable 30-foot surf -- assuming that "contestable" and "30-foot surf" aren't a contradiction in terms -- the Billabong Pico Alto went off today in Peru. In an international final it was Maverick's veteran Peter Mel edging out underground Australian charger Ben Wilkinson (who incidentally winters in Half Moon Bay).
"Conditions grew all day like we expected," told Big Wave World Tour (BWWT) director Gary Linden. "It was actually a little bigger than we thought. The conditions were great all day. And what a final, four rookies and two veterans, including our world champion Jamie Sterling. You couldn't ask for any more. Pete was just so impressive, it's great to see him get the win. He's very deserved."
Mel and Wilkinson were both in the cellar on the BWWT ratings, but will now improve their standings as the Southern Hemisphere leg of the tour comes to a close. And they won't be too disappointed by the fact that the competitive big-wave world will now turn it's attention to the North Pacific this fall and winter, with events at Nelscott Reef in Oregon, Maverick's in Northern California, and Todos Santos off the coast of Baja California, Mexico.
"Today Pico Alto showed once again that is a world-class wave that deserve to be considered one of the best big waves on the entire planet," surmised Sterling at the end of the day.
1. Peter Mel (California)
2. Ben Wilkinson (Australia)
3. Felipe Cesarano (Brazil)
4. Joao de Macedo (Portugal)
5. Jamie Sterling (Hawaii)
6. Kodiak Semsch (Peru)