The first time I met Michel Bourez was at the 2008 Quiksilver Pro in France. He was surfing on a wildcard into the event, where he went on to finish fifth, beating Joel Parkinson and Bede Durbidge in the process. An unknown from Tahiti then, today Bourez sits ninth on the ASP's world title ratings and has unquestionably asserted himself as French Polynesia's preeminent surf star. Funny thing is, he's as grounded and enraptured with the family and place that bore him as ever, maybe more. A couple of weeks ago we reconnected, and come to find out celebrity hasn't changed him, it's only strengthened his convictions.
How are you feeling going into the final event of the 2011 season?
I want to finish good, I want to finish strong. I would like to make it into the top 10 for the end of the year.
Michel Bourez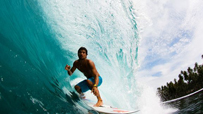 WIDTH="203" HEIGHT="114" BORDER="0" ALT="">
By tube, turn or air, Bourez gives Tahiti much to cheer about. Gallery

What's the difference between being in the top 10 and not? Seems like people focus on that a lot.
That's been my main goal this year. Last year it was to finish in the top 15, and I did that, so top 10 was my goal this year. You're always looking for ways to motivate you and keep you focused. With all of the young kids coming up, it's important to get myself in a good position.
And what's your take on all the young guys coming up?
They're the next generation, you know. They're taking surfing to the next level. I'm glad to see them coming up, and for me it's good, it pushes yme to learn more airs and tricks and stuff. I want to see better surfing, and that's what those kids are on tour for. It's going to be exciting over the next couple of years to see the level of surfing go higher and higher.
And on the other end of the spectrum is Kelly Slater, nearly 40 years old and still winning world titles. How do you rationalize that?
Kelly's the best surfer ever, especially when you look at how fit he still is and how he's figured out new ways to keep winning contests and world titles. For me, I'm pretty sure he's going to stay as long as he can. I think Kelly is a big inspiration, for all the kids, and especially for me, you know. I've been looking forward to surfing against and competing against him all my life, and I've learned so much from him. It's good to see him still with fire in his belly.
How many times have you two surfed against each other?
I think we've had maybe two heats together, he beat me one and I beat him.
Do you prepare differently to surf against him than you do somebody else?
Not really. I just know if I surf against him I'm going to have to do something different to win the heat, so you have to find another gear to go into.
And finally on the subject of Slater, your take on the whole screw up with the math and premature crowning?
It was pretty heavy. They've been crowning world champions for years and years, and I just can't believe that here and now, in the United States, in front of so many people, they did that. I think they should be fined for it. They tell us surfers what we can and can't do, what words we can say on the webcasts and stuff, and they make the hugest mistake of the whole year. How bad is that for the whole surfing industry, you know? It's been so bad for our image. There are people out there that are trying to make surfing an Olympic sport, but because of them and what they've done we're back to the same stereotype.
Lets talk about your upcoming offseason, some life changing stuff coming up?
Yeah, we have a baby coming. Due in January -- a boy. It's going to be so good to get back home and just be with my family. If I go anywhere it won't be for very long, I don't want to miss anything.
And will the kid be joining you and your girlfriend on the road next year?
Not for the first six months because I don't want him to travel and I don't want to put him on a plane. Maybe by the time Trestles or something comes around.
You ready for fatherhood?
I'm just back from Babies-R-Us. I've been buying all these clothes and all these thing he's going to need when he comes. I guess I'm ready.