The 2011 Billabong World Junior Championships Gold Coast wrapped up today after eight days of upsets and a whirlwind of confusing re-calculations. Brazil's Caio Ibelli defeated Australian Garrett Parkes in the first ever World Title surf-off at Burleigh Heads. After both surfers were eliminated, they found themselves locked in a flat-out tie for the series' No. one ranking when Von Zipper wildcard Wade Carmichael (also of Australia) snatched the event win in what was probably the most suspenseful junior heat of all time. The women's competition was no less baffling: Kauai's Leila Hurst watched from the competitors booth as fellow Hawaiian Alessa Quizon delivered her title by defeating Aussie contender, Philippa Anderson in the women's final.
2011 Billabong Junior Worlds Gallery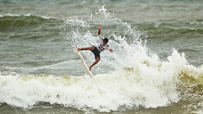 WIDTH="203" HEIGHT="114" BORDER="0" ALT="">
Images of pro surfing's future from the Billabong World Junior Championships Gold Coast. href="http://www.espn.com/action/photos/gallery/_/id/7513512/asp-2011-billabong-junior-world-championships-gallery">Gallery

Opening day conditions at Burleigh were what we expect for surf comps, though not always what we receive: perfect, 3-foot, light offshores, clear skies. Beyond that, all bets were off. The curveballs actually started coming before the first heat was even surfed, when equal No. 1 Davey Cathels, of North Narrabeen, was taken out by an ankle injury. Kiwi Matty Lewis-Hewitt took his spot and No. 3 Garrett Parkes became the highest-ranked Australian surfer. While Parkes and returning champ, Jack Freestone, pulled high scores (as did Brazilian Felipe Toledo, whose outstanding aerials caught everyone's attention) non-elimination round 1 definitely went to the wildcards. WA's Jack Robinson, just 14 years old, earned an 8.60 for an alley-oop, Matty Hewitt advanced straight to round 3, sending top-seeded Ibelli to Round 2 in the process. Brazil's Peterson Crisanto netted the day's highest total, a 16.33, and Mitch Parkinson (young cousin of Joel) demonstrated that barrel riding might just be genetic.
Sunday saw the women's competition kick off in 2-foot surf and with another unexpected turn of events: Billabong wildcard Ellie-Jean Coffey and her sister Holly-Sue Coffey teamed up to take down top-seed Joanne Defay (France), forcing her into round 2. South Africa's Sarah Baum, Australia's Dimity Stoyle, and New Zealand's Sarah Mason were all racked up 17-plus scores.
The wind picked up on Monday, but so did the swell and Burleigh offered up a few choice sets for round 2 of the men's competition. Carmichael continued his assault on the top 10, knocking out South Africa's Dale Staples (fifth seed) as yet another wildcard, North Stradbroke Island's Tim Macdonald, eliminated Australian Ryan Callinan.
Tuesday's comp went down in absolutely horrendous weather. Floods plagued the Goldy as hundreds of millimeters of rain doused competitors and spectators. The day's standouts were all comfy in storm surf: Americans Evan Thompson and Andrew Doheny, plus South Africa's Dylan Lightfoot. The contest resumed on Australia Day (Thursday, mate) with renewed vehemence amid some unanticipated sunshine. The waves were big and dirty -- literally. There were logs and runoff swirling near the rocks. Skis eliminated what would have been exhausting and time-consuming paddling, and the festive crowd reaped the benefits: more waves, more pop.
Freestone comboed Jack Robinson with a huge air-reverse into a smooth cutty and a series of mega tail blows. Robinson made a solid and exhilarating attempt, but was ultimately no match for the current world champion. Wade Carmichael caused yet another upset when he eliminated Caio Ibelli. Toledo opened Heat 11 with an 8.0 and continued a run of back-to-back airs for a massive 17.20 total. Kauaian Nathan Carvalho took out one of the original Title contenders, Brazilian Marco Fernandez, in Heat 13. Finally, Aussie Dean Bowen power surfed his way past Japan's Hiroto Arai in the last heat of the day, taking vertically to the outside bombs and annihilating their lips.
Friday pushed both the men's and the women's competitions to the quarterfinals, despite torrential downpours and not-so-excellent 2 to 3-foot conditions. In the third heat of women's Round 3, Hawaiian Nage Melamed rustled up the highest waves score of the event (9.80) to eliminate defending Billabong World Junior Champ, Bianca Buitendag of South Africa.
American World Title hopeful Conner Coffin surfed an extremely strong and fluid competition, but fell to Brazil's Ian Gouveia. Dean Bowen again kept us on our toes through the day's final heat, as he narrowly escaped an offing by Byron Bay wildcard Soli Bailey: 10.20 to 10.07.
And that brings us to today: the day of reckoning. Nathan Carvalho caught wave after wave in the men's final as Wade Carmichael, the last Aussie standing, sat on a single score of 6.5. At 10 minutes, no one was too concerned with his single score; at five, people were getting restless. With less than a minute remaining, spectators were downright unnerved.
Carmichael finally stroked into a second wave as the 30-minute heat was counted down. He needed a 4.13. The judges deliberated over the value of his air reverse after the horn blew. A 4.6 made the wildcard entrant the Billabong Pro Junior winner -- a seriously gutsy move.
"I left it to the last second and I was just freaking," Carmichael admitted, "When I finished the waves, it worked out -- two turns and I got the score, Yeah, it was just perfect. I'm just stoked."
"It was pretty intense," said Carvalho, "It was a nail-biter, really, at the end there. I had it pretty much the whole heat, but he had priority at the end and he got that one, so, bad luck on my part and hopefully better luck next time. I'm still super happy; second's a good result in World's."
As if that weren't enough, the title then came down to a surf-off between evenly matched Ibelli and Parkes. Parkes threw a couple punts, but Ibelli took the title with a massive air-reverse and some substantial snaps.
"I love Burleigh Heads. I love surfing those kind of conditions," Ibelli said, "I was nervous and I didn't know last night that I had one more opportunity, and then when I woke up, I found out by Facebook--my manager put it up. It's amazing and it feels so good. All my family and my sponsorship are so stoked and it's a great time in my life. I want to enjoy it and I hope this is only the beginning."
Women's Semifinal 2 was a battle of Hawaiians as Alessa Quizon took down Liela Hurst. She was still ahead of fiercest competitor in the World Title, Philippa Anderson, who had advanced to the Final, so if Quizon managed to defeat Anderson, Hurst would still claim the crown. She watched her best friend pull a lot of snappy turns on mediocre waves. Anderson surfed a good heat, but Quizon surfed a great heat -- in doing so, she scored the comp win for herself and the World Title for her fellow Hawaiian.
"I feel really great," Quizon said, "I'm so happy that I won this event and I'm happy for Leila for winning the title and for Caio Ibelli as well. As I kept making it through heats, I would get more and more nervous and I feel really relieved and I'm really happy."
"I didn't think it was going to happen like this," said Leila Hurst. "I've never had to watch someone surf a heat and have my future in their hands, so that was not fun and I don't plan to do that again! But I'm so thankful and happy. I'm so happy that it's her [Quizon]!"
2011 ASP WORLD JUNIOR CHAMPION SURF-OFF RESULT:
Caio Ibelli (BRA) 14.74 def. Garrett Parkes (AUS) 14.00
BILLABONG WORLD JUNIOR CHAMPIONSHIPS GOLD COAST MEN'S FINAL RESULT:
Wade Carmichael (AUS) 11.17 def. Nathan Carvalho (HAW) 10.63
BILLABONG WORLD JUNIOR CHAMPIONSHIPS GOLD COAST MEN'S SEMIFINAL RESULTS:
SF 1: Wade Carmichael (AUS) 11.84 def Medi Veminardi (REU) 8.66
SF 2: Nathan Carvalho (HAW) 16.50 def. Filipe Toledo (BRA) 15.26
BILLABONG WORLD JUNIOR CHAMPIONSHIPS GOLD COAST MEN'S QUARTERFINAL RESULTS:
QF 1: Medi Veminardi (REU) 12.00 def. Jack Freestone (AUS) 11.50
QF 2: Wade Carmichael (AUS) 14.27 def. Ian Gouveia (BRA) 7.00
QF 3: Filipe Toledo (BRA) 15.74 def. Garrett Parkes (AUS) 14.4
QF 4: Nathan Carvalho (HAW) 12.13 def. Dean Bowen (AUS) 9.60
BILLABONG WORLD JUNIOR CHAMPIONSHIPS GOLD COAST WOMEN'S FINAL RESULT:
Alessa Quizon (HAW) 13.67 def. Philippa Anderson (AUS) 8.67
BILLABONG WORLD JUNIOR CHAMPIONSHIPS GOLD COAST WOMEN'S SEMIFINAL RESULTS:
SF 1: Philippa Anderson (AUS) 15.10 def. Nage Melamed (HAW) 9.34
SF 2: Alessa Quizon (HAW) 13.80 def. Leila Hurst (HAW) 6.94
BILLABONG WORLD JUNIOR CHAMPIONSHIPS GOLD COAST WOMEN'S QUARTERFINAL RESULTS:
QF 1: Philippa Anderson (AUS) 13,07 def. Sarah Mason (NZL) 10.83
QF 2: Nage Melamed (HAW) 15.00 def. Joanne Defay (FRA) 12.67
QF 3: Leila Hurst (HAW) 15.67 def. Felicity Palmateer (AUS) 14.76
QF 4: Alessa Quizon (HAW) 10.83 def. Sarah Baum (ZAF) 8.97