Preview
Day 1
Day 2
Day 3
Day 4
Day 5
Aussie surfers scored a double victory at Snapper Rocks with Taj Burrow winning the Quiksilver Pro and former world champion Stephanie Gilmore winning the Roxy Pro Gold Coast.
"I'm feeling great mate!" said Burrow after defeating Brazilian Adriano de Souza in what was a tense, back-and-forth 35-minute battle in front of a packed Snapper Rocks beach.
Taj Burrow and Steph Gilmore big winners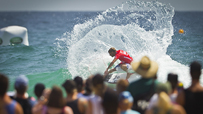 WIDTH="203" HEIGHT="114" BORDER="0" ALT="">
2012 Quiksilver and Roxy Gold Coast Pro. Gallery

"I felt like I was in Rio (de Janeiro)," said Burrow about the massive crowd that spilled into the water. "There were so many Brazilians here chanting for Adriano and I was a bit unnerved at first, but it got me revved up, and I heard the Aussies bounce back with a really good roar on a couple of my waves. I could actually hear them as I was going through my turns. That's a pretty special feeling."
Rio is where Burrow lost to de Souza in May of 2011 in the finals of the Billabong Pro. He definitely needed some local support after de Souza had opened the final with an eight-point ride, nailing an air reverse on his very first turn.
"I was freaking after Adriano's first ride. It's quite an exclamation mark to come out on the first wave and try an air on your first turn," explained Burrow later. "He did a sick turn and got eight (points) for just that one turn, which is quite intimidating for sure. But I knew I could get those scores too, if not better, if I could pick the right waves. But he sure makes it hard for you."
Burrow found a wave that looked terrible off the rocks, but it opened into a clean race track down the line, allowing for five cracks and a reverse, earning him a nine. He edged out de Souza 15.86-15.60.
Adriano de Souza, who had avoided a lot of the contest hype that focused on Joel Parkinson, Kelly Slater and Jordy Smith finished second in the event.
"We've met about 10 times now and Taj has won about six times," said de Souza as he watched Burrow being mobbed by a massive media scrum. "I had the heat of my life against Taj last year and I would have really liked to have had a win today. What can I say? He belongs in the top three or four in the world and he has been knocking on the door for pretty much 10 years. I'm sure we'll met again and maybe next time it will be different."
Both third place finishers, Josh Kerr and Jordy Smith would have liked to have the results go differently too.
"If you'd told me a week ago I was going to get a third, I would have told you I'd be stoked," said Kerr who beat Kelly Slater in the quarterfinal. "But I really wish I was out in the final right now. I had that heat this morning against Adriano and I really wanted to get through so I'm really disappointed right now, but I'll take a third."
Jordy Smith had his own reasons for wanting a win at Snapper Rocks after the news last week of the downgrading of the World Tour event at Jeffreys Bay (to a six star) of which Smith is two-time defending champion.
"I had an added incentive to win here because they've taken J-Bay away, and I wanted to win one of the right hand point breaks this year," Smith said.
Smith was runnerup two years ago at the Quik Pro and made the semis twice in the last three years, so he was more than a little disappointed about his result.
"I'm just really bummed, I wanted to make the final so bad. If you want to win a world title you've got to win finals," he said. "I guess it's a really good start to the year and now I hope to go and do really well at Bells, hopefully win or make the final at least."
When asked about the conditions, he answered with a smile. "It wasn't perfect Snapper but I'm happy to have beaten Parko out here at his home break. He's probably beaten me 10 times and I've only beaten him three, so I don't think I've got it over him yet, but those three times are all out here at Snapper."
The 2012 Quiksilver Pro Gold Coast didn't have perfect waves and for a lot of the Top 34 surfers it was a nervous start to the year. The tour rookies didn't really get a chance to shine with the seasoned pros filling the final top eight spots.
Taj Burrow has led the world tour ratings at this stage of the year before, but it's another long year ahead. He laughed when asked how he felt about his world title chances this year. "Right now, it's all about rating points and having a few with my mates," he said.
QUIKSILVER PRO GOLD COAST FINAL RESULTS:
1 Taj Burrow (AUS) 15.86
2 Adriano De Souza (BRA) 15.60
QUIKSILVER PRO GOLD COAST SEMIFINAL RESULTS:
SF 1: Adriano De Souza (BRA) 14.16 def. Josh Kerr (AUS) 13.57
SF 2: Taj Burrow (AUS) 15.56 def. Jordy Smith (ZAF) 14.20
QUIKSILVER PRO GOLD COAST QUARTERFINAL RESULTS:
QF 1: Adriano De Souza (BRA) 16.43 def. Owen Wright (AUS) 13.7
QF 2: Josh Kerr (AUS) 14.43 def. Kelly Slater (USA) 13.04
QF 3: Jordy Smith (ZAF) 15.56 def. Joel Parkinson (AUS) 11.30
QF 4: Taj Burrow (AUS) 16.86 def. Adrian Buchan (AUS) 15.97