Preview
Day 1
Day 2
Day 3
Day 4
Day 5
On Sunday, four-time world champion Steph Gilmore won her first major comp in nearly a year, the Roxy Gold Coast Pro.
She didn't even seem nervous before her final heat against Aussie firecracker Laura Enever. Not because Enever wasn't a threat. On the contrary, Gilmore was anxious about her opponent's ability to wring last-minute waves for all of their worth.
"In her last heat against Tyler, [Laura] showed everyone that she's willing to take off on anything and turn it into a big score in the last seconds, so I was really nervous," Gilmore said.
Taj Burrow and Steph Gilmore big winners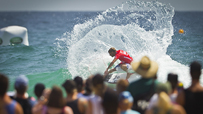 WIDTH="203" HEIGHT="114" BORDER="0" ALT="">
2012 Quiksilver and Roxy Gold Coast Pro. Gallery

But she appeared calm and collected. A testament to her years of competitive experience, her poise under pressure served her well as she and Enever went blow for blow in the exciting second half of a final that got off to a slow start.
In the first semifinal, 20-year-old Enever was trailing Tyler Wright, who had racked up some big scores with a flurry of layback cutties, floaters, and fin busts. Enever needed a 7.10 to take the lead, and after a confusing near-interference, Wright relinquished her priority, clearing Enever's path to the beautiful, eleventh-hour wave that would bump her into her first-ever World Tour final. When asked to explain what happened immediately after the heat, Enever breathlessly said, "I don't even know."
"I feel like that only happens in dreams, right there," she continued. "I'm almost overwhelmed, but I guess I have to straighten up for the final. I'm stoked. This is my first final ever -- all I've wanted to do is make a final. This event has had ups and downs for me, and I'm just stoked I can keep going."
As Enever regained her bearings, world number two, Sally Fitzgibbons opened the second semifinal with an 8.0, but Gilmore rebutted with a pair of mid-range eights. Fitzgibbons found herself comboed when Gilmore treated the judges to a bounty of powerful and elegant snaps for a 9.73. Fitzgibbons responded with her own 1,000-foot-long ride and a boost attempt to boot, but the resulting 7.0 wasn't sufficient to take down Cooly's hometown favorite.
In 2- to 4-foot, semi-clean Snapper that Gilmore described as "fun," the final was yet another heat that came down to the wire. Enever ultimately weighed in with a 14.20, just shy of Gilmore's 16.37. Not bad at all for her first final against Gilmore.
This win at the 2012 Roxy Pro Gold Coast will serve Gilmore well in her race for a fifth world title, earning her an initial 10,000 points and $15,000. As she says, she's "back in the black." Or, at least she's making as much of a "comeback" as anyone who's maintained a top-three presence really can.
At the ASP banquet, Gilmore told Carissa Moore that she was lending her the trophy. "I'm glad I backed it up with some kind of result," she said, laughing. "To come back this year and just feel 10 times better than last year, it's just amazing," she said.
The next stop on the ASP Women's World Tour is the Rip Curl Pro Bells Beach, which is slotted to begin April 3, 2012.
ROXY PRO GOLD COAST FINAL RESULTS:
1 – Stephanie Gilmore (AUS) 16.37
2 – Laura Enever (AUS) 14.20
ROXY PRO GOLD COAST SEMIFINALS RESULTS:
SF 1: Laura Enever (AUS) 16.70 def. Tyler Wright (AUS) 16.17
SF 2: Stephanie Gilmore (AUS) 18.30 def. Sally Fitzgibbons (AUS) 15.00
CURRENT ASP WOMEN'S TOP 3 (After Roxy Pro Gold Coast):
1. Stephanie Gilmore (AUS) 10,000 pts
2. Laura Enever (AUS) 8,000 pts
3. Sally Fitzgibbons (AUS) 6,500 pts
3. Tyler Wright (AUS) 6,500 pts