Oft forgotten when talking about South American surf havens, put a closer eye to Ecuador and one comes to find the bounty of waves and cultural experiences enough to keep even the most ardent adventurer occupied.
Gallery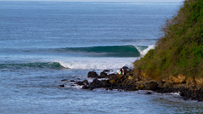 WIDTH="203" HEIGHT="114" BORDER="0" ALT="">
Surf tripping in Ecuador. Gallery

Rich in family values, it's quality of life, not quantity of riches, that matters down here. A morning walk out to the beach reveals neon-orange starfish, hand-sized sand dollars and fishing boats returning to sell the fresh catch to the locals. It'll all be gone before it ever makes it to market. Sundays can find a surfer wading through hundreds of visiting Guayaquillians in the shorebreak, yet the lineups are empty.
"It's Costa Rica 20 years ago," a traveling Panamanian surfer named Gabriel says, frothing with excitement after splitting a perfect wedge with only two other surfers.
Weekday dawn patrols allow one to lock eyes with local fisherman, whose boat charges through the lineup into open water. Daily trips to the neighborhood tiendas are for picking up fresh fruits, coconuts and pineapples for a dollar. A dinner of chicken, rice and beans at the corner familia restaurante can be picked up for $2.50. Small parakeets fly in pairs and chirp loudly from nearby trees. The rivers are encased by green hills and jungle-lined waterways. Livestock and wild chickens cross the roads wherever they please. Soccer practice takes place on the shoreline every afternoon, and you can watch the "big game" on Friday and Saturday night in the local field for free.
Just a $2 dollar cab ride to nearby Montanita will reveal a contrasting travel experience: fun (but crowded) point and beachbreaks filled with talent. Brazilian-cut bikinis line the beaches while bustling streets are full of venders and cocktail stands. The city is home to a host of hostels, set up for the traveling surfer, and local groms all ride reconstructed surfboards. Dreadlocks and a Carribean feel that flows into the busy discotecas keep the city awake until dawn. Hot days followed by pleasant humid nights make for tropical living.
For a traveler who wants to see more of the breathtaking and dense countryside, there are day trips into nearby rainforests, featuring hikes to waterfalls, zip lining, ATVs. Basically it's a chance to get weird away from civilization. Along the way you'll feel and see true nature (i.e. mosquitos and snakes). In the trees, monkeys, kinkajous and iguanas roam while hundreds of species of birds and butterflies keep things colorful in the dense fauna. And if you want to go there, you can even dine on guinea pig roasted on a stick -- a local delicacy in the mountains.
Coastlines north and south are chalked full of fun waves, and nearby Colombia and Peru are well within striking distance. The Galapagos Islands are a $500 airplane ticket away ...
"Both Ecuador and the Galapagos are really unexplored, so we have plenty of waves to score," says local Ecuadorian surf magazine owner Gustavo Plaza. "With new spots being found on the islands, as well as on the Ecuadorian mainland, some of the heavier spots have only been surfed for the past five years or so."
When asked about the future of surfing in Ecuador, he beams, "It's good. Very good."