As Nike sits poised to serve as host for an Association of Surfing Professionals (ASP) Prime event at Lower Trestles at the start of May and an ASP World Tour stop at the same break in September -- pouring healthy amounts of money into the local economy -- not more than two miles away the San Onofre Nuclear Generating Station (SONGS) sits idle.
Paddle out at any number of surf spots in the San Onofre and San Mateo State Parks region, gaze out to the horizon and wait for the next set to roll through, and nostalgia pours in. San Onofre is the embodiment of what surfing should be and has been for almost 100 years. Historically, it's one of America's oldest surf spots, first surfed in the 1920s.
Orange County Gallery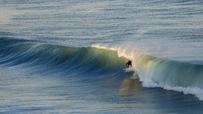 WIDTH="203" HEIGHT="114" BORDER="0" ALT="">
Within a 10-mile radius of the SONGS plant is a number of world-class waves, here are a few of them from an early April south swell. Gallery

Meanwhile, Trestles has been a spawning ground for some of the United States' brightest surf talent, from 11-time world champion Kelly Slater, who won his first pro event there in 1991, to 18-year-old Kolohe Andino, who grew up there and is considered by many to be America's best chance for a world champion in the future. Then there's former president Richard Nixon's former residence, the White House of the West, which sits on the northern edge of San Mateo State Park on Cotton's Point -- a fantastic wave when it's on. But since 1968, when Unit 1 of the SONGS plant was commissioned (it's since gone offline and now serves as a repository for nuclear waste), any hint of a head nod to the south and there, plain as the worst day of your life, is the plant. And as of late, more safety concerns have arisen.
While there's no question a nuclear accident would impact far more than just a few surf spots, which seems trivial given the magnitude of what could happen, surfers are tied to the environment in a distinct way. And after their impassioned response and dogged determination to halt the construction of a toll road through the area succeeded, recent events at SONGS have them turning their attention to a much more menacing foe.
On Jan. 31 a leak in one of the plant's steam generators forced it offline until the problem was resolved. Two months later, on March 27, the Nuclear Regulatory Commission (NRC) announced that it was requiring SONGS to remain offline indefinitely until issues with the generators in Units 2 and 3 had been properly diagnosed and fixed.
"Until we are satisfied that has been done, the plant will not be permitted to restart," NRC Region IV administrator Elmo E. Collins said in a statement.
"Unit 2 was taken out of service for a planned outage on Jan. 9. Unit 3 has been shut down since Jan. 31, when it was safely taken off line after station operators detected a leak in one of the unit's steam generator tubes," explained a March 27 statement released by Southern California Edison (SCE), which operates the plant. "As a result of the leak, SCE recently completed eight days of extensive testing of the steam generator tubes and reported the results to the NRC."
But perhaps the situation is not quite so simple. On Friday, the Los Angeles Times reported that more than 300 steam generator tubes showed excessive and unusual wear. Components of the generating station have been a controversial topic since the shutdown.
"The NRC lets you replace a component if you're replacing like-for-like," nuclear engineer Arnie Gundersen explained in a March 27 Orange County Register article, referring to the generators that are at the heart of the problem and were installed in 2010. Gundersen and Fairewind Associates, which was commissioned by nuclear watchdog Friends of the Earth, recently released a report of his findings entitled "Steam Generator Failures at San Onofre."
"Southern California Edison said these new steam generators were like-for-like, and the NRC bought that. But they weren't like-for-like. On the outside, they may look identical, but on the inside, they're dramatically different. It's like taking a Model T and slapping a V-8 engine in it," Gundersen told the newspaper. "Southern California Edison didn't want to admit they were dramatically different, because that would open up a license amendment, and the public would get involved. They changed so many things it was almost inevitable a problem would develop."
In a testament to the seriousness of the situation, on April 7 the chairman of the NRC, Gregory Jaczko, was joined by U.S. Sen. Dianne Feinstein (D.-Calif.) and U.S. Rep. Darrell Issa (R.-Calif.) on a tour of the plant.
"They have to demonstrate to us that they understand the causes and ultimately they have a plan to address those causes that will ensure public health and safety," Jaczko said in a press conference after the tour.
Environmentalists' fervor has been accented by tragedy that befell Fukushima, Japan, after the earthquake and tsunami of March 11, 2011. An ocean-front nuclear power plant melting down after being engulfed by an earthquake-driven tidal wave? Sounds ominously like a doomsday scenario that could befall Southern California.
"Chairman Jaczko needs to know that the citizens of Southern California are watching," countered Gary Headrick with San Clemente Green. "We deserve answers, and we better get them before they even think about turning these reactors back on. If the Nuclear Regulatory Commission wants any credibility in this town, they need to know they can't sweep shoddy equipment and radiation leaks under the rug."
"Chairman Jaczko's visit to San Onofre underscores the severity of the crisis, but you don't get points just for showing up," said Damon Moglen of Friends of the Earth. "We got here because of Edison's culture of secrecy at San Onofre and that has to change. Edison has made its agenda clear: they want to restart these reactors as soon as possible, which would mean profits but not public safety."
"SCE is committed to the safe operation of SONGS and will not return the plant's generating units to service until the company is satisfied it is safe to do so," affirms a March 15 statement from SCE.
Of course, the lead of the statement explains that the plant "had four additional Unit 3 steam generator tubes fail" during testing.
"Tests at a nuclear plant are designed to detect potential safety issues, and these tests serve that purpose," said Ron Litzinger, president of SCE."
However murky and politically charged the back-and-forth dialog may be, the risk of an accident is feared by all sides.
SONGS was designed to withstand a direct hit from an earthquake reading 7.0 on the Richter scale. It sits on a fault capable of producing an 8.0 (built on a sandstone, water-front cliffside no less). And the 30-foot "tsunami wall"? It's only 15 feet at high tide. In a recent conversation with SCE media relations manager Jennifer Manfrè, it was explained that the wall has been built to the specifications of tsunami experts, engineers and scientists. According to Manfrè the wall's measurement is based on the mean low tide line.
When the plan SONGS was conceived more than 40 years ago, the targeted decommission date was set for 2013. That was then extended to 2022, and SCE is in the process of trying to extend that license for 20 more years.
"SCE is considering license renewal because of the growing importance of nuclear power to its customers and to California," reads a statement on the company's website. "Nineteen percent of the power used by SCE customers comes from nuclear generation. Nuclear power is one of the safest, most reliable, most affordable sources of electricity available. It is the region's largest single source of generation, and is a 'baseload' facility, meaning its power is available 24/7. In addition, the plant's generating process does not directly emit greenhouse gases, providing much-needed support for California's ambitious air quality and climate change initiatives."
On an undermined date in the early 1920s, George "Peanuts" Larson, Matt Brown and Lorrin "Whitey" Harrison became among the first to surf San Onofre. It's one of the birthplaces of surfing in the United States. Generations have been raised on its sands, and with it a large slice of U.S. popular culture.
Today, San Onofre State Park ranks in the top five most visited parks. More than 12 million people live within a two-hour drive, and since the plant's initial closing two months ago not one out of those 12 million has had a problem turning his or her lights on (unless they didn't pay their bills), and given everything that's been uncovered during that time, maybe it's best if the sun finally sets on SONGS.