As Hollywood becomes increasingly interested in a feature film about the late Eddie Aikau -- the legendary Hawaiian lost at sea nearly 35 years ago -- his surviving siblings have gone to court over the rights to the waterman's life story.
Jeff Divine on Eddie Aikau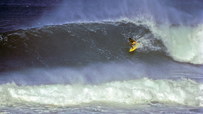 WIDTH="203" HEIGHT="114" BORDER="0" ALT="">
Iconography of a Hawaiian legend. Gallery

Specifically, Myra, Clyde, and Solomon Aikau are suing Your Half Media Group, claiming that the Los Angeles-based production and distribution company long ago defaulted on its agreement to make a feature film based on Stuart Holmes Coleman's 2002 biography "Eddie Would Go."
Big-wave surfer and North Shore lifeguard Edward "Eddie" Ryon Makuahanai Aikau vanished at sea in March 1978 while trying to save fellow crew-members after their voyaging canoe capsized in stormy weather off Hawaii's coast.
According to the complaint, filed in Hawaii's First Circuit Court on April 3, "[Your Half does] not hold exclusive right from [the Aikua family] to make a film about the life story of Eddie Aikau. [The Aikau family] has been damaged by [Your Half's] false representations concerning exclusive rights."
"The purpose of the lawsuit is to clear the air so that movie houses feel comfortable contracting with the Aikau family," the Aikaus' lawyer, Seth Reiss, told ESPN.com. "Our main goal is to get the court to say that we retain the rights and they don't. It's been seven years [since Your Half's 18-month option contract] and they haven't done a film."
The Aikaus are requesting that the court states that Eddie Aikau's life rights belong exclusively to the family. They're also seeking unspecified compensation.
Your Half's Ryan Harper did not respond to requests for comment.
The legal wrangle over the feature film has not derailed an Eddie Aikau documentary now in post-production, said producer Paul Taublieb, who has teamed up with filmmaker Stacy Peralta and director Sam George on the project.
"The lawsuit should have no impact on our documentary," Taublieb told ESPN.com. "It's a completely separate project."
He added that it should be completed by this fall.