Preview
Day 1
Day 2
Day 3
Day 4
Day 5
The marketing tag line for the 2012 Nike Lowers Pro read, "Create your legacy." In dominant fashion Gabriel Medina did just that. Winning the contest outright, Lowers might never have seen the likes of a more heady performance. That's not just hyperbole, it's a fact.
Gallery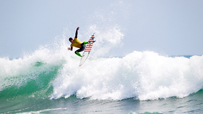 WIDTH="203" HEIGHT="114" BORDER="0" ALT="">
After an amazing week of surf at the Nike Lowers Pro, here are some of the more memorable moments. Gallery

By the time the final was over and Medina was clenching a $30,000 gold railroad spike in his teeth he was the owner of five of the top ten wave scores of the event, and five of the top 10 heat scores. With the exception of the lackluster final, he scored a nine in every heat. And then there was the testimonial:
"That's the most barrier-breaking performance I've seen down here in 40 years," Bob Hurley said.
"This all started in 1977, and I've never seen anything like it," confirmed 1976 world champion Peter "PT" Townend.
For Medina's part, he said he was "scared" going into the final.
Maybe he should have been nervous, but certainly not scared. In the final the 18-year-old Brazilian met the most unlikely of surfers in Glenn "Micro" Hall. Earlier this year the 30-year-old Irishman won the ASP event in China, so he has a bit of a streak going, but rated 43rd in the world before the start of the contest, nobody except him would have picked Hall to go to the final. But it's been that kind of contest. Stars such as Kolohe Andino and Julian Wilson were out in the first round, meanwhile Hall kept hammering the right on his backhand.
But through and through, from beginning to end, this has always been Medina's contest to win. In his semifinal matchup against Ace Buchan he opened with a 10-point ride in the first 30 seconds. He backed that up with a 9.80. Gauntlet thrown, Buchan never knew what hit him, and even if he did, he couldn't have countered. Medina's brand of surfing is at another level.
In 1989 Christian Fletcher won with his groundbreaking aerial assault at the then Body Glove Surf Bout, Kelly Slater legitimized it the year after, and now more than 20 years later the bar for above-the-lip surfing has again been raised to an impossible height.
"It is a perfect wave to me," Medina said this week. "It's so crowded most of the time, but it's so nice with only one other guy out, it really frees up your surfing."
"It's like Tommy Carroll once told me," Townend said. "He says, 'I do the best surfing when I'm not thinking about it.' And that looks like it's true with Medina too. He's not fighting it, he lets things come to him and just kind of has this naturalness about him."
Others had their chance. In the quarterfinals Medina drew Dane Reynolds, but again Medina came out swinging. Halfway through the heat Reynolds' competitive head was gone. On one left that he maybe could have turned for a score he caught a rail after two good turns, kicked out going switch stance, and flopped into the water. When he's over it's obvious, nobody flops like Reynolds.
John Florence could have gone the distance too. He made short work of Tanner Gudauskas in their lully, slow quarterfinal. But against Hall the tables turned and he wasn't able to find the waves he needed, and Hall's consistency got the better of him.
So there was Medina, with a stack of stats in his favor and all the momentum in the world. The final was more clinical than dramatic. There weren't a lot of waves on offer, and the scores stayed in the moderate range. There was a little back and forth, in the early goings, but Medina built scores throughout and won by a handy five-point margin.
Now Medina turns his attention to the Billabong Pro in Rio, which gets under way the end of next week. Like Lowers, it's a venue that's well suited to his abilities, and back-to-back wins are already on his mind.
"I can go back home now with a lot of confidence," Medina said afterwards. "It is amazing, it's been really great to win with my family here, and hopefully I can do the same back home in Brazil."
Nike Lowers Pro Final Results:
1. Gabriel Medina (BRA) 15.67
2. Glenn Hall (IRL) 10.87
Nike Lowers Pro Semifinals Results:
SF 1: Glenn Hall (IRL) 12.60 def. Gabriel Medina (BRA) 12.17
SF 2:Gabriel Medina (BRA) 19.80 def. Adrian Buchan (AUS) 8.43
Nike Lowers Pro Quarterfinals Results:
QF 1: Glenn Hall (IRL) 13.30 def. Jeremy Flores (FRA) 12.67
QF 2: John John Florence (HAW) 13.20 def. Tanner Gudauskas (USA) 13.00
QF 3:Gabriel Medina (BRA) 18.20 def. Dane Reynolds (USA) 11.03
QF 4:Adrian Buchan (AUS) 13.83 def. Patrick Gudauskas (USA) 13.53