John John Florence won the 2012 Billabong Rio Pro, beating Joel Parkinson in the final Wednesday. Florence is now ranked sixth in the world, while Parkinson has taken over the top spot on the ASP World Tour ratings.
Gallery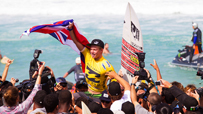 WIDTH="203" HEIGHT="114" BORDER="0" ALT="">
Highlights from the 2012 Billabong Rio Pro. Gallery

Florence's victory furthers a string of good results for the 19-year-old Hawaiian, and is proof he can succeed in any and all conditions. In December, he was crowned the 2011 Vans Triple Crown champion and won the Vans World Cup at Sunset Beach. Then in January, he won the Volcom Pipe Pro, followed by a first-place finish at the Drug Aware Pro in Western Australia in March, and most recently, he posted an equal third-place finish at the Nike Lowers Pro. It would be hard to argue that anybody -- even Kelly Slater, who now finds himself sitting an uncharacteristic eighth in the ratings -- has been more dominant over the past six months.
"I can't even believe this right now," Florence said afterward. "I'm in shock. I was just sticking to my game plan and not thinking about the other guys. I'm so happy right now."
Meanwhile, Parkinson's rise to the pole position has him poised for a title run through the second half of the year. With the rise of the teen phenoms, some have noted this year could be one of 31-year-old Parkinson's last bids for a title that's elluded him throughout his otherwise stellar career.
"It's a long way to go, and I don't want to get too far ahead of myself, but I'm stoked. I've had a couple of really nice, consistent results," Parkinson said. "I have been in this position before, though, so I'm hoping to maintain my performance level throughout the rest of the year."
Unfortunately for Parkinson, and everybody else on tour, Florence isn't going anywhere. Fiji and Tahiti are the next two stops on tour, which plays to his strengths. He's one of the best tube riders on tour, and waves of consequence such as Cloudbreak and Teahupoo are right in his wheelhouse. Adding Supertubes in Portugal and Pipeline in Hawaii to the equation, there's a very realistic chance he could end the year in the world title hunt.
In some high praise from the champ, after the final, Slater tweeted, "Would really love to make a final with @johnjohnflorenc before I'm done here. #pipeline? Would be a great memory for me one day."
This year's crop of rookies has been much hyped and closely watched, but none has proved as versatile or successful as Florence. Gabriel Medina won the Nike Lowers Pro in what a lot of people considered to be one of the most dominant performances ever seen at the famed cobblestone point, but Florence wasn't far behind him. Kolohe Andino, who's the poster child for corporate surf sponsorship, continues to struggle to find his footing. He has the Hurley Pro at Lowers to look forward to in September, but that run through the South Pacific could be tough for the 18-year-old. Both Medina and Andino are too talented and their technique and fundamentals too well engrained to struggle for too long, but as things stand now, Florence is head and shoulders above both.
The ASP World Tour now takes a two-week hiatus before heading to Tavarua for the Volcom Fiji Pro.
BILLABONG RIO PRO FINAL RESULTS:
1. John John Florence (HAW) 16.37
2. Joel Parkinson (AUS) 11.44
BILLABONG RIO PRO SEMIFINALS RESULTS:
SF 1: Joel Parkinson (AUS) 15.83 def. Mick Fanning (AUS) 15.00
SF 2: John John Florence (HAW) 17.94 def. Josh Kerr (AUS) 11.86
BILLABONG RIO PRO QUARTERFINALS RESULTS:
QF 1: Joel Parkinson (AUS) 13.90 def. Tiago Pires (PRT) 12.60
QF 2: Mick Fanning (AUS) 16.57 def. Alejo Muniz (BRA) 5.90
QF 3: John John Florence (HAW) 14.94 def. Julian Wilson (AUS) 9.43
QF 4: Josh Kerr (AUS) 15.84 def. Adriano de Souza (BRA) 14.27
CURRENT ASP WCT TOP 10 (after Billabong Rio Pro):
1. Joel Parkinson (AUS) 19,700 pts
2. Mick Fanning (AUS) 18,250 pts
3. Josh Kerr (AUS) 18,200 pts
4. Adriano de Souza (BRA) 17,200 pts
5. Taj Burrow (AUS) 15,750 pts
6. John John Florence (HAW) 15,750 pts
7. Jordy Smith (ZAF) 15,700 pts
8. Kelly Slater (USA) 13,700 pts
9. Jeremy Flores (FRA) 12,250 pts
10. Owen Wright (AUS) 12,150 pts