First Point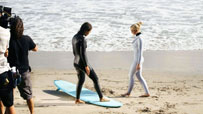 WIDTH="203" HEIGHT="114" BORDER="0" ALT="">
Images from the making of Richard Phillips' and Taylor Steele's new surf film. Gallery

Artist Richard Phillips' "First Point" isn't your typical surf movie: It's a 1960s-inspired, artsy short, scored by Thomas Bangalter, half of two-time Grammy winner Daft Punk -- and it has wild-card celebrity Lindsay Lohan in it.
The film premiered Monday at Switzerland's Art Basel festival and will be showcased again at New York's Gagosian Gallery in mid-September. Though Lohan is the star of the film, it's pro surfer Kassia Meador who actually does the surfing. Meador, who's also an artist and model, spoke to ESPN.com about being Lohan's surf double and her take on the film.
ESPN.com: How did you get this gig?
Kassia Meador: I have an art dealer friend that knew Richard [Phillips] from some of his shows. She's surfed with me since I was a kid, so when Richard needed someone she immediately asked me if I was available. The next day I was filming at Malibu's Surfrider Beach.
Why did you want to be involved with a film like this?
I'm always interested in projects like this, and that's why I jumped at this opportunity. I enjoy collaborating with people who I think have wonderful vision, and I hope to continue doing so. I've also loved working on projects that are a little bit different than the norm. This film couldn't have been more perfect.
How was it working with Lindsay Lohan?
Beforehand, I didn't know what to expect. I don't know anything about pop culture, nor do I watch TV, and had only heard things about [Lindsay] that had trickled down through the grapevine. Once we got out there, though, I was totally stoked on her positive vibes. She was really interested in surfing, so I gave her a few pointers. By the end of the day, she was able to get up for a couple.
What was Phillips' take on surfing?
He comes from a different world -- one that I can relate to as a surfer and an artist. I got a glimpse of how he views life and how he works on a project and also how he plays [he surfs, too]. Phillips comes at this thing from a more artistic, creative angle and I haven't seen surfing ever broadened to such a different context. It feels refreshing to see the sport I love so much illustrated in a different light.
So you're pleased with how the footage turned out?
I'm super stoked on what I've seen so far. They were able to slow everything down and show the nuances of my footwork and what it is that's so beautifully subtle about longboarding. The equipment they used, the way they were shooting, the images they were after -- all of it was so specific to the project that I think it will create something very unique that's never been done in the surfing world.
The film is five minutes and 34 seconds long. How long did it take to shoot?
About four or five hours a day for a couple of days. I don't really look at it as stunting because I was just surfing. I would go do that anyway, whether or not someone was filming me.