Preview
Day 1
Day 2
Day 3
Day 4
Day 5
Final
HOSSEGOR, France -- Kelly Slater now has 51 World Tour victories to his name after his win Friday at the Quiksilver Pro France. His very first tour victory was here, in 1992, but it has taken 20 years in the Hossegor beach breaks for him to claim his second win.
"Maybe I would have done it sooner," joked Slater about the time span between his two wins, "but Andy (Irons) kept winning them." Irons won consecutively from 2003 to 2005.
Quik Pro France photos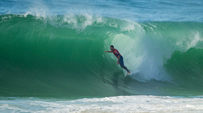 WIDTH="203" HEIGHT="114" BORDER="0" ALT="">
Slater again ... this time in France. Gallery

Quiksilver has been sponsoring this World Tour event at Hossegor for 10 years and has never had one of its team surfers win the event. Friday was a sponsor's dream come true, with event wild-card and freesurfer Dane Reynolds lining up for a classic battle against its main man, Slater, in the 40-minute final.
The president of Quiksilver Europe, Pierre Agnes, was at the water's edge as the last seconds ticked down in the final. He'd come down to help carry the victorious Slater through the massive crowd. When asked how he felt to finally have a sponsored surfer win its event he just grinned and offered up one word: "Finally!"
John John Florence, who is currently in his rookie year on Tour and finished third in France, was not yet born when Slater won his first event in France in 1992.
After Thursday evening's perfect conditions, nobody knew what was in store for the competitors Friday morning. The weather forecast predicted bad winds and small waves, but at first light there was a buzz around the contest site. The swell had dropped a fraction, but the waves were absolutely perfect.
Contest director and former pro surfer Micky Picon, was pacing the officials area. He'd already called the contest on but was asking no one in particular, "Are we happy? Is the light right? Do you want a coffee before we send you out? How about some breakfast?"
He said later, "I've aged a year in the last 10 days. It's been so hard to make the right call with the tides and the swell."
But on Friday, Picon didn't have to direct a thing because all four surfers left in the event wanted to surf for as long as possible. Even Slater was dictating the length of the final.
"Can we get an hour?" he joked with Picon before finally settling for 40 minutes.
The semifinals had been won and lost in the same virtually perfect surf. There were plenty of waves to go around for all four surfers -- Slater, Reynolds, Florence and new Tour leader Joel Parkinson -- and no real hassle went down in the water.
Florence said later that the waves hadn't come his way. Parkinson said virtually the same thing.
"It was a little slow at times and I couldn't find the right corners to the peaks," Parko said toweling off after his heat. An hour later after the final he was still questioning whether he should have gone for a deep one and whether it would have made a difference in the semifinal result.
The difference might have been a win over Slater and a place in the final and not an equal-third result.
As Slater said after the final, the pressure is now on Mick Fanning.
"Today's results are Mick's worst-case scenario. All three guys around him did well in this event and Mick got a throwaway [equal-13th] result. The whole race has tightened up. I'm not worrying about it because there is nothing I can really do, but I have to keep getting good results."
This year's ASP World Title is decided on eight contest results out of 10 events. Sitting closely behind Parko in second place, Slater already has two throwaway results and so does Fanning, who now sits in third, while Parkinson's worst result so far this year is a ninth-place finish, putting him in a better position technically.
Parkinson leaves Hossegor sitting on top of the World Title ratings. The next event is in the beach breaks of Peniche, Portugal, and could start as early as Wednesday. The Tour then returns to mainland U.S. in November for the Coldwater Classic in Santa Cruz, followed by Pipeline in Hawaii mid-December.
QUIKSILVER PRO FRANCE FINAL RESULTS:
1 Kelly Slater (USA) 17.26
2 Dane Reynolds (USA) 14.00
QUIKSILVER PRO FRANCE SEMIFINALS RESULTS:
SF 1: Dane Reynolds (USA) 15.70 def. John John Florence (HAW) 15.60
SF 2: Kelly Slater (USA) 12.27 def. Joel Parkinson (AUS) 10.93
CURRENT ASP WCT TOP 5 (After Quiksilver Pro France):
1. Joel Parkinson (AUS) 46,200 pts
2. Kelly Slater (USA) 45,450 pts
3. Mick Fanning (AUS) 43,000
4. John John Florence (HAW) 39,150 pts
5. Taj Burrow (AUS) 31,900 pts