Travis Pastrana has earned his 11th gold medal and 17th medal overall in that rarest of X Games events: one that he's never medaled in before.
Speed and Style was held Sunday night at the Staples Center, the final event of X Games 16 and one originally designed to settle once and for all who are the baddest moto riders: freestyle riders or racers. But in a field boasting just one true racer -- Supercross competitor Kevin Johnson, who just learned backfips in the last few months -- the event turned into a veritable jam session between some of the biggest names in FMX, including Jeremy "Twitch" Stenberg, Nate Adams, Ronnie Faisst, and of course Pastrana himself, who was competing in his fourth event of these Games.
X16 Day 3 ZOOM gallery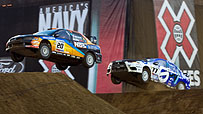 WIDTH="203" HEIGHT="114" BORDER="0" ALT="">
For a more visual recap, check out the X16 Day 2 ZOOM. Gallery

The event, which combines stretches of Supercross-style racing with huge metal freestyle ramps and timed laps with judged tricks, ultimately came down to Pastrana and nine-time medalist X Games Adams. Pastrana led going into the first turn when Adams over-jumped the first rhythm section, and never looked back. He threw a no-footed nac indy on his first jump, followed by a double heel clicker flip and a nac nac flip. Adams tried to battle back with a 360, but Pastrana finished with a 3.33-second lead and the win.
Pastrana, who experienced the high of a triumphant return to Freestyle Thursday followed by the frustration of car trouble in both Rally events on Saturday, was elated with the win. "It feels really good," Pastrana said following the win. I was hoping to do well in Speed and Style but I didn't have high hopes. We really thought the cars would be the focus this year and it turned out to be exactly the opposite."