If a bomb went off at Tony Hawk Industries right now, vert skateboarding as we know it would be decimated. The facility, home to a variety of Hawk-themed business interests, also houses the old Boom Boom Huck Jam tour ramp -- one of the most coveted private ramps in the country. On a normal day, sessions are kept to five or fewer skaters to keep what's ostensibly a place of work from descending into skate-fueled mayhem, but today -- just three days before the first Dew Tour of the season -- skate-fueled mayhem is exactly what's transpiring.
Pierre-Luc Gagnon Retrospective
onClick="window.open('http://www.espn.com/action/xgames/summer/2010/gallery?id=5405260','Popup','width=990,height=720,scrollbars=no,noresize'); return false;">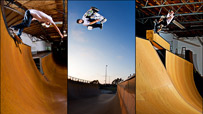 WIDTH="203" HEIGHT="114" BORDER="0" ALT="">
Gagnon has spent the better part of the past two decades well above the deck. onClick="window.open('http://www.espn.com/action/xgames/summer/2010/gallery?id=5405260','Popup','width=990,height=720,scrollbars=no,noresize'); return false;">Gallery »
"Biggest session ever!" shouts Fuel TV host Neal Hendrix before dropping in on the heels of Rob Lorifice, who floats back onto the deck where Bucky Lasek, Bob Burnquist, Andy MacDonald, Zach Miller, Marcelo Bastos, Elliot Sloan, and Jurgen Horrwarth all stand, each looking to get the next run. The tails of their boards bounce under their feet as they crane their necks to follow Hendrix across the ramp, twitching to slide the back truck over the coping the instant Hendrix finishes or falls.
Standing across the ramp, the lone skater on the opposing deck is 30-year-old Pierre-Luc Gagnon. Assembled before him is 75 percent of his competition for a season's worth of events that are about to get under way. He watches carefully, with a cool detachment from the energy on the other deck. It looks like he's taking stock of the other skaters' tricks, but when he slips into the rotation it's clear he's been focused on his own run. He lofts a 540 to another 540 over the ramp's channel into a 720 into a switch kickflip 360.
Unnoticed, Hawk himself appears alongside the ramp and watches Gagnon's run. As Gagnon pops onto the deck with the rest of the skaters, Hawk walks onto the ramp's flat bottom with a digital camera in hand. "Let me get a picture of this session," he says, and the skaters cluster together in a tight knot above him. He smiles and shakes his head while he takes the picture. "I am so glad I don't compete anymore."
Back when Hawk was redefining vert skating and translating it for a mainstream audience in the '90s, Gagnon was the scruffy runt of a Montreal scene headed toward extinction.
"When I started, vert wasn't unusual, because I started skating in 1988, 1989 and that was the prime of vert skating right before it died," Gagnon says, his voice still betraying faint signs of a Quebecois accent. He's sitting in his house in Carlsbad, Calif., framed by a wall of medals and table of trophies in a room lined with brand-new skate decks -- both his own pro models and those of his friends like Jake Brown and Mike "Lizard King" Plumb. "There was a vert ramp right by my house, so I started going there every day after school."
At least five or six years younger than the rest of the skaters in the scene, Gagnon displayed an early enthusiasm for vert that was necessary for anyone who sought to master the discipline in a place like Quebec, where long, brutal winters and a dearth of indoor facilities forced skaters into hibernation for months at a time.
PLG's X Games Medal History

Gagnon has spent very little time off the podium in 12 years of competition.
"Just trying to get ramps set up indoors in Canada was a task by itself," recalls Max Dufour, a former vert pro who was a standout of the Montreal scene. "We had a lot of support from Pierre's dad on that end."
While not a skater himself, Gagnon's father recognized early on the role skating could play in providing a positive outlet for his son -- something that would keep him out of trouble and give him a reason to take school seriously. "It was a trick he would play on me. He was like, 'If you're getting bad grades, I won't take you to the skate park. You'll be cut.' I really wanted to skate, and the only way to skate every day was to get good grades and stay out of trouble. So it worked," Gagnon says.
Gagnon's father was instrumental in getting his hometown of Boucherville to build an indoor park with a vert ramp, which became a focal point of the scene and allowed him, Dufour and others to continue developing on vert, even as the sport itself seemed to go into hibernation. But if Gagnon initially was just another stoked kid trying to emulate the older skaters, by 1996 it was clear that he held promise beyond the limited horizons of Eastern Canada.
That year, Gagnon traveled to New York City to compete in an amateur contest held by Vans in conjunction with the Warped Tour. When he won that event, he earned a trip to Hollywood, where regional winners from across the country competed for a shot at the World Amateur Championship. His victory there earned him a small contract from Vans, and before long Gagnon was traveling the skeleton circuit that remained for vert skating, competing as a pro and discovering that he had the skills to keep up with the best.
"I remember Pierre from the Triple Crown days," says Bob Burnquist, referring to the Vans contests of the late '90s. "He was being brought up in this whole competition environment and you could tell he was always on his board. He got more and more consistent, became more and more technical and gave us more and more trouble."
Burnquist knows from technical skating. It was his performance at the 1995 Slam City Jam in Vancouver that signified a sea change in vert skating, which up to that point was more about big air and rotations than the flip tricks and lip tricks that became known as "technical" vert skating. At Slam City, Burnquist proved that switch skating, -- still relatively new among the street skaters who introduced it to skating's canon -- was consistently possible on vert, as well.
Throughout the late '80s and early '90s, as street skating developed and vert skating waned, the older form necessarily informed the younger form of skating. Early street skating included all sorts of tricks and styles that were taken directly from vert. But Burnquist's skating on vert, along with that of Danny Way and Colin McKay, reversed that trend in the mid-90s. By then, street skating was ascendant, and these skaters recognized that vert had as much to learn from street as street once learned from vert. The switch skating and flip and lip tricks these three pioneered started an evolution in vert that continues to this day.
And Gagnon -- at the time young enough to not have to relearn anything to keep up with this change -- did more than just keep up with it. He soon led the way.
Gagnon's first X Games was 1997 and it took him three years to reach the podium, earning silvers in both Vert and Vert Doubles in 2000. Since then, he's amassed a shocking medal haul: 14 in total, with five gold, seven silver and two bronze in both vert disciplines and Big Air. His first victory came in 2002, his second in 2005, and he's the two-time reigning Vert champion going into X Games 16. This puts him in a position to do something no vert skater has ever done: three-peat in X Games Vert.
"He's more consistent than all the other dudes, and no one's doing the tricks he does. I just don't think there are too many guys who can keep up with him," says Chet Thomas, the brand manager at Darkstar Skateboards, Gagnon's board sponsor. It's a company that was built on a reputation of hyper-technical street skating that saw in Gagnon a kindred spirit -- just one who was much higher in the air. "If he doesn't win, it's because he doesn't stick everything that he's set out to do. When he puts everything together, it's pretty difficult to beat the guy."
src="http://a.espncdn.com/i/story/design07/dropQuote.gif" />
If he doesn't win, it's because he doesn't stick everything that he's set out to do. When he puts everything together, it's pretty difficult to beat the guy.
src="http://a.espncdn.com/i/story/design07/dropQuoteEnd.gif" />
-- Chet Thomas
Gagnon cites fellow Canadian McKay as a primary influence, and his contest runs are full of the sort of technically mind-bending tricks that McKay builds entire video parts out of. The difference is that Gagnon strings together 12 walls' worth of the tricks McKay innovated under the cold, hard gaze of a judging panel ready to strike him down for the slightest bobble.
Kickflip 540 melons, backside nollie heelflip indy grabs, heelflip McTwists, 360 flip mute to fakies, kickflip body varial McTwists -- linking these kinds of tricks back-to-back requires a freakish combination of board control, air sense and strategy. Individually, each trick requires precise foot placement, and when they're strung together, Gagnon needs to land in specific positions to ensure the continuity of the run. The pads and transitions may make the consequences of vert skating more mitigated than the high stakes of doing comparable tricks on pro-level street terrain, but the length and complexity of a Gagnon vert run is something with very little precedent in all of skateboarding.
"I just try to be powerful and technical at the same time. I'll try to go big, but I really try to make sure my skating is street-inspired -- a lot of flip tricks and variations with spins," he explains, comfortable with the arcane verbiage of vert skating but uncomfortable with anything that sounds like he's giving himself props. "You've got to see it; it's really hard to describe with words."
Burnquist has no such compunctions: "Listen, Pierre? He's good. He's really good. Pierre's working on it, probably more than most of us. I skate vert, but I'm not going every day, working. Pierre is straight down the line, being on the vert and being as technical as he can be. And he's going for it."
Four days after the super session on Hawk's ramp, Gagnon is the class of the field in Boston for the opener of the Dew Tour. Burnquist, who's recovering from a nasty gash on his shin that required too many stitches to count, fails to advance out of qualifying for the first time ever. Bucky Lasek, last year's primary foil for Gagnon, skates with uncharacteristic tentativeness and fails to podium. And while Andy Mac in third and Sandro Dias in second skate well, they never come close to Gagnon, who makes the vert look like a miniramp with huge 540s over the gap and a variety of switch flip tricks that even the judges have trouble keeping up with.
Still, perhaps the biggest skater in Boston was the one who didn't skate. Shaun White had announced weeks earlier that he intended to make his return to vert competition in Boston before being waylaid by a tweaked ankle. On hand to provide commentary for NBC, White received plenty of adoration from the crowd, a reminder that Gagnon and his peers are niche celebrities compared to the massive audience an Olympic gold medalist commands -- even if that medal came in a different sport. On July 14, White announced that X Games 16 will be his comeback, instead.
The professional vert community is so tight-knit, and so geographically focused on Orange and San Diego counties, that the field for any major competition is constantly skating together. Each skater often knows what his competitors' competition runs will look like before they even arrive to an event, and there is a remarkable amount of technique and advice shared among them. In a very real sense, they're all competing primarily against themselves.
White is something different. While he occasionally skates with the rest of the field, he's not a fixture on the scene like the rest of them. And between his post-Olympic victory tour and his injured ankle, very few people have seen him on a vert ramp in months. It's been two years since he competed at X Games, having sat out last summer due to Olympic preparations, and it's been three years since his lone X Games Vert victory. Nevertheless, few doubt he'll seize the lion's share of the spotlight the moment he appears anywhere near an X Games venue.
With Burnquist more focused on Big Air and Lasek's performance in Boston raising questions about his skating this year, Gagnon would seem to be the prohibitive favorite going into X Games 16. But since no one knows what White will bring to the table -- he's still the only skater dedicated to pulling a 1080 on vert -- it's fair to wonder if he could be more than just a distraction in Los Angeles.
Gagnon has skated with White only once since White's winter ended, and he's not taking him lightly. "It amazes me how fast Shaun got back on his board and got his tricks back. If I wasn't skating for that long, I'd be all over the place. He's just a natural like that."
Burnquist isn't inclined to dismiss White either, but still gives Gagnon the edge. "Pierre has an advantage over Shaun because he has the airs, he has the flips, he has the lip tricks and the all-around combinations. And he skates more often than Shaun does. But Shaun is very gifted and talented. He's definitely one of the bigger bees buzzing around [Gagnon]."
And that pretty well describes where Gagnon sits in the world of vert on the eve of X Games 16 -- swatting away whatever potential threats stand between him and a historic three-peat.
"Shaun White is more of a spinner and likes to go fast and high," Thomas says. "Technically, he doesn't have what PLG has. Shaun's an amazing all-around athlete. But all PLG does is skate. It's hard to keep up with someone whose entire drive and focus is to be the best skateboarder."