SKATE
By Adam Salo
Park Elimination seemed to be a changing of the guard, thanks to a course that's more wide open with smaller features. The dominant riders of years past -- Rune Glifberg, Omar Hassan, Bucky Lasek and Andy MacDonald -- certainly flowed through the course with ease but failed to put down many tricks, while the younger competitors were throwing big moves all over the place. Three teenagers -- Pedro Barros, Kevin Kowalski and Curren Caples, who qualified in first, third and fifth, respectively -- were particularly impressive. Two-time and defending champion Glifberg, meanwhile, struggled and barely made the cut at 10th.
X16 day two ZOOM gallery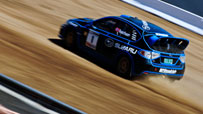 WIDTH="203" HEIGHT="114" BORDER="0" ALT="">
For a more visual recap, check out the X16 day two ZOOM. Gallery

In Women's Vert, Gaby Ponce was the clear winner, throwing consistent kickflip indys and a proper nose grab caballerial in one run. The women are stepping it up a bit, with Ponce, Lyn-z Adams Hawkins and Karen Jonz all pulling kickflip indues and Hawkins and Ponce both coming close to landing 540 variations. As the careers of pioneers Cara-Beth Burnside and Mimi Knoop seem to be winding down, these girls seem ready to take control.
Despite rabid Shaun White fans crying foul, Pierre-Luc Gagnon convincingly earned his three-peat in the Vert Final. The fact is that Gagnon is simply a more technical skater than White and his runs were consistently more difficult. Casual fans may not necessarily appreciate that Gagnon's runs, which included 720s into a kickflip body varial 540, are superior to White's easy-to-grasp, spin-filled runs. White's consistent and has plenty of 720 rodeos and 540 variations on lock, but he doesn't flip the board nearly as much as Gagnon.
"Obviously I saw the way Shaun was skating especially when he pulled that second run he did and the crowd went kinda crazy," Gagnon said afterward. "I was like, 'Alright, there's no messing around now. If I've got a chance, here's my chance.' I fed off that energy and it started to work out."
White led briefly in the middle of the Final jam session, but Gagnon seized it from him with runs peppered with nollie heelflips and spinning kickflips where White threw setup tricks. White's silver after nearly two years out of major vert competition wasn't just a fair result -- it was impressive in its own right.
Despite rumors that the return of Vert Best Trick was due in part to a possible Shaun White 1080, White himself chose not to compete in the event, which immediately followed the Vert Final. The reasons for his absence are unknown, but with no potential 1080 in the field, and with 900 Club member Alex Perelson also out, the contest was a heavily technical battle between Gagnon and his hero and fellow Canadian, Colin McKay.
It was a pleasure to see McKay, an acknowledged pioneer of technical vert skating, return to competition for the first time in four years. He led for a while with a no-handed backside 360 flip, but we've all learned that when it comes to vert competition, it's Gagnon's world and we just live in it. He took his second gold of the night with a nollie heelflip bigspin 540.
The big question for Friday's Street Final is whether or not the absence of Paul Rodriguez and Chris Cole from the lineup means Ryan Sheckler will dominate the day. Throughout practice and Elimination, several other competitors have looked impressive, including Chaz Ortiz, Nyjah Huston and Ryan Decenzo. And Bastien Salabanzi proved with his fourth-place finish at last month's Maloof Money Cup that he's having a career renaissance.
But considering how big a factor the tea cup feature, which injects a healthy dose of transition into the street course, looks to be, Creature pro David Gravette has the potential to pull off an upset. Those who have followed his career closely know his strengths are gnarly rails and big transitions, so the course plays right into his hands.
Still, Sheckler has handled the course's double set and rails with ease and has no trouble in big transitions himself. With his drive and ability to turn it on for a crowd, he's the clear favorite for gold.
BMX
By Brian Tunney
Street Elimination was the funniest contest I've seen in a long time, thanks to Sean Burns. Riding in place of a concussed Van Homan, Burns began his run with a failed ninja drop from the top of the athlete tent into the course. He then circled the course, spotted a wedge and launched it over a support beam and entirely out of the course, dropping 10 feet below to a walking corridor alongside the event deck. Burns crashed, the crowd went nuts and he sat down and smoked a cigarette.
"It was the only awkward boner line I could take," he said. He finished in last place with a score of 16.66.
At the other end of the results, there was a three-way tie for first between Ty Morrow, Garrett Reynolds and Denis Enarson. All rode flawlessly, throwing down big lines and stomping a wide array of grids and gaps.
The Vert comp was a tough one to watch. Australia's 20-year-old Vince Byron, an X Games rookie, went down while stuck in a turndown position and KO'd himself for a few minutes. He ultimately got up and walked away. On the other end of the age and experience spectrum, Kevin Robinson, 38 years old and competing in his 15th X Games, dislocated his shoulder three times. That broke Mat Hoffman's record of two dislocations in a Vert Final. Adding to the carnage were dramatic crashes from Dennis McCoy, Chad Kagy and Jimmy Walker.
At the end of the day, everyone was alive and Jamie Bestwick won his fourth consecutive Vert gold. As has been the case so often for much of the past decade, Bestwick was nearly untouchable Friday night, throwing a variety of 540 variations, including alley-oop 5s in the 11-foot range, double downside tailwhips and downside tailwhip flairs that soared well above most of his other competitors. A tiebreaker between Steve McCann and Simon Tabron was required to determine second place, with the silver going to McCann.
"Man, what a day. The four-peat is just crazy," Bestwick said afterward. "But I'm happy to have won and made some BMX history." It was the first BMX Vert four-peat in X Games history and his seventh gold medal in the event.
In other news, Rob Darden has dropped out of Park, moving Dennis Enarson into Park Finals for tomorrow, which starts at 12 noon. We're predicting a repeat in Park for Gary Young, based on his ability to create unique lines and ride the course faster than anyone else. Big Air follows Park at 6 p.m., and because Robinson is probably at about 70 percent due to his shoulder issues, we're calling it for Kagy. If he repeats what he's done in previous years -- flip whips over the gap to flair whips at 17 feet on the quarterpipe -- no one else will even come close.
Kagy, Robinson and McCann are all pulling double duty, moving from the Vert ramp to the Big Air jump. To every Vert gladiator, we say thanks for coming out swinging.
MOTO X FREESTYLE
By Ryan Leyba
When the bar in Step Up hit 28 feet, riders started dropping like flies. First, it was last-minute invitee Beau Bamburg, followed by crash-happy Jeff "Ox" Kargola, Myles Richmond and Todd Potter. Defending champion Ronnie Renner and 2007 champ Matt Buyten got the bar up to 32 feet before things started to get interesting. The two riders have completely different techniques -- Renner whips his bike sideways, while Buyten bashes through the jump straight into the air -- but it was ultimately power over style and Buyten took the win at 33 feet, 6 inches.
The next event in the moto triple play at Staples Center on Friday night was Best Whip, which featured a host of new riders, including Super X bronze medalist Josh Hansen, Jarryd McNeil and Bamburg. Two-time and defending champ Todd Potter had his hands full, but he ultimately proved up to the task. Unlike the rest of the events at X Games, the Best Whip champion is picked by fans, via text message, making it something of a popularity contest.
The Best Trick contest suffered before it even began from a lack of some of its biggest stars. Travis Pastrana pulled out when he determined he couldn't land his rodeo 720. Bilko Williams pulled out when he injured his shoulder last week. And defending champion Kyle Loza pulled out literally minutes before the event began, citing his surgically repaired wrist as the reason.
But while the contest lacked the level of progression we've come to expect -- even to a fault, as illustrated by last year's event when crashes were the norm -- there was plenty to cheer for thanks to Australia's Cam Sinclair. After nearly killing himself when a double backflip attempt went wrong at an X-Fighters event last summer, the 26-year-old has fought through a coma, then relearned how to walk, then relearned how to ride and finally relearned the double. When he threw it flawlessly, the joy from his follow competitors was palpable in the arena.
The double earned Sinclair the win, but it has to be pointed out that the same trick won Pastrana gold four years ago. Robbie Maddison took silver with a variation on the Volt -- the trick that won Loza gold in 2007. The only potential first was Paris Rosen's frontflip, which he didn't come anywhere near completing. He's lucky to reportedly be conscious and moving on his own after a crash that left Staples Center dead silent for several minutes.
So where do we go from here?
"The triple backflip is completely possible, and it's something that I've been thinking about for a while now," Sinclair said. "If you have the right ramp, the right landing and the right rotation speed, it's a trick that could be seen in the near future."
Sounds like there might be a reason to return to Best Trick next year ...
RALLY RACING
By B.J. Smith
"What do the drivers think of the track?" Tanner Foust asked rhetorically after Rally practice Friday. "The track is treacherous."
He cited things that might look innocuous on television, like a huge compression drivers encounter where the track exits the stadium. Ultimately, the track is harder on the cars than the drivers and the heavyweights -- 2007 champ Foust, two-time champ Travis Pastrana, Ken Block and defending champ Kenny Brack -- are all expected to do well.
Perhaps more anticipated than the traditional Rally Car race is Saturday's debut of SuperRally -- a motocross-style race that will follow the Rally Car Final at 7:15 p.m. PST.
"SuperRally is basically all the best things about motorsport; sideways driving, garble sliding, jumping, door-to-door aggressiveness, all packed into one stadium," explained Foust, who thinks motocross racers like Pastrana and Brian Deegan can do well. "They're used to shouldering in and taking the inside line from another bike. Now you put the confidence of a roll cage around them and I think they will be going for it pretty hard."