BMX
By Brian Tunney
After a lackluster performance at X Games 15, Daniel Dhers of Caracas, Venezuela, returned to the top spot at X Games 16 with a gold medal in BMX Park. Saturday's win marks Dhers' third gold in BMX Park (he won gold in both '07 and '08.) Dhers' runs consisted of multiple flair variations, a tire-grab 720 and stylish lookbacks over the park visor. Dhers also seemed less affected by the heat and fatigue of riding than the other competitors in the final.
X16 Day 3 ZOOM gallery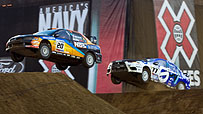 WIDTH="203" HEIGHT="114" BORDER="0" ALT="">
For a more visual recap, check out the X16 Day 2 ZOOM. Gallery

"I'm really, really stoked," Dhers said immediately after the finals. "After not making it into the finals last year, I had a lot of doubts about riding, wondering if that was the end of my run. But I went back and did my homework. BMX isn't going to get any easier, so I decided to work harder, adapting to the courses and whatever gets thrown at me. It's a self-rewarding thing."
Finishing in second was Haro's Dennis Enarson, followed by fellow San Diego resident Gary Young in third. Enarson initially placed 11th in qualifying and did not make it into the finals. But after Haro teammate Rob Darden dropped out of the 10th-place qualifying position Friday, Enarson was bumped into the finals. His runs consisted of unique (and burly) tailwhip transfers, lipslides over the park visor and trademark Enarson tabletops. Young, who qualified first and was the favorite to win, crashed during practice and injured his knee. "It's a little sore, but I should be OK," Young said after the finals while getting medical attention from the X Games staff.
Last year, Kevin Robinson won the Big Air doing a run that won him gold in 2007: a huge no-handed backflip over the 70-footer to no-handed flair at height on the 27-foot quarter. On Saturday night, Chad Kagy took a similar route, landing a backflip tailwhip over the 70-footer to flair whip on the quarter -- the same run that won him X Games gold in 2008. Australian Steve McCann took second, followed closely by fellow Australian and X Games Big Air rookie Andy Buckworth.
The unexpected story of the night was the Big Air embrace of the double frontflip. Last year, Anthony Napolitan debuted the trick, and Saturday night McCann and Buckworth also landed the double. Napolitan finished in fourth place, followed by Morgan Wade in fifth and Robinson in sixth. In non-flip-related news, Wade rolled the dice as always with a dream run that never came to fruition: a no-handed backflip over the 70-footer to triple tailwhip at height on the quarter. During Wade's highest triple whip attempt, he reached 18 feet, 3 inches, on the quarter, but either slipped his pedals or crashed upon landing during each of his runs. "I came so close, but it just didn't want to happen," Wade said, bruised and battered with two black eyes and more than 20 stitches in his forehead from the park event earlier this week.
"It was nice to be able to land that first run. It's a real motivation boost to put it under your belt and build on top of that -- just waiting to see what everyone else was doing," Kagy said afterward. "The way we run this, one run counts, so at any given moment any of those guys could have won."
Sunday features the final BMX event of the X Games: the Street final. Between his ability to combine multiple bar spins and grind combinations, Garrett Reynolds is our prediction for the win. We'd like to predict that Sean Burns will make a triumphant return despite finishing last in the elimination, but considering he's currently at the Scorpions concert at L.A. Live, we're guessing he'll oversleep.
SKATE
By Adam Salo
Ryan Sheckler won his third gold medal in Skate Street, edging Nyjah Huston by less than one point as the clock ticked down on Saturday's final. Sheckler took the lead on his first of five runs in what was essentially a warm-up -- albeit a warm-up that included a kickflip backside boardslide on the rail, backside kickflip down the gap, a huge switch kickflip that he barely landed and a backside tailslide down the ledge that earned him a 90.33.
With skaters given 45 seconds or two crashes per run, Sheckler appeared to have a solid hold on things until the third run, when Huston popped off a 360 flip up the gap, a switch heel to manual down the ledge and a backside 270 boardslide. The run earned him a 91.33.
While both Chaz Ortiz and Ryan Decenzo threw a variety of bangers in their runs, both were plagued by untimely crashes that kept them from fully challenging Sheckler or Huston.
At his next opportunity, Sheckler seized the moment, stringing together a kickflip to boardslide, a big frontside air in the tea cup, a backside flip up the gap and a cab 360 lipslide down the rail into a frontside blunt in the little tea cup transition. The run garnered a 92.00 -- cementing the podium despite Huston and Ortiz each having one last shot at Sheckler's lead.
Sheckler acknowledged that he wanted redemption after last year's X Games, when he sustained an ankle injury that derailed most of the past year. "I got hurt here last year and wanted to prove to myself I could come back and get a gold," he said, taking time to also thank the rabid fan base that was evident in the crowd.
"They're yelling the whole time," he continued. "You don't want to let them down, so you skate your heart out and do the best you can do."
With his first gold in Big Air Rail Jam, Bob Burnquist proved once again that he's really in a realm of competition with only himself. Adam Taylor stuck a 50-50 and boardslide fakie. Elliot Sloan secured the bronze with a frontside Smith grind, and Rob Lorifice took the silver with a backside lipslide. But Burnquist stuck two tricks that were head and shoulders above the rest: a switchstance frontside boardslide and, the clincher, a 50-50 body varial where Burnquist grinded the rail and switched his stance midgrind.
Although women's street defending champion Marisa Dal Santo has yet to make an appearance in practices, if she comes to Sunday's final, it's really still her contest to lose. Although the level of women's street has steadily progressed in the past few years, Dal Santo seems to be ahead of the pack in both consistency and her willingness to take her tricks bigger than the rest. Veteran pro for women's skateboarding and four time X Games gold winner Elissa Steamer is quick to point to Dal Santo as the future of the sport. "I'm not nervous about any of them, but I know that Marisa's really good," Steamer said.
Other women to watch out to potentially upset the balance of power include Lacey Baker and Alexis Sablone, who have the skills to pay the bills.
Sunday's Park final may well signal a changing of the guard, thanks to a course that's more wide-open, with smaller features like you'd find at your neighborhood skatepark. Many of the dominant riders of years past -- Rune Glifberg, Omar Hassan, Bucky Lasek and Andy MacDonald -- come from vert and pool-skating backgrounds that served them well when the Park course was based on a vertical paradigm with deep corners and pockets.
Many of the walls on this year's course don't exceed 6 feet and only a few of the transitions reach vertical, which favors the younger generation that was raised in the recent skatepark boom and is accustomed to finding speed and stringing together trick-filled lines in an open layout. That might be why, of the top five qualifiers from Elimination, three are teenagers: Pedro Barros, Kevin Kowalski and Curren Caples. Meanwhile, two-time and defending champ Glifberg barely made the cut at 10th.
RALLY RACING
By B.J. Smith
Chaos is the best word to describe the Rally Car events at XG 16, and both were dominated by Tanner Foust and Brian Deegan. The anticipated battle between the two in the Rally final turned into a bust when Deegan made a wrong turn early in the run and was disqualified. The entire event was marred with red flags, as the drivers struggled to get through the races without either destroying their cars or going off course. Drivers reported that the most challenging parts of the course were the drops back into the stadium, because with the sun setting and plumes of dust filling the air, they couldn't see where they were going. Favorites Travis Pastrana, Ken Block and Kenny Brack all suffered car damage and couldn't finish.
"I didn't know how hard it was going to be to memorize the track," Foust said. "I think the best thing for me was qualifying first because I got to pick the lane I wanted. I memorized one lane."
The debut of SuperRally was tough as well. Travis Pastrana's and Sverre Isachsen's cars needed new engines and Dave Mirra's required a new rear differential. Race organizers ran the heat races out of order in an effort to give Pastrana's crew more time to fix his car, but the effort was for naught. As the heats got under way, the big names continued to struggle with car trouble. Brack, Block and Isachsen all dropped out early. Deegan got the jump off the line ahead of Foust and Stephan Verdier in the final, but Foust had the inside and forced his position to make the pass into second.
There was some on-the-air confusion after this point because the lap count on television didn't match the live race, but according to X Games public relations director Katie Moses Swope, "It was a technical error. The first driver took the first turn on the first lap wide and missed the timing line, so it didn't trigger the graphics to start and didn't register the first lap -- so the graphics [on the broadcast] were always a lap behind. The checkered flag was spot-on."
MOTO X FREESTYLE
By Ryan Leyba
Sunday marks the return of Speed and Style to the X Games schedule, and Brian Deegan -- who comes into the event fresh off two silver-medal finishes in Rally Car Racing and SuperRally -- has to be considered a favorite to finally get his X16 gold. No other rider is as prepared as Deegan, who had an exact replica of the X Games course built on his Metal Mulisha compound in Temecula, Calif. With a background in both racing and FMX, Deegan possesses all the skills necessary for the win.
But as I learned during Freestyle Moto X on Thursday, you'd be a fool to bet against Travis Pastrana. He'll be the most decorated racer on the track, with a 2002 AMA 125 national title and a 2001 AMA 125 East Coast SuperCross championship. Oh ... he also has 10 X Games gold medals. Bet against him at your peril.