BMX
By Brian Tunney
The Street final got under way just after 10:30 a.m. PT, and Garrett Reynolds made it a three-peat. His runs were nuts, and to be honest, no one came close. Reynolds effortlessly combined burly with tech, and his runs consisted of smooth smith grinds up the ledge to hard 180 barspins out, double trucks to fake in the tea cup and the usual Reynolds brand of trick, trick, trick, smile, shrug and get on with it. His fourth and final run, which he didn't even need to take because he already had secured the win, earned him a 96.33 and extended his domination over the field.
X16 Day 4 ZOOM gallery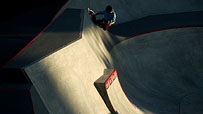 WIDTH="203" HEIGHT="114" BORDER="0" ALT="">
For a more visual recap, check out the X16 Day 4 ZOOM. Gallery

"I'm tired," Reynolds said afterward, pointing out that he never rides that early in the morning. He'll turn 20 years old on Monday, and that third gold medal was a nice birthday present.
In second place was Dennis Enarson, who had a tire blowout early in the final and finished riding Aaron Ross' rear red Odyssey wheel with a tan-white wall tire. His bike may have looked like a hot mess, but Enarson delivered an all-or-nothing approach and landed tailwhip 180 gaps on the step-up and an impossibly tech barspin to hang 5 on the manual ledge. Close to the end of the session, he attempted a tailwhip 180 down the double set but couldn't set it down. His silver was the second of these X Games for Enarson, who also earned one Saturday in the Park final.
The general feeling among the riders was that the contest was held too early in the day. "No one rides this early," finalist Brad Simms said.
In other news, Van Homan is slowly recovering from a head injury that he suffered earlier in the week. According to his wife, he has a skull fracture and a tiny bit of blood on the brain but has been moved from the ICU into regular care. Get well soon, Van.
SKATE
Adam Salo
The women have finally really stepped up their game in street. After years of a competition that lacked intensity, the field seemed motivated by a few skaters in particular. Alexis Sablone, competing during a gap between her recently completed architecture degree and the start of her premed program, stuck a kickflip 50-50 down the course's hub ledge that may have been the best trick of the whole comp. Leticia Bufoni skated with power, and defending champ Marisa Dal Santo tossed kickflip melon grabs down the sizable double set. And although Lacey Baker didn't make the podium, she deserves mention for trying some of the most technical tricks in the field, including hardflips and nollie heelflips over the gaps. Her runs didn't quite come together in the final, but she's clearly trying to up the level of competition for the women.
"I'm hoping to balance both," Sablone said when asked whether she would continue to skate once school starts again. "I go to school because I like it, and I love skating, so I think I can do both."
---
The panel of veteran pro judges responsible for awarding gold in the first-ever X Games Real Street video contest announced that Toy Machine and Converse pro Nick Trapasso, whose part was filmed and edited by Cole Matthews, would take home the $50,000 first prize. Zero and Fallen pro Tommy Sandoval took silver, and C1rca pro Tony Tave earned bronze. Zoo York and DVS pro Zered Bassett earned the fan-favorite award.
Trapasso and Tave, along with Sandoval and Sierra Fellers, then played a truncated game of "Skate" on the street course in what was basically a bonus event that Sandoval won.
---
After nearly four full days of watching past X Games champions repeat, three-peat and even four-peat, a new hero for a new generation finally emerged in the Street Park Final Sunday night at L.A. Live. Fifteen-year-old Brazilian Pedro Barros took down X Games veteran stalwart Andy MacDonald in a concrete duel.
Barros was the top qualifier to the Final out of Friday's elimination round on the strength of runs that combined the sort of vert skills that have marked past Park events and the sort of fast, flowing lines that this year's smaller, more open course demanded. Barros brought similar flair on Sunday, throwing several 540s (and nearly making three in one run at one point), combined with huge transfers across nearly every gap on offer -- including a huge ollie tailgrab over the big rail and a low-to-high frontside smith grind on the biggest wall in the course.
Barros spent much of the jam session tied with MacDonald at 81, but the 36-year-old failed to really alter his runs at all, even after Barros leaped into the lead on the final run of the session. MacDonald's run -- as has normally been the case throughout the course of his 14-year X Games career -- was technically difficult and not a whole lot different than his runs in years past. He threw rodeo flips and kickflip indies over some of the bigger gaps and found a few transfers that his competitors didn't. When he crashed on his fifth, final and identical run, Barros threw his fists into the air in celebration.
""We're young, so we have more energy and get more hyped up," Barros said afterward, referring to the youth explosion that marked the final results. Curren Caples, 14, won a tiebreaker with Kevin Kowalski, 17, to take bronze and relegate Bucky Lasek, 27, to fifth. Two-time and defending champion Rune Glifberg and perennial fourth-place finisher Omar Hassan failed to advance to the final session.
MOTO X
By Ryan Leyba
Travis Pastrana earned his 11th gold medal and 17th medal overall in that rarest of X Games events: one in which he's never medaled before.
Speed and Style was held Sunday night at the Staples Center, the final event of X Games 16 and one originally designed to settle once and for all who the baddest moto riders are: freestyle riders or racers. But with a field boasting just one true racer -- Supercross competitor Kevin Johnson -- the event turned into a veritable jam session between some of the biggest names in FMX, including Jeremy "Twitch" Stenberg, Nate Adams, Ronnie Faisst and of course Pastrana, who was competing in his fourth event of these Games.
The event, which combines stretches of Supercross-style racing with huge, metal freestyle ramps and timed laps with judged tricks, ultimately came down to Pastrana and nine-time medalist Adams. Pastrana led going into the first turn, when Adams overjumped the first rhythm section, and Pastrana never looked back. He threw a no-footed nac indy on his first jump, followed by a double heel-clicker flip and a nac nac flip. Adams tried to battle back with a 360, but Pastrana finished with a 3.33-second lead and the win.
Pastrana, who experienced the high of a triumphant return to Freestyle on Thursday followed by the frustration of car trouble in both Rally events on Saturday, was elated with the win.
"It feels really good," Pastrana said after his win. "I was hoping to do good in Speed and Style, but I didn't have high hopes. We really thought the cars would be the focus this year, and it turned out to be exactly the opposite."