SKATE
By Adam Salo
Men's Street Elimination saw some unusual faces that might be more interesting to watch than the favorites. With defending champ Paul Rodriguez, 2007 champ Chris Cole and three-time medalist Greg Lutzka all out due to Street League commitments, skaters with much lighter competition résumés have filled the void. Skaters like Creature's David Gravette, Zoo York's Eli Reed, Omar Salazar, Ryan Decenzo and Garrett Hill impressed the crowd along with favorites like Ryan Sheckler, Nyjah Huston, Rodolfo Ramos and Chaz Ortiz.
X16 Day 1 ZOOM Gallery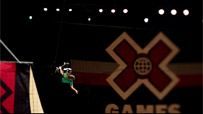 WIDTH="203" HEIGHT="114" BORDER="0" ALT="">
For a more visual recap, check out the X16 Day 1 ZOOM. Gallery

The most interesting features on the course are the bowled transitions faced off like two sides of a broken tea cup. It was easy to see which skaters were more comfortable on rails and ledges and which had more well-rounded game. Gravette is definitely the latter: He stuck a backside 360 alley-oop from the high tea cup transition into the lower portion.
"I really like the tea cup, and feel I'm pretty weak in other areas," said Gravette, whose rookie X Games performance also marks his first pro contest. "I thought I was going to get dead last, but I'm stoked that I made the finals. It's my first contest in a really long time."
With Rodriguez, Cole and Lutzka out of the way, the Final could be dominated by Sheckler, so long as he stays on his board. His first roll through the course was perfect, with a backside tailslide on the precarious rail set atop the hub ledge. Ortiz and Decenzo are both technical and consistent enough to give Sheckler some competition, but Sheckler's familiarity with the transition section gives him an edge. He was raised on both street and serious transitions and was clearly right at home in the tea cup.
Jake Brown repeated as Skateboard Big Air champion, beating prohibitive favorite Bob Burnquist. Brown threw a backflip over the 70-foot gap before spinning a huge backside mute-grab 540 on the quarterpipe on his second of four runs to earn a 93.66.
That score edged Burnquist -- who tossed a switch backside 180 into a backside 540 in his second run to earn a 93 -- into second place. Last year, the 36-year-old Brazilian released a segment in the Flip Skateboards movie "Extremely Sorry" that featured a slew of never-before-seen mega ramp tricks that had many feeling Thursday's event was his for the taking. Early buzz was that Brown would have to land the first-ever 900 on the mega ramp quarterpipe to take Burnquist down, so it's ironic that it was Burnquist left trying the 900 in an effort to catch Brown. He came tantalizingly close on his third and fourth runs -- so close, in fact, that even after Brown had been announced the winner, Burnquist unsuccessfully attempted several more 900s in an effort to land one unofficially.
BMX
By Brian Tunney
Park Elimination was a mix of creative line-finding and an outright bloodbath. Gary Young repeated his No. 1 qualifying performance from last year with a grind over the visor and one of the longest downside double peg grinds around a corner ever seen -- it's the first time a rider has qualified first on the merit of grinds. The rest of the top five were 15-year-old Brett Banasiewicz, Diogo Canina, Jeremy Smith and Daniel Dhers.
The visor -- a unique plexiglass extension that runs over the course and looks like something a beach volleyball player would wear, only really big and standing on its end -- was Young's favorite section of the course and was assaulted by all 20 riders.
Many of the pros came into the comp looking like they'd already been assaulted: Ryan Guettler (separated shoulder), Drew Bazanson (separated shoulder), Mark Webb (broken foot) and Morgan Wade (two-day-old concussion, 10 stitches above his eye) all rode injured, and none held back. But Wade destroyed his front wheel on a transfer gone wrong and broke open his stitches, while Bezanson repeatedly put himself at risk with unsuccessful attempts at an icepick on the roof above the rider staging area.
During Street practice, X15 bronze medalist Van Homan bailed while attempting to air from one side of the tea cup to the other. Homan landed on his feet but then fell backward and hit his head on the concrete. On-site medics forced him to sit down for over an hour while they monitored his condition. They eventually cleared him to leave the contest and head back to the hotel.
"I'm OK, just a little dazed," said Homan while leaving the venue. Street eliminations commence at 12:30 p.m. on Friday and he intends to ride the event.
Friday also sees Vert Finals, and whether or not Jamie Bestwick can make it a four-peat in Vert will be the topic of the day. If his performance at last week's Dew Tour is any indication, it might not even be a contest. Chad Kagy rode flawlessly in Chicago and still finished three points behind Bestwick. We're saying a four-peat is more than likely.
MOTO X FREESTYLE
By Ryan Leyba
Never bet against Travis Pastrana. Though he hasn't competed in Freestyle since 2006, Pastrana stunned his competition by completely dominating both the Elimination and the Final. His big tricks were relatively stock -- nac nac and indian air backflips -- but his use of the course was more creative than his competitors, as he threw backflips off random features and used every inch of the wallride. It was enough of an edge to beat out 18-year-old New Zealander Levi Sherwood, who had much bigger tricks but was more timid on the more unusual course features.
"Honestly, I thought Levi had way better tricks -- Pastrana was just a little more exciting to watch," said Jeremy "Twitch" Stenberg. "But I think Levi's going to be untouchable next year -- that kid's freakin' badass."
Repeating his same performance as last year, Nate Adams garnered another bronze medal after putting in a flawless run, which included some of the biggest 360s we've seen from him in a really long time. However, his staple tricks just weren't enough to top Sherwood's smooth style and radical extension.
Friday is the Best Trick Final, which is the most-anticipated event at X16 for hardcore FMX fans. Cam Sinclair will throw either a one-handed or no-handed double backflip, which could possibly be topped by Kyle Loza and his new variation on the Electric Doom that he used last year to win his third consecutive gold in the event. Then there's Paris Rosen with the frontflip and Aussie newcomer Clint Moore, who's keeping his bag of tricks on the DL.
My guess? The gold Friday night will be won by an unexpected rider throwing a completely unexpected trick.
MOTO X RACING
By B.J. Smith
Three days ago from the comfort of his couch, Josh Grant decided he'd like to come try to win Men's Super X. By now he's back on his couch polishing a gold medal. Grant, the second-fastest qualifier, was in second place in the final at the end of Lap 1. Defending champion, Josh Hansen enjoyed a four-second lead for the majority of the race but gave it up on Lap 10 when Grant flew by him in the whoops. Half a lap later, Hansen was off the track and back in fourth place. He pulled himself together to close out the podium. Justin Brayton rode much of the race back in fourth place and took advantage of the mayhem ahead of him to take his second consecutive silver medal.
Grant, who hasn't finished a supercross-style event since May 2009, was surprised and relieved by the result: "It's a breath of fresh air, for sure, but it was last-minute and I didn't expect to come out and do that."
As for Hansen, he admitted he was distracted by his pants, which wouldn't stay up. "Everything was going good, but I got a little flustered at the end," he said. "I just started thinking too much about dumb stuff and then blew off the track and went back to fourth. Yeah, it's pretty frustrating. I didn't even know what was going to happen. I was waiting to maybe even cartwheel into the stands at one point."
The Women's Super X final was a battle of who could make fewer mistakes on a course that was quickly turning into a dust bowl. At the end of Lap 1, Ashley Fiolek and her main rival, Jessica Patterson, led the way. Both women were struggling with the timing on the 75-foot triple jumps, often under-jumping them.
The battle was hot on Lap 4 but Patterson crashed on the finish-line jump when she landed right on top of the plastic track boundaries. The crash knocked her out but she walked away.
Fiolek then cruised to her second consecutive gold medal while former gold medalist, Tarah Gieger and Sara Price battled for second and third all the way to the finish.
With defending champion Chris Ridgway out of competition due to a swollen left patella, Mike Schultz was the clear favorite to win gold. Dave Turner was the surprise leader at the end of Lap 1, but Schultz pulled the gutsiest move of the day when he jumped over Turner on the set of 75-foot triples. Schultz was the only adaptive rider jumping the two biggest obstacles on the track.
Despite a big lead, Schultz continued to clear the big jumps, a strategy that almost cost him. On the final lap he landed hard enough to break his prosthetic leg. It locked up at the joint in a 45-degree angle and his foot dangled off the side of the bike. He rode the entire last lap with one leg and his pace was so slowed he beat Todd Thompson by only a bike length.