This one's a wrap, folks. And this year, the biggest storylines of the X Games began before the event ever started.
Summer Camp Champs
The biggest training ground for X Games 16 wasn't Camp Woodward. Or Woodward West. It was this summer's Nitro Circus Live tour. "The Nitro Circus is a mentality," says ringleader Travis Pastrana. "Everyone motivated everyone."
X16 Sunday ZOOM gallery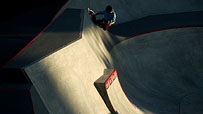 WIDTH="203" HEIGHT="114" BORDER="0" ALT="">
For a more visual recap, check out the X16 Sunday ZOOM. Gallery

Although a broken collarbone, suffered while performing in a two-month Australian tour, kept 2009 Moto X Freestyle champ Blake "Bilko" Williams out of the event, it gave many riders the opportunity to test out their most progressive tricks in front of a crowd and on a mega-ramp-like setup. "A lot of the young BMX guys are calling asking if they can be a part of next year's tour," says Nitro Circus staple Jolene Van Vugt, who took seventh in her first X Games Super X race. "It was such an amazing training ground for all of us who were on tour."
The NC medal count speaks for itself. Chad Kagy won his second BMX Big Air contest with a backflip tailwhip over the gap to a flair whip on the quarterpipe. And he won in a contest that featured three double front flips -- by trick inventor Anthony Napolitan, 20-year-old X rookie Andy Buckworth and Steve McCann -- and the debut of the Superman front flip by Nitro Circus rider Buckworth. All three medalists -- Kagy, McCann and Buckworth -- performed on the Nitro Circus Live tour.
Australian skateboarder Jake Brown, who was the marquee skater and DJ on the summer tour, won his second straight Skateboard Big Air event with a backflip over the 70-foot gap -- a trick he tried for the first time on tour this summer -- and a gigantic backside mute-grab 540 on the quarterpipe. Pastrana, despite also breaking his collarbone attempting a BMX 720 on the giant Nitro Circus ramp, won his first Moto X Freestyle gold since 2006. Then, to celebrate his win, he launched -- and landed -- a double backflip during his victory lap. "That was for the fans," Pastrana said after the contest. Although he wrecked his ride and was unable to finish either rally event, Pastrana returned for Speed and Style, the final event of X Games 16 -- and arguably the most exciting -- and took his second gold medal of these Games. "This was the event I came here to win," Pastrana says.
Rookie freestyler Cam Sinclair, who nearly died from injuries suffered in a crash while attempting a double backflip at X Fighters Madrid in July 2009 (lacerated liver, brain bleeding and bruising, a broken right shoulder and cheekbone and a damaged windpipe), landed the second double backflip of this year's X Games to win Moto X Best Trick. "I have to thank the Nitro Circus," Sinclair says. "I was able to perform the double 11 times, so I got a lot of practice and preparation for X. I still had a trick in my back pocket, but fortunately I didn't have to pull it out." That, he's saving for next summer's tour.
Win, Rinse, Repeat
This year was also all about the repeat.
Ashley Fiolek, the two-time defending AMA Motocross champion, took her second straight Super X gold in a tight, exciting race. Tanner Foust hadn't won Rally Car since 2007, but he won again Saturday and followed it just hours later with a win in the newest X event, SuperRally, which, judging by crowd response, is here to stay.
Meanwhile, although the pre-contest hype machine was geared for Shaun White, Pierre-Luc Gagnon became the first Vert skater to three-peat at the X Games. White landed a frontside heelflip 540 body varial for the first time in competition history, but it wasn't enough to top Gagnon's fifth and final run, which included a variety of 540s and a 720 kickflip body varial. Garrett Reynolds, who has dominated BMX street contests for the past few years, did exactly that on Sunday, winning his third-straight BMX Street title. Ryan Sheckler, who won Skateboard Street in 2008 but had to withdraw from the 2009 contest after injuring his ankle and back, won his third X Games gold. Venezuelan rider Daniel Dhers, who didn't even make it into the finals last year, won BMX Park for the third time in four years.
And then there were four -- back-to-back-to-back-to-back wins for BMX legend Jamie Bestwick, that is. Bestwick became the first BMXer to four-peat, taking BMX Vert with an untouchable run that included several 540s and huge downside tailwhips and tailwhip flairs.
Still, there was enough new blood spilled on the X Games courses to keep the entire show from feeling like a repeat. Josh Hansen's attempt at a Super X three-peat was thwarted by some sharp riding by Josh Grant, who passed Hansen in the whoops on Lap 11. Brazilian rookie Pedro Barros, 15, took out a strong field in Skateboard Park, including two-time defending champ Rune Glifberg. Gaby Ponce, 18, won women's skate vert, beating defending champ and Nitro Circus member Lyn-Z Adams Hawkins, who took silver. "The guys on our tour were the toughest, most resilient riders I've met," Pastrana says. "Lyn-Z knocked herself out, dislocated her jaw and was back on the ramp that day. I'm so proud of our family."
And, with that, we've come full circus.