In the months after an Olympics, most athletes experience something they call "the Olympic Hangover" -- that period of time after the Olympic fever has cooled and before another major event looms on the horizon. The same, however, can't be said for Shaun White, the 2010 Olympic gold medalist in snowboard halfpipe. He doesn't have time for a hangover.
X16 Day 1 ZOOM Gallery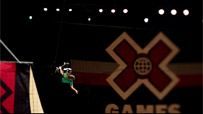 WIDTH="203" HEIGHT="114" BORDER="0" ALT="">
White is just one athlete featured in the X16 Day 1 ZOOM. Gallery

Just weeks after appearing on "Oprah" and making the talk-show tour to celebrate his second consecutive Olympic gold, White was back on his skateboard preparing to return to the vert contest scene. "I started skating and right away was getting my tricks back," said White, the 2007 X Games vert champ. "It's crazy, but the older I get, the easier the transition is from snowboarding to skating. I was so excited to be back on my skateboard." Still, that transition requires more than ramp time. It requires a mindset shift. "In snowboarding, I get to hide behind my goggles and mask," White said. "I'm only an inside person. I'm in my own head and I can block everything else out. But in skateboarding, I'm right there with everyone. I'm out there. And skating is so inconsistent. One wrong flip of your board could cost you the contest."
White missed last summer's contest scene after injuring his ankle on the Silverton, Colo., halfpipe where he was training, and hasn't competed at Summer X since 2008. "Last year, people thought I wasn't skating for fear of injuring myself before the Olympics," White said. "But I was already injured. I wanted to skate." This year, an injury to the same ankle nearly held him out again. "I was in L.A. skating the new park in Venice, but hadn't skated concrete in a while," White said. "I skated all day, got tired and jumped off a ledge and landed badly on the same ankle. It jarred loose a piece of bone that was floating in there."
That was in June. A month of healing time later, White was back on his board nearly every day, practicing Silverton-style, on a private ramp set up in a soundstage on the Paramount Studios back lot. "I have to thank Tony Hawk and Target for that," White said of the ramp he plans to leave up for a month following the X Games, so his peers can use it, as well. "Tony lent me his demo ramp and Target rented the stage so I could practice in private while I'm out here in L.A." Less than a month later, White says he'd bagged nearly all his old tricks. At Wednesday's X Games practice, he landed the final trick on his to-do list, the fakie frontside 540. "I've been breaking myself every day to learn new tricks and it's just been flowing back," he said. "I'm excited to get going and see what I can do."
The same can (or maybe more accurately, can't) be said for the rest of the vert field. White has been one of the most consistent, and most present, riders in the X Games vert practice sessions and his competitors are, let's say, interested, to see if he can pull off a solid skate run so shortly after the Olympics. "Shaun's skating really well," said Pierre-Luc Gagnon, the 2008 and 2009 gold medalist who's gunning to be the first vert skater to three-peat at the X Games. "Shaun coming back is definitely a big thing," Gagnon said. "You don't want to win when guys are hurt or someone isn't there." And if there's ever been an X Games vert contest to win, this is it. The ramp, for the first time, is set up on the main stage of the Nokia Theater, the 7,100-seat concert venue where the ESPYS were held two weeks ago, and the event is being broadcast live in primetime Friday night. "It's amazing to be up here on stage," Gagnon said. "It's making everyone feel like rock stars."
Also on Friday night, skateboard vert best trick returns to the X Games. The question of the hour, of course, is whether White will once again attempt to be the first skateboarder to land a 1080. "I assume that's why they put the event back in," White said. "But I don't have any plans to do the 10 right now. I'm not there yet." But that was Wednesday. And plans can change. Still, White says, vert is where his attention is focused. "I have such a small amount of time to practice before I'm put in front of a camera and a cheering crowd," he said. "I just want to be so good at vert, so why not give it all in vert?" Best trick, then, is simply icing.
And, about that hangover? Sometimes, even the busiest of athletes have a hard time setting the Olympics aside. "I'd be lying if I said I didn't have a bit of a hangover," White said. "I just hide it extremely well." And he's hoping another gold medal will help him ease the pain.