Boards+Bands gallery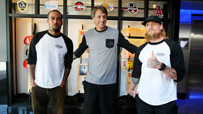 WIDTH="203" HEIGHT="114" BORDER="0" ALT="">
Check out the boards scribed by Paul McCartney, Ben Harper, Adam Yauch and Tom Petty up for auction. Gallery

The wildfire spread of skateparks across the nation got another big stoke recently as the Tony Hawk Foundation teamed up with world-famous musicians for a unique fundraiser.
Singer/songwriter Ben Harper, who sits on the foundation's board of directors, wrote the lyrics to Rodney Mullen's favorite Harper song, "God Fearing Man," on a board ridden and signed by the skate legend. The deck will be auctioned on eBay this fall, with proceeds advancing the foundation's agenda of building public skateparks in low-income communities.
"I've always felt that skateboards are one of the best canvases for art and noticed that wear and tear only made them look cooler," said Harper, who dreamed up the effort and calls it Boards+Bands. "I was at Tony's place and saw a note that a friend of Tony's had written on a board that had been skated. And being a musician and a skater, it just seemed obvious."
Boards+Bands also showcases a signed Hawk deck with "Blackbird" lyrics penned and autographed by Paul McCartney and a signed Mike Vallely deck with Tom Petty's autograph alongside lyrics from "I Won't Back Down."
Arguably the auction's centerpiece is a four-deck Bucky Lasek set featuring lyrics from "Bodhisattva Vow" on the Beastie Boys 1994 album, "Ill Communication," handwritten by the late Adam Yauch. The American rapper, songwriter and human rights activist died from salivary gland cancer on May 4 at 47 years old.
"This is literally a dream come true," Hawk said. "When Ben Harper first approached me with the idea, I was skeptical because the list of musicians requested was legendary. But they came through, proving that skateboarding's reach is ever broader than we imagined."
Added Vallely: "I've been involved with the Tony Hawk Foundation since day one and in my mind this is the best fundraising idea we've actualized. It's exciting for us, the skaters, to be collaborating with artists we love and to know that the end result is the funding of more skateparks."
The foundation expects more collaborations in the coming months.
All of the Boards+Bands auction decks will be on display in the ESPN Zone lobby during X Games Los Angeles through July 1.