Levi Lavallee stares at a reflection of himself in the glossy paint covering the massive rig that hauls his snowmobiles and pit crew from snocross race to snocross race all winter. His rig is just one of about 30 parked alongside the Milwaukee Mile, where the International Series Of Champions national race series has landed in the middle of December for its second stop of the season.
Winter X 14 Preview: Levi Lavallee
onClick="window.open('http://www.espn.com/action/xgames/winter/2010/snowmobiling/gallery?id=4849833','Popup','width=990,height=720,scrollbars=no,noresize'); return false;">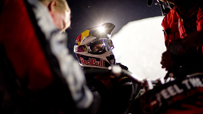 WIDTH="203" HEIGHT="114" BORDER="0" ALT="">
Want to see more Levi? Check out the onClick="window.open('http://www.espn.com/action/xgames/winter/2010/snowmobiling/gallery?id=4849833','Popup','width=990,height=720,scrollbars=no,noresize'); return false;">gallery.
A cameraman films Lavallee, and he encourages the 27-year-old from Longville, Minn., to exhale sharply. The air temperature hovers right around 20 degrees, and Lavallee's breath puffs against the side of the rig, obscuring his reflection. All around him, the high-pitched blasts of snow machines gulping race fuel echo off the rigs, RVs and massive pickup trucks that comprise the traveling circus that is ISOC racing. The 5-foot-5 Lavallee staring at himself in the side of a truck while grease-stained manly men mill about is sort of ridiculous, which suits him just fine. The deep creases in his cheeks illustrate that Lavallee laughs loudly, easily and often.
He's reminded of last year's Alex Rodriguez spread in Details magazine, which featured the baseball superstar nearly kissing his own reflection, and precipitated some serious heckling of Rodriguez in the media and ballparks around the country.
"I wouldn't want to do that," he says with a chuckle. "That might be taking it a bit too far."
And that, people who know Lavallee might point out, is probably the first time he has ever uttered those words.
Lavallee has made a career of taking things too far -- at least on a snowmobile. Raised as a snocross racer, he's now the owner of five Winter X Games medals in four disciplines. When Winter X Games competition was just two events -- SnoCross and Hill Climb -- he competed in both. When Speed and Style was added to the schedule in 2008, he added it to his schedule and learned so many tricks beforehand that he decided to enter Freestyle as well. It was the same thing with Next Trick in 2009 and will be the same thing this year with Knock Out.
If you build it -- and it involves snowmobiles and competition -- Lavallee will come. What happens when he gets there, though, is anyone's guess.
Early on in his snocross career, he developed a reputation for being a bit comfortable with the wrong side of the line between "control" and "chaos." It was completely at odds with his goofy, self-effacing personality, but it also was well earned.
"When I was young, you know I wanted to win," he says. "I thought, 'If I'm holding the throttle wide open, I'm going fast, right?' So that got me into a lot of trouble."
In 2004 -- just a year after making the jump from semipro to pro class -- Lavallee found himself in the Winter X Games SnoCross final, battling for second place with the sport's dominant rider, Blair Morgan. The two made contact several times, and Morgan failed to get the pass, leading him to call out Lavallee in postrace interviews. Two years later, with what appeared to be his first Winter X SnoCross victory well in hand, Lavallee took himself out when he was bucked off the sled landing a jump toward the end. He managed to salvage the silver medal, which remains his best finish in the event, but it was, in his own words, "a tough pill to swallow."
src="http://a.espncdn.com/i/story/design07/dropQuote.gif" />
He's so durable that he can take those impacts that no one else could possibly take and just get up and smile.
src="http://a.espncdn.com/i/story/design07/dropQuoteEnd.gif" />
-- Travis Pastrana
When Speed and Style was announced in late 2007, prior to WX12, it seemed like a natural fit for Lavallee. "He was always the showman, always that guy doing the tricks and making the crowd stand on their feet and cheer," says four-time and defending Winter X SnoCross champion Tucker Hibbert. But when Lavallee began the process of learning a few new tricks for the event, he discovered more of an aptitude than even he expected.
"After a few weeks of jumping, I was like, 'Holy cow! I'm learning a lot of tricks,'" he says. "Then I figured out the backflip, and I'm like, 'I'm going to try qualifying for Freestyle, too!'"
Despite being four or five years behind most of snowmobiling's freestyle competitors, he struck out for a Winter X Games qualifier in Montana and easily earned the win. "Everybody looked at each other like, 'He started doing this when?'" says Paul Thacker, who converted from racing to freestyle at the same time as Lavallee.
WX12 was a watershed moment for Lavallee. He entered all three events and took gold in both Speed and Style and Freestyle, earning athlete of the games honors in the process. But while he cemented his reputation as one of the most exciting athletes at Winter X, he also continued his disappointing SnoCross run. Once again, he made the final, and for the fifth straight year, he was in contention, before getting bucked off his sled and finishing sixth.
But by the time WX13 rolled around, Lavallee hadn't backed off to focus on his racing. Instead, he doubled down -- in the most insane way possible.
Back at the Milwaukee Mile, the sun has set and the racing has begun. In the first of two qualifying heats for the night's Pro Super Stock class final, Lavallee races like a snocross favorite is supposed to: way out in front. He plays it safe and smart, leaving the battles for second, third and fourth well behind, and easily wins the round.
In between heats, he spends time watching the other classes race, taking stock of the track conditions and how the winning lines evolve as the track deteriorates. Unlike the comparatively pristine tracks of Winter X Games, ISOC racing provides for classes beginning with juniors and girls, all the way to the pros. Hundreds of sleds pound the track all day, and the mostly man-made snow doesn't always hold up well.
Even having paid attention to the track, Lavallee hits a nasty pothole in his second qualifier and gets bounced. He's unhurt, and his win in the earlier round ensures he'll race later in the final -- he'll just have to do so without a prime starting position.
After a few more hours of racing, the snowcats take to the course for maintenance, and the crowd -- Lavallee happily a part of it -- takes to a narrow strip alongside the track, where a massive freestyle kicker has been built. Thacker and a few up-and-coming freestyle stars perform a demo that, by their standards, is pretty tame. Plenty of supermans and heel clickers get the crowd cheering. But, as is always the case, it's Thacker's backflips that turn the cheers into roars.
At WX13 last winter, Lavallee threw what might well be the only snowmobile backflip in history that didn't elicit a roar from the crowd. This one was met with what seemed like dead silence, because it was only the first of two backflips thrown consecutively, and -- frankly -- no one on hand in Aspen that night (or watching at home for that matter) was entirely sure that he was going to survive the attempt.
"You're defying all the laws of physics," says Travis Pastrana, who is one of only three people to pull double backflips on a motocross bike and the only one to stick it in competition. "The common knowledge was that you can't double backflip a snowmobile."
But that didn't stop Lavallee, who had begun the quest months earlier, trying first to flip (with limited success) an ATV at Pastrana's house, and then moving to his own foam pit in Minnesota.
"I had a game plan," he says. "I was going to do a single flip and throw the sled away and see how far it rotated on its own. My thought was, if the sled lands on its nose, then with me on it, hopefully it will rotate more because I'll be on the gas, wide open."
Lavallee has no idea how many practice jumps he took into the pit before he got to Aspen; he just knew that he was very close to getting the sled all the way around on the second flip and that he hadn't actually taken the thing to snow yet.
Buzz about the double began building before he arrived in Aspen, overshadowing the fact that, by adding the Next Trick event to his schedule, he was up to a record four snowmobile events in one Games. Questions about whether it might be too much were raised on the first night of the Games, when he settled for second in Speed and Style despite being a heavy favorite, due to an uncharacteristic mistake on a relatively simple trick.
One night later, as Lavallee flew through his first rotation and into his second, it was obvious he had outjumped the landing ramp. It was less obvious whether or not he'd complete the second rotation.
"He told me he was going to go long," Pastrana says. "He thought he needed it to complete the full rotation. He was right, but man -- it had to be 20 G's on that landing."
Lavallee landed as perfectly as a man wrestling 500 pounds of snow machine through two rotations, from 50 feet up, could possibly have hoped. But the sled's suspension was no match for the forces of impact, and he was bounced before he could ride away. Since the rules of the event demand clean landings, the most significant trick in the sport's history didn't even get Lavallee on the podium. But the crowd voted with its lungs, and as he ran to the top of the landing ramp, he was greeted with one of the loudest roars in X Games history.
"Not winning the gold, it didn't bother me," Lavallee says. "It was more the fact that I rotated that trick and I proved it was possible -- and that I was still walking."
Having qualified in ninth, Lavallee lines up for the Milwaukee Mile final on the outside, first row, of the 15-man pack. The flag drops, and he bursts across traffic, too far back for a hole shot but making up ground even before he enters the first turn. The pack strings out along the back straightaway, and Lavallee sits comfortably in third place, behind Hibbert and Ross Martin.
Midway through the final, with the podium unchanged since the first lap, Lavallee makes an inexplicable mistake. Going into the first turn, where he made so much ground on the start, he completely misses his line and shoots wide. With Lavallee hung up in the soft snow for an instant, Garth Kaufman seizes the opportunity and blows past. Lavallee wrestles his sled free and gives chase, but the damage is done. Over the back half of the race, he continues to cede ground, and he finishes a disappointing eighth.
Later, surrounded by mechanics and teammates, Lavallee is subdued. "I lost my composure," he says. "Once I did that, I just couldn't get anything going. I fell out of sync and couldn't get it back together."
The next day, in the Pro Open class, things don't go much better. Lavallee is forced to race the last-chance qualifier to reach the final, in which he finishes 13th.
For all the attention Lavallee has generated off the snocross track, he remains first and foremost a racer. Racing sparked his career and makes up the vast majority of his competitive schedule. And while the double backflip doesn't hang over his season leading to Winter X the way it did last year, he's still preparing for another four-event run. All of which begs the question:
Isn't Lavallee biting off a little more than he can chew?
"Every rider is different, so I can't speak for everybody," Hibbert says. "I just know how much effort it takes to be at the top. To have that type of preparation and mentality in multiple sports is very difficult."
Hibbert might not want to speak for everybody, but anybody looking to win snocross races would do well to consider his advice. He's second all time in national tour victories, and if he stays healthy and interested, he has a decent chance of eventually overtaking the iconic Morgan on that list.
But for Lavallee, Hibbert's approach of clinical precision to every element of his training, race preparation and race strategy simply runs counter to how he's wired.
"I've tested all these things out," he says. "I've tried being super serious, where I'm like, 'All right. Here's the deal: You're going go there and do it by the books.' The year I did that, I blew my knee out and missed the whole season. It was like God telling me, 'Hey, that ain't the way you're supposed to work.'"
There's some evidence that Lavallee is on to something. Last season, despite his all-he-could-eat-buffet approach to Winter X and his rewriting the laws of physics tangent with the double back, he made nine ISOC podiums in 16 attempts -- a career best -- and earned the Pro Stock class points title and took third in Pro Open class points.
Despite a comparatively cool start to this snocross season (only one podium -- a third -- in eight races), and a nagging ankle injury suffered riding motocross in May, he has no plans to alter his approach going into Aspen for WX14. He wants the constant distraction of always having another heat, another jump, another start and another finish just around the corner. It suits the twin pillars of his personality: an ADD-like need for constant stimulation, and an unmitigated love for the wide-open throttle.
"If I'm not having fun, I'm going slow," he says, the creases spreading vertically across his face as he smiles broadly. "Having fun is what leads to golds."