Like its predecessors, Winter X Games 2012 has quite a show in store. Between Thursday and Sunday, 19 gold medals will be draped around winners' necks, some on the usual suspects, others on fresh faces who nobody expects to win. That's the beauty of this weeklong winter action sports event: Despite the storylines you see below, we have no idea exactly what's going to unfold. All we can tell you is that it stinks when something historic happens and you miss it.
Who To Watch For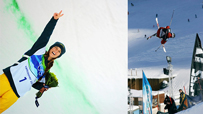 There are so many great athletes to keep your eye on this year. If you're looking for a short list, here's a start. Gallery

THURSDAY, JAN. 26
Don't Miss: Men's Ski Slopestyle (ESPN, 9:45 p.m. ET)
No field at WX 2012 is deeper than men's Ski Slopestyle, and this year marks the first time the gold medal will be decided at night. If everyone lands a clean run, you could see eight to 10 scores in the 90s -- that's how many of these guys can win. Defending gold medalist Sammy Carlson headlines a start list that also includes 2010 champ Bobby Brown, who settled for fourth place last year while skiing through a painful lower back injury. Based on early results this winter, the favorite is probably Tom Wallisch, a Pittsburgh native who was out of Winter X Games last year with a broken shoulder blade. Wallisch has won both Dew Tour slopestyles this season, but he's never won an X Games medal, so you can bet he'll be hungry to change that.
Also: The Snowmobile Freestyle (9 p.m. ET, ESPN) field took a severe hit recently when reigning gold medalist Daniel Bodin and world-record holder Levi LaVallee pulled out due to injuries (LaVallee broke his shin and Bodin fractured vertebrae). Their absence leaves Justin Hoyer, the 2010 champ, in prime position to reclaim his spot on top of the podium. Canadian Kaya Turski, the early favorite to win Olympic gold when slopestyle makes its debut in 2014, will be vying for a three-peat in Women's Ski Slopestyle (3:30 p.m. ET, ESPN3). But the field of challengers is stouter than ever, led by two-time silver medalist Keri Herman, who finished within .33 points of Turski last year.
FRIDAY, JAN. 27
Don't Miss: Women's Snowboard SuperPipe (10:45 p.m. ET, ESPN)
It seems like we're asking the same question now that we were a decade ago: Can anyone beat Kelly Clark? At age 28, the winningest halfpipe snowboarder in history has won the past 12 contests she's entered, including the 2011 WX final. Clark landed the first in-competition 1080 by a woman in that event, putting her a whopping seven points ahead of the field. The 2002 Olympic gold medalist still soars higher than all of her competitors, but if anyone's going to beat her, it's likely to be four-time WX gold medalist Gretchen Bleiler or 2010 Olympic champ Torah Bright, who has almost dropped off the competition map. Bleiler, the hometown favorite, is particularly motivated after failing to land any of her three runs in last year's final.
Also: When Torstein Horgmo landed the first triple flip in competition to win last year's Snowboard Big Air final, he set a bar no one has matched since. This year's Big Air competitors are keeping their plans a secret per standard protocol, but you can expect Horgmo or one of his many capable rivals to try the spectacular triple if the jump's big enough (10:30 p.m. ET, ESPN). In Women's Snowboard Slopestyle (3:30 p.m. ET, ESPN3), Spencer O'Brien won the season's only major contest thus far (Breckenridge Dew Tour), but the world's most stylish, polished rider remains two-time WX champ Jamie Anderson. She'll be trying to win her first gold since 2008.
SATURDAY, JAN. 28
Don't Miss: Men's and Women's Snowboarder X (4 p.m. ET, ABC)
This is easily the best day to watch at Winter X, with intrigue in every event and many of the marquee athletes in action. That included Lindsey Jacobellis, who may one day be remembered as the most dominant snow sports athlete of the past decade, until she tore her ACL in practice Wednesday. The injury not only opens the door for 2010 Olympic gold medalist Maelle Ricker, but it ends Jacobellis' attempt at a rare five-peat -- which happens to be the same number of consecutive gold medals Nate Holland won before Nick Baumgartner ended his streak last year. Holland, riding into Aspen on the heels of a win and runner-up finish in World Cup races in Europe, posted on Twitter this week: "@XGames here I come and I want my gold back."
Also: Frenchman Kevin Rolland will attempt to win his third straight Men's Ski SuperPipe (2:30 p.m. ET, ESPN2) gold medal and fifth straight X Games gold overall, including two at Winter X Europe. Among others, 16-year-old hometown favorite Torin Yater-Wallace -- whom Rolland refers to as "the guy who can beat me" -- leads a host of hungry and talented challengers. In Women's Ski SuperPipe (1 p.m. ET, ESPN3), the absence of defending gold medalist and freeskiing icon Sarah Burke, who died last week, nine days after a crash in the pipe, will cast a somber shadow over the event itself. Burke likely would have appreciated the potential duel between young guns Brita Sigourney, Maddie Bowman, Devin Logan and Roz Groenewoud. You know slopestyle snowboarding is moving fast when Shaun White, who won four straight golds from 2003 to 2006, all but concedes defeat before the elimination round starts. Quebec's Sebastien Toutant is the defending champ, but watch out for the six Norwegians who comprise more than a third of the field (9 p.m. ET, ESPN). The last two Ski Big Air (9:30 p.m. ET, ESPN) champs have been relative surprises, and if the trend continues, don't be shocked to see Swiss double-flip master Elias Ambühl on top of the podium. He also happens to be one of four men on this WX start list who have landed triple flips.
SUNDAY, JAN. 29
Don't Miss: Men's Snowboard SuperPipe (9:45 p.m. ET, ESPN)
Shaun White remains the greatest performer in action sports. In non-Olympic years, we often see him compete in the pipe only once or twice, but he never fails to put on a show. He'll be gunning for a five-peat under the lights at Buttermilk, and he won't have much margin for error. Iouri Podladtchikov, who was born in Russia and now lives in Switzerland, has been on the cusp of beating White even on White's good days. "I-Pod" has a trump card, too -- the switch backside double cork 1260, which White had yet to try as of December. This event also offers another opportunity for Louie Vito, probably the most consistent pipe specialist in the world, to get over the hump and beat White on the sport's biggest stage.
Also: The women's Skier X field has been decimated by injury, but the 30-deep men's field is fully intact, which means you can expect hotly contested elimination heats right up to the final (2 p.m. ET, ESPN). Watch for Chris Del Bosco, who was passed at the last moment by 2011 gold medalist John Teller, to bounce back and reclaim his 2010 gold-medal form. Snowmobile Best Trick (9 p.m. ET, ESPN) will be contested, again, without defending champ Daniel Bodin and Levi LaVallee, but luckily for us, creativity abounds in that crowd. Most intriguing, Justin Hoyer has been training to land the first double backflip, which would be doubly impressive on the Winter X Games stage. If you've never seen urban snowboarding, check out defending champ Nic Suave and company in Snowboard Street (5:15 p.m. ET, ESPN). And to catch a glimpse of last year's most dominant WX victor, tune in for Mono Skier X (4:45 p.m. ET, ESPN) and Josh Dueck, star of the film "The Freedom Chair," defend the gold medal he won by a remarkable 10 seconds.