After trading up to use a first-round pick on Tim Tebow, the Broncos now have four interesting players at quarterback. But at least for the short term, they really don't have one guy who can take this team to where it wants to go in 2010. They apparently felt the same way and decided to select Tebow, but without getting into all of his strengths and weaknesses -- which have been beaten to death -- let's just agree that it is safe to say Tebow is not NFL-ready right now. Personally, I have strong doubts that he ever will be, but that is a post for another day.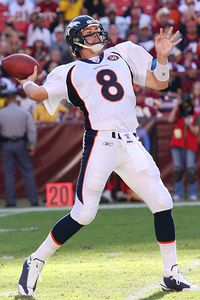 Jeff Fishbein/Icon SMI
Kyle Orton put up respectable numbers as Denver's quarterback last season, but lost his top offensive weapon in the offseason.Over the offseason, Denver acquired another former first-round pick, Brady Quinn, via trade. I commended the move at the time and still have no problem with it, as the price they paid to acquire Quinn was minimal. If brought along slowly, Quinn could develop into an upper-tier second-string quarterback. If this ends up being the case, this deal will be well worth it for the Broncos. But Quinn has done nothing at the NFL level to make you assume that he is a quality starter -- especially in the near future.
The name that is often overlooked when discussing the Broncos' quarterback situation is Tom Brandstater. The second-year QB doesn't have nearly the college pedigree of Tebow or Quinn, but he has tools to work with and with Josh McDaniels' history for developing quarterbacks, Brandstater looks like a fine developmental guy. Who knows what you might have down the road? But for now, he probably is the guy on the outside looking in and once again, lends nothing to the belief that he is ready for action immediately.
Kyle Orton, the incumbent starter, put up fine numbers in his first year in a Broncos uniform. His 62.1 percent completion percentage and the 3,800-plus yards passing were respectable, but I contend that is Orton's ceiling, especially with Brandon Marshall now in Miami. The veteran just does not have top NFL tools. His arm is very average and his physical makeup and athleticism are below par. He is conservative almost to a fault and everything in the offense was short and low-risk throws. As the season wore on, defenses quickly caught on that Orton was not going to -- or maybe was unable to -- threaten them deep downfield or deep outside the numbers. He cannot stick the tight throw, which is imperative at this level for quarterback success. Orton also offers little once the play breaks down. In short, defending Orton is too easy for his opponent, as more defenders can creep closer to the line of scrimmage and defenders also will be more apt to bite on the receiver's first move.