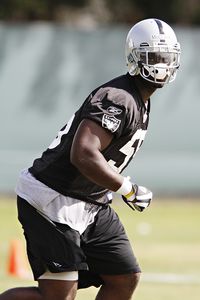 AP Photo/Eric Risberg
Raiders draftee Rolando McClain should fit well in Oakland's 3-4 defense.It appears that Oakland is serious about moving to a 3-4 scheme, or at least implementing it more as its base defense. The Raiders have accumulated edge pass-rushers such as Kamerion Wimbley and Quentin Groves, who are best off at outside linebacker in this scheme. Obviously Richard Seymour would be terrific at one end and second-round pick Lamarr Houston would be a nice fit opposite Seymour once he gets his feet wet and learns the position. Tommy Kelly also could get a real boost in production as a 3-4 end, which might be what he is best suited for. Desmond Bryant is another defensive tackle who could possibly be better off at end in the 3-4.
The Raiders were woeful against the run last year and while adding prospect Rolando McClain, whose game also really fits the 3-4 well, in the first round should help, interior beef is imperative to slowing down an interior running game. But even if the switch to an odd front doesn't occur or isn't a full-time thing, a nose tackle type defensive tackle is still in order for the Raiders' run defense to be corrected. They now have plenty of end prospects but not that true nose tackle type who occupies blockers and allows those around him to get to the football with less resistance. Also, of that group of potential ends, only Seymour excelled against the run in 2009. The group does look stronger than it did a year ago, but having a space eater would put them over the hump.