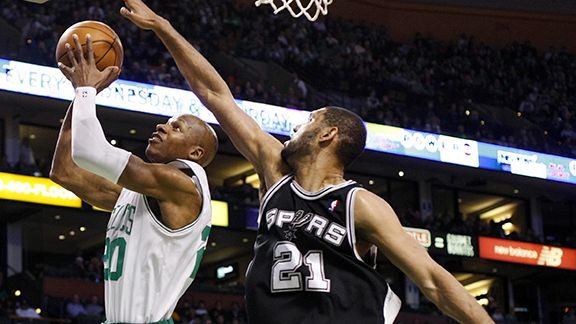 Greg M. Cooper/US Presswire
Ray Allen goes to the rim with Tim Duncan defending.BOSTON -- Instant reaction after the San Antonio Spurs posted a 94-73 triumph over the Boston Celtics Sunday night at TD Garden:
How the game was won: The Celtics were held to a season-low 73 points on a night they shot 37 percent from the floor and matched a season-low with a mere 30 second-half points. Manu Ginobili scored 28 points, while Richard Jefferson (16) and George Hill (15) helped pace the Spurs. Paul Pierce had a team-high 18 points despite 4-of-11 shooting (he was 10-of-11 at the free throw line).
Turning point: The Celtics limited San Antonio to 19 first-quarter points, but the Spurs scored 21 points in less than seven minutes in the second quarter to open a double-digit lead at 40-30 with 5:10 to go in the half. Ginobili did most of the damage, scoring 12 of his 16 first-half points in the period.
Turning point II: The Celtics were forced to play catch-up the rest of the game, but rallied within a point at intermission. San Antonio promptly embarked on a 12-0 run to start the half, culminating with a 19-foot jumper by Antonio McDyess for a 56-43 lead little more than two minutes in.
Stat of the game: The Celtics shot 37 percent (27-of-73) from the floor, only marginally better than their worst shooting performance of the year (34.5 percent vs. Orlando on Nov. 20).
Unsung hero: Shelden Williams connected on all five shots he took, registering 11 points in 11 minutes. Tempering his night slightly, Williams grabbed just one rebound and committed four fouls.
Sunday Not-So Funday: The Celtics dropped to 6-7 on Sundays this season, including 3-4 at home. The only other day Boston has a losing record on is Thursday (2-3 overall, 0-2 at home).
What it means: This will do little to quell the notion that the Celtics can't win against quality competition. The good vibes built by five consecutive home wins take a strong hit after this lopsided loss. Boston will have two days to sit on this performance before hosting upstart Oklahoma City on Wednesday.