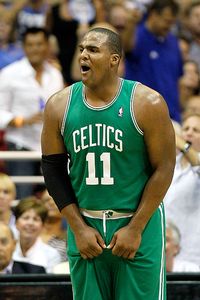 Kevin C. Cox/Getty Images
Glen Davis and Marquis Daniels both departed Wednesday's Game 5 with concussions.ORLANDO -- Celtics reserves Glen Davis and Marquis Daniels both suffered concussions during Wednesday's Game 5 of the Eastern Conference finals against the Orlando Magic at Amway Arena.
Davis endured an inadvertent elbow to the face from Orlando's Dwight Howard after Nate Robinson blocked Howard's layup attempt from behind late in the third quarter.
After lying on the floor for a moment, Davis sat up dazed and stumbled as he tried to get to his feet. On his second attempt to get up and run down the court, he once again wobbled, this time falling into the arms of referee Joey Crawford near midcourt.
Davis was attended to by trainers before being helped off the court. He was further examined in the locker room where he was diagnosed with a concussion by team physician, Dr. Brian McKeon.
While Davis was being attended to, arena staff appeared to be picking up a piece of his tooth from beneath the basket.
Davis finished with four points and one rebound over 19 minutes.
Daniels got hit in the face while attempting to pass the ball early in the fourth quarter (he was instead called for traveling) and was also diagnosed with a concussion. The oft-unused Daniels logged three minutes due to injuries and foul trouble.
The Celtics were already playing shorthanded due to the second-quarter ejection of Kendrick Perkins.