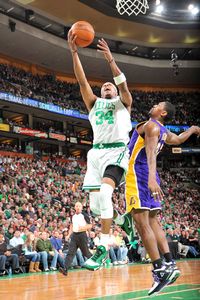 Jesse D. Garrabrant/Getty Images
Boston's Paul Pierce drives on Ron Artest earlier this season.In the previous post, we discussed the Paul Pierce vs. Ron Artest matchup that is sure to be a focal point of the 2010 NBA Finals due to the fact that Artest is one of the few changes to the starting lineup since these teams last met in the 2008 championship round.
So how exactly has Pierce fared against Artest? The wizards at ESPN Stats & Information crunched the numbers and Artest has enjoyed more success than you might think as Pierce is averaging a mere 0.58 points per play against Artest over the past three regular seasons.
To quantify that, let's first explain how that metric is determined: A play is defined as any field goal attempt, trip to the foul line, or turnover. The only plays registered are when Artest is the initial defender, and does not include points scored off switches, offensive rebounds, cuts, and transition plays.
In a nutshell, this is 1-on-1 basketball. Ball-handler vs. defender.
Under that scenario, Pierce ran 38 plays and scored 22 points on 6-of-26 shooting (23.1 percent) with eight turnovers and four trips to the foul line. The mere fact that Pierce generated more turnovers than field goals suggests Artest has dominated the matchup.
Given the way Pierce struggled offensively against Cleveland's LeBron James, it's worth watching if he's able to keep up his offensive exploits from the Eastern Confernce finals against the Magic. After all, Pierce will likely draw the already daunting task of guarding Kobe Bryant, much like he checked James in the second round, and used up much of his energy at that end of the floor.
Here's one more set of numbers for you to chomp on: The last time Pierce and Artest met in the postseason was the opening round of the 2004 playoffs. Not only did the Pacers sweep, Pierce averaged 20.8 points per game on 34.2 percent shooting (just 29.4 percent from beyond the arc, while committing 6.3 turnovers per game.