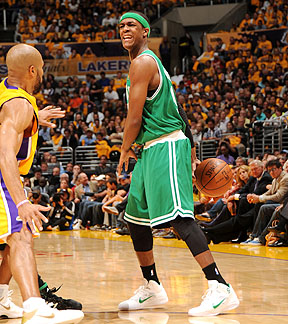 Andrew D. Bernstein/NBAE via Getty Images
Danny Ainge suggested Rajon Rondo might have tweaked his back Thursday.Boston Celtics president of basketball operations Danny Ainge talked about his team's disappointing performance in Game 1 of the NBA Finals on Boston sports radio station WEEI this afternoon, and dropped an interesting line about Rajon Rondo possibly tweaking his back in the loss.
"It looked like there was more indecisiveness than just [lack of] effort," Ainge said. "I think you could see that. There was no rhythm in the game, there were a lot of fouls being called. I'm not making excuses, I just felt that our guys were ready to play and played hard. I think Rondo got hurt halfway through the game and kind of reinjured his back a little bit."
Rondo originally hurt his back in the Eastern Conference semifinals but declared it a non-issue before the Finals. If he did indeed tweak his back in Game 1 it couldn't have been too significant, as Rondo played 40 minutes in the game, but it's an interesting note nonetheless and one we'll be keeping an eye one.
Update from Chris Forsberg at Celtics practice (5:09 p.m. ET):
In the portion of practice open to the media, Rondo engaged in only limiting stretching drills as strength and conditioning coach Brian Doo led the team through a variety of exercises.
Rondo seemed to be moving fine when he first came onto the court before stretching began and did not indicate an injury when talking with reporters before the practice.
Update (6:59 p.m. ET):
The Celtics indicate that all players, including Marquis Daniels (concussion), participated fully in Thursday's practice. That's encouraging news, even if the practice session after a gameday was likely low impact.