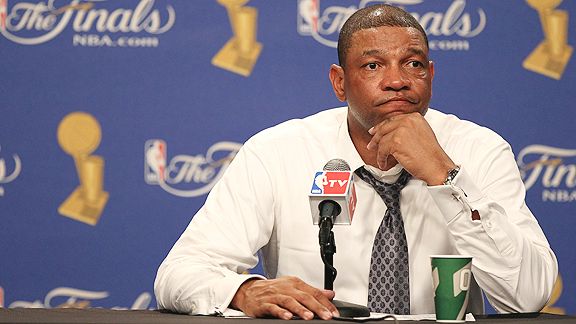 Christian Petersen/Getty Images
Danny Ainge thinks Doc Rivers will be back in Boston next year.There has been speculation that Boston Celtics coach Doc Rivers would consider walking away from the team after this season to spend more time with his family, but team president of basketball operations Danny Ainge, for one, doesn't see that happening.
"I think Doc will come back," Ainge said in an interview on Boston sports radio station WEEI on Friday afternoon. Rivers, who has one year remaining on his contract, has acknowledged the rumors but insists he will not make any decisions about next season until this season is complete.
Should Rivers leave, the hunt for his replacement would include current assistant Tom Thibodeau, Ainge said.
"[If Rivers leaves] then we'll put the search out and put Tom at the head of the class," Ainge said. "[He is] somebody that we would consider and interview but we would also look at all the viable candidates and take our time if [Rivers walked away]. But I don't anticipate that happening."
Of course, Ainge might not have the option of considering Thibodeau. The Celtics' defensive guru has been a hot coaching candidate and is under consideration for head coaching spots with the Hornets, Bulls and Nets.
"It's an opportunity he's been looking forward to for a long time and we hope he gets the job of his choice," Ainge said. "I think Tom is being selective. He's a candidate in the three cities that he's interviewed -- New Jersey, Chicago and New Orleans -- and I think he feels like he has the luxury to explore all three of those."