One quick thought on Boston's summer league roster (we'll delve into the team more early next week when we trek to Orlando for the start of games on Monday):
Boston's glaring weakness entering the first days of free agency is clearly big men. Kevin Garnett, Glen Davis, Kendrick Perkins and Rasheed Wallace are the only bigs under contract, and Perkins is set to miss the start of the season after ACL surgery, while Wallace is expected to hang up his headband before the end of the summer.
Free agency won't overwhelm you with potential options for the Celtics, at least not that the team can easily afford. Fortunately, Boston's summer roster gushes with height -- seven players over 6 feet, 7 inches, of the 12 available bodies. So if the team can find even one or two players to add to the bench, it might at least ease height concerns.
Sure, some of these bigs are more wing-type players, but there's some legitimate post guys who will do most of their work under the rim, which is probably what the Celtics need most. Here's three international options to watch: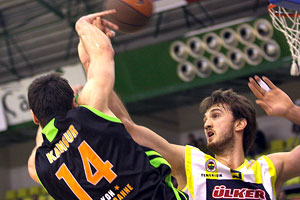 Bulent Kilic/AFP/Getty Images
Let the Semih Erden era begin.Semih Erden: Mr. Irrelevant from the 2008 draft has been, well, irrelevant after coming to Boston just long enough to snap a picture alongside Gabe Pruitt (he'll compete for New Jersey this summer) and Celtics president of basketball operations Danny Ainge, then promptly returned to his native Turkey. The 23-year-old center averaged 6.2 points and 5.4 rebounds in 10 games in the Euroleague this season, shooting 47.6 percent from the floor overall. By all accounts, he's got the physical makeup to be an NBA player, he simply hasn't put it together quite yet. Scouting reports do say he finishes strong around the rim, something that Boston could certainly use.
Art Parkahouski: Despite playing collegiately for Radford, Parkahouski actually drew a bit of draft buzz and for good reason. Parakhouski averaged 21.4 points and a nation-best 13.4 rebounds per game as a senior. Those all didn't come against creampuffs like Lynchbur, either. Parakhouski finished with 21 points and 13 rebounds against Kansas, while totaling 23 points and 14 rebounds agianst Duke. The native of Belarus has potential to stick based solely on his desire to clean up on the glass.
Vyacheslav Kravtsov: NBADraft.net will get you fired up for this guy, listing his strengths as, "One of the best post prospects in Europe... He has great physical potential, is a supreme athlete, with an excellent attitude... Plays with courage and desire, and has surprising maturity for his age... A true center. At 7-0, 260 pounds and with a big frame, has the size to play center in the NBA... Has a great attitude, and shows a high level of desire... Has the toughness and demeanor that you want in a post player." A native of the Ukraine, he'll inevitably draw comparison to countryman Kyrylo Fesenko and the Celtics probably wouldn't mind if he turned out to be as effective.