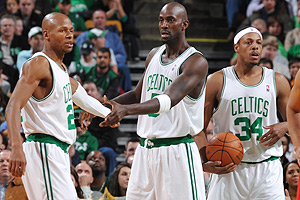 Brian Babineau/NBAE/Getty Images
Ray Allen came back because the Big Three wants another shot at a title.Celtics guard Ray Allen hoped to return to Boston, but admitted he needed to examine how the offseason shuffling in Boston and around the league started before making his decision.
Appearing on ESPN Radio's Scott Van Pelt Show on Friday, Allen talked about the pain of losing in Game 7 of the NBA Finals, LeBron James' decision to move to Miami, and his thought process in agreeing to a two-year, $20 million deal to return to Boston.
"I did [want to return to Boston], but you never know how the landscape of the NBA changes and it did change pretty dramatically with LeBron making his decision to go to Miami," said Allen. "But for the most part, some guys stayed in place, they didn't move. For me, I was counting on the team to make sure they wanted me back, and that I wanted to be back. I said if there was anything along the way that enticed me, I would take a look. But the landscape outside Boston was the same.
"We still have a great opportunity. I know Kevin [Garnett], he'll have some good time to rest his leg and come back stronger, healthier; the same thing with Paul [Pierce] and our young guys are getting better. There wasn't a better situation for me."
Allen, who phoned in to promote his Ray Allen Golf Tournament benefiting his Ray of Hope Foundation on Aug. 16 at the TPC River Highlands in Cromwell, Conn., also touched on some key topics:
On Boston's Game 7 loss to the Lakers and the lingering pain: "I was depressed for a while and my teammates would echo the same sentiment. I couldn't sleep. Everything emotionally and physically went into what we were doing... You don't want to go outside and there's nothing really you can do that will satisfy you. But just being around family and friends, enjoying the summer. For me, I'm just getting to the point where my body has started to heal itself. Mentally, I'm starting to work out again, running on the street. But it never leaves you, it hurts all summer."
On James going to Miami: "It's interesting. Obviously, for the last year or so, people have been wondering where LeBron was going to sign. At first it was New York, then Chicago jumped up in there. Some were trying to organize their team [for a shot at him]. As a team, on the Celtics, we look at it as another challenge. We still think Orlando is the team that we definitely have to beat [in the Eastern Conference], but we're not looking at Miami on the radar. We had a tough time playing them in the playoffs. As the Celtics, we have to focus on what we have to do to get back to where we were last year and try to win this championship."
His take on the James' circus and TV special for his decision: "It seemed like, the way he went about it, he found a way to affect kids in a positive way. Obviously, people wanted him to get over the decision and hope he said what he had to say and everyone can move on. But what he did for the kids, I thought that was awesome."
On James' decision to leave Cleveland: "Unfortunately, this is a business. I know people in Cleveland are very upset. We always talk about, as a player, any type of leverage you have to use it. Our playing days are very short and he did that. He took advantage of what he had to take advantage of, so that he could better his situation, hopefully. He's got, what, at least 10-12 more years in the league? Then there's nothing more he can do. He has to take full advantage of it."