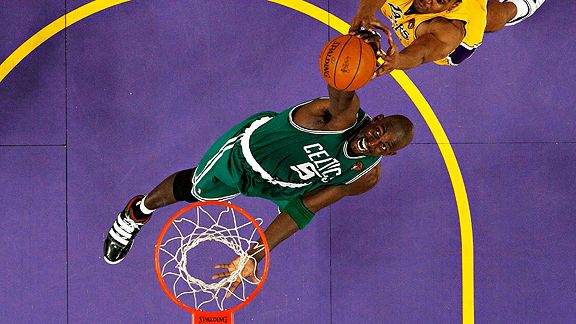 Ronald Martinez/Getty Images
Kevin Garnett overcame injury woes to help Boston advance to the NBA Finals.Over the next few weeks, we'll take a player-by-player look at the 2009-10 roster and how each player's season unfolded, assigning a grade for their overall performance. This is the 14th in the series of report cards:
Player: Kevin Garnett
2009-10 averages: 14.3 points, 7.3 rebounds, 0.8 blocks
2009-10 salary: $16.4 million
Season in a paragraph: Already trying to bounce back from offseason knee surgery, Garnett endured a major setback when he suffered a hyperextended right knee in late December. He sat out nearly a month, missing 10 games, and looked a step slow upon returning. Dogged by questions about his health throughout the year, it wasn't until late in the regular season that Garnett started looking like the player of old. Even still, he finished with his lowest scoring and rebounding averages since his rookie season. After a dominating series against Cleveland, Garnett's production slumped at times and he looked out of gas playing 38 minutes in Game 7 of the NBA Finals against the Lakers.
Season highlight: May 13, 2010 -- Garnett capped a dominating series against the Cavaliers by connecting on 11-of-19 shots for 22 points to go along with 12 rebounds in a 94-85 Game 6 triumph that sent Boston to the Eastern Conference Finals. The Celtics identified a favorable matchup with Garnett against Antawn Jamison and exploited it while ousting LeBron James and the top-seeded Cavaliers.
Season lowlight: Dec. 28, 2009 -- Garnett turned in a strong performance (16 points, 9 rebounds), but got kicked in the knee by Golden State's Monta Ellis and suffered the hyperextension that would sideline him until late January (and plague him for much longer). The Celtics fumbled away that game and ultimately lost three straight, and eight out of 12, their first extended losing streak after starting the season 23-5 overall.
Final grade: B-
Teacher's notes: The hyperextended knee didn't help Garnett on his road to recovery and it's pretty clear he operated at less than 100 percent for most of the season. Watching him dominate inside against the Cavaliers in the postseason made some wonder if injuries had left him content to fire away from the perimeter instead of grinding down low. Clearly the injury left him less effective on the glass, something he admitted early on while trying to find his timing.
What's next?: Garnett, 34, is under contract in Boston for two more seasons, his salary escalating to $18.8 million this season. Fifteen NBA seasons have clearly taken their toll, but everyone in the Boston locker room expressed great optimism that Garnett would rebound in 2010-11 with a summer to strengthen and recover his knee. They better hope that's true, particularly with Kendrick Perkins set to start the season sidelined after ACL surgery. One silver lining, Garnett's defense remained in peak form through much of the postseason.
Honor roll: Click HERE to read past report cards.
Don't agree with teacher? Just want to sound off on Garnett's 2009-10 season? Click HERE to leave a comment.