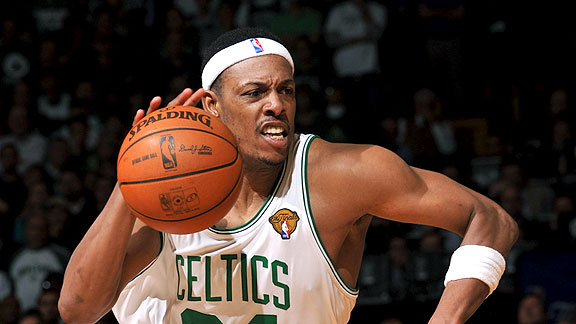 Christian Petersen/Getty Images
Paul Pierce hopes his four-year deal allows him to retire as a Celtic.Paul Pierce held a conference call with the media Thursday afternoon after officially inking his four-year contract extension with the Boston Celtics.
Pierce expressed great satisfaction in knowing the new deal makes it likely he'll retire in a Celtics uniform, the only uniform he's worn in his career. And while he noted he never considered another team outside of Boston, he did stress that he took less money in order to help Boston reassemble a championship-caliber team and multiple times opined about the lack of impact moves thus far by Celtics president of basketball operations Danny Ainge.
"I thought it was a great move picking up Jermaine [O'Neal], giving us an inside presence in case Rasheed [Wallace] retires, but sometimes I'm looking at all the players signing and wish we would get on the ball a little bit. I trust in Danny to put a good team around us, but I'm sitting here watching all these good players fall to other teams."
Pierce seemed particularly stung by the loss of reserve swingman Tony Allen and suggested the Celtics have "a lot of work to do" in filling out their bench.
"We got a lot [to add] right now," said Pierce. "We lost TA, we don't have Nate [Robinson], we might not have Rasheed. We gotta add a bench. We got our work cut out. We need perimeter defense and we need to add a backup point guard to help out [Rajon] Rondo, if Nate doesn't come back. And we need another big."
Pierce joked that Allen is always unpredictable, but was floored by his decision to sign with Memphis, especially after he called to reinforce his opinion that the Celtics needed Allen for the 2010-11 season.
"That definitely surprised me," said Pierce. "I was a little bit upset. I thought Tony was a guy we definitely needed. That's a tough one to swallow, especially with the deal he got. I thought we offered the same deal."
Some additional bullet points from Piece's Q&A:
* The ability to finish his career in Boston "means everything" to him; he knows how rare it is for a player to compete for just one team in this day and age

* Pierce dubbed the Lakers and Heat the favorites in their respective conferences based on offseason moves made thus far; he likes that Boston might fly under radar a bit as defending Eastern Conference champs

* Pierce said he's taking six weeks to recuperate before diving back into training for the new season

* Pierce isn't sure whether Wallace will retire or not, but he wouldn't mind having him back; Said Pierce: "I definitely think we could use him."

* Pierce said he's been back in Los Angeles for about a week; he has avoided leaving the house much as not to relive the sting of Lakers' Game 7 triumph

* Pierce thought LeBron James's "The Decision" is a reflection of a new age of media, but said he thinks the SuperFriends combination is good for basketball as teams try to load up for championship runs, and draws interest in the game