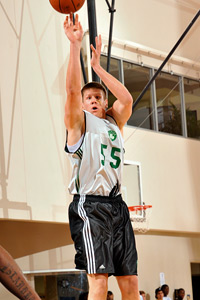 Fernando Medina/NBAE/Getty
Luke Harangody earned himself a deal with his play at the Celtics' summer league in Orlando.WALTHAM, Mass. -- Shaquille O'Neal might not know who Luke Harangody is quite yet. But the two will likely be spending plenty of quality time together the next two seasons.
On the same day the Celtics introduced O'Neal to the Boston media, Harangody, the Celtics' second-round draft choice (52nd overall) this year, quietly inked a guaranteed two-year deal valued at $1.3 million.
After O'Neal's press conference on the practice court at the Sports Authority Training Center at Health Point, Celtics public relations czar Jeff Twiss informed the media that Harangody would be available for questions. O'Neal could be seen turning to coach Doc Rivers and asking, "Who?"
Harangody plans to make his name known, even on a team full of future Hall of Famers like O'Neal.
"Seeing Shaq today, I was kinda in awe a little bit -- starstruck -- but at the same time, I gotta come in the gym everyday," said Harangody. "We're teammates now. There's future Hall of Fame players, but you still gotta come in and give the same effort, no matter who's in on the floor."
Harangody's signing maxes the Celtics' roster out at 15 players signed for the 2010-11 season (though that number includes Rasheed Wallace, who Celtics president of basketball operations Danny Ainge hinted will be bought out before the start of training camp with Wallace set to retire). For the rookie out of Notre Dame, it's a relief to have a deal in place as Boston's roster filled up quickly this offseason.
"It's a great feeling," said Harangody. "It's a little bit of job security, especially being guaranteed. I can kind of sleep easy at night. And for it to be officially signed is also a great feeling as well."
Harangody may have essentially played his way into a contract this summer, raising eyebrows throughout Boston's five-game slate at the AirTran Summer League in Orlando (with Ainge and Rivers on hand for the show). He's still got a scar under his left eye from a collision during one game, but it's a nice reminder of his grit. He noted Tuesday that he, "put in the work and basically got a contract," and when talking about his solid showing behind the NBA 3-point arc, admitted he "surprised a lot of people, probably just except myself."
Rivers admitted that was true.
"I don't know [his role], hell he's a rookie, but he can play, I can tell you that," said Rivers. "He can shoot the ball and stretch the floor. He shot the ball extremely well in summer league from behind the NBA 3-point line, which I didn't know he could do, honestly, watching him in college. I didn't know he had the range.
"He's going to be player in this league. He's quirky offensively, and he had to figure out a way of scoring by not being dominant athletically. I love players like that, because that means they play with their heads. That's the type of player that makes it in this league, so that will be good for us."