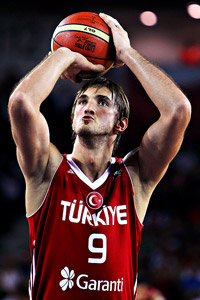 Roman Kruchinin/Getty Images
Semih Erden earned some serious cash for his role in Turkey's success last month.ESPN.com's Chris Sheridan covered the 2010 FIBA World Championships for the site and caught up with Celtics rookie Semih Erden at last week's Celtics-Nets exhibition battle in Newark, N.J. Sheridan relayed this note, while emptying his notebook on our TrueHoop blog:
Spoke with Semih Erden of the Boston Celtics the other night at the Prudential Center in Newark, where I've been keeping an eye on the Nets and an ear to the maneuverings surrounding Carmelo Anthony -- the subject of today's column, an open letter to 'Melo. Erden told me that each of the players on the Turkish National Team that won the silver medal at last month's World Championship received a bonus of 1 million Turkish Lira (about $700,000) along with a free villa/apartment, courtesy of a wealthy Turkish real estate mogul who wanted to reward them for their success. The members of the gold-medal winning Team USA were paid $25,000 apiece, Andre Iguodala said.
Erden, the NBA equivalent of the NFL's Mr. Irrelevant as the 60th (and final) pick in the 2008 NBA draft, is expected to earn $473,604 during his rookie season this year. So for 10 games with the national squad, he'll earn roughly 167% of his rookie salary (which could involve as many as 100 games between preseason, regular season, and playoffs).