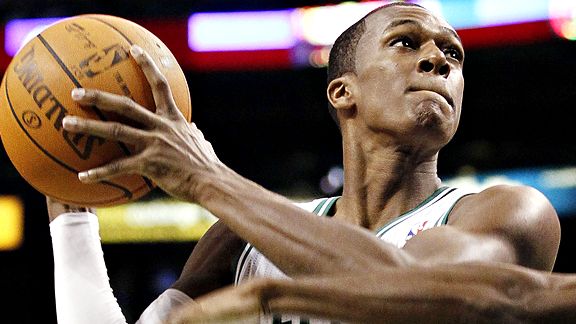 AP Photo/Winslow Townson
Rajon Rondo for MVP? ESPN.com's Awards Watch thinks it's possible.ESPN.com's Awards Watch is one of our favorite features, a weekly look at who might take home some hardware at season's end. Sure, it's virtually impossible to predict these things less than a month into the season, but with a 10-game sampling size for most teams, it's time to start making some educated guesses.
Curator Maurice Brooks pegs Celtics point guard Rajon Rondo at No. 2 in the MVP voting, a lofty spot considering that only Paul Pierce flirted with the list last season (Boston's overall depth preventing anyone from making a serious charge at the league's top honor).
Writes Brooks on Rondo: "If you are going to dominate in every other aspect of the game, you don't need a jumper to play at an All-NBA level. Nobody's better than Rondo right now at making teammates better."
Which Celtics deserve to be on Awards Watch? Glen Davis really should be part of the Sixth Man category if for no other reason than his unprecedented assault on the fictional charge-taken record book (no official data exists, but it's safe to say his 16 charges through 10 games is well ahead of any previous mark). The fact that he's chipping in a career-high 11.3 points, 4.8 rebounds, and 1.1 steals per game is even more reason.
Rondo's nod in the MVP poll might have kept him out of the Defensive Player of the Year watch, but he deserves to be in there as well. Rondo led the league in steals with 2.3 per game last season while earning NBA All-Defense honors, and that number has jumped to 2.7 steals per game this season (he currently sits third in the league).
And scoff, if you will, considering the overall amount of talent, but Doc Rivers deserves Coach of the Year consideration if he continues to lead the Celtics to the best record in the NBA despite the injuries and suspensions that have yet to allow this team to play with a full roster. Mix in all the egos and personalities he has to manage and Rivers and his staff rarely get the credit they deserve.