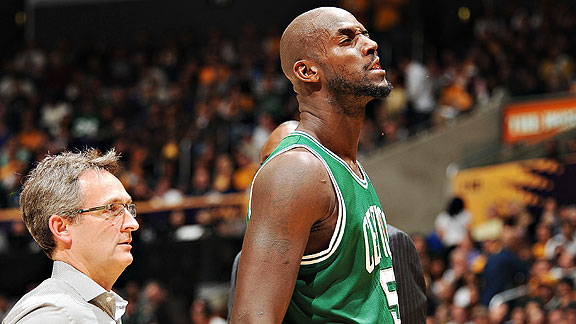 Noah Graham/NBAE/Getty Images
Kevin Garnett recaps Boston's west coast trip -- and this elbow he endured -- in his latest blog.Celtics forward Kevin Garnett offers insight into Boston's just-completed four-game road trip in his latest ANTA blog, including his reaction to being ejected in Phoenix and Ray Allen's stirring halftime speech in Sacramento:
So here is my "catch up" blog. Been busy, so been tough for me to reach out. Know that I hate just writing a few words and would rather give you the low down.

Since my last entry, we've gone 4-2 and are finishing up a west coast swing. Our losses were bad losses! The Wizards in Washington and in Phoenix to the Suns. Our wins were Cleveland (21 straight losses!!!!!), Portland, LA Lakers and Sacramento.

The Wiz game was a bad game and we started out strong, but couldn't make a shot. We settled for outside shots and stopped attacking. As bad as we played, we still got 2 looks to win the game, but we never made a shot.

The Cavs game went quick and didn't play as much, which was good. 18 min was all I logged. They are struggling and we kept their losing streak going. It was also MY HOMIE'S FIRST GAME BACK! Big Perk came in and it was awesome to see him back. The crowd gave him a standing Ovation! Well deserved. Perk works extremely hard and it was great to play with him.

We boarded a plane and left for Portland. It took over 6 1/2 hours for us to get there. It's in a different time zone, so we gained 3 hrs. The game was real physical and we were banging with the blazers. It was a close INTENSE game, but we found a way to win. IT was a sloppy game, but we did enough things to get the W.

We then went back 1 time zone to the east and played a back to back in Phoenix. This game was physical as well and super ugly. I never apologize for my actions, as I play with passion. I actually got ejected for (the ref said) "talking too much". Can you believe that. It was unfortunate, and i hate to leave my team out there without being around to support them. Doc got ejected and then fined $15,000 for not leaving the court in a timely manner. A TIMELY MANNER. WOW

The game ended and we got worked over. It could've been the back to back and travel, but they played well.

After the game, we boarded the plane (1:00am) and by 2am the crew decided that we could not get to LA due to fog. We ended up busing back to the hotel and had to stay over. We had a 3pm flight, so got my lift in and we headed to LA.

When I go home to Cali, I get to [go] to my crib and relax! We had an early game on Sunday, so not much free time.

The energy was hyped in LA and thought we'd come out sluggish, but we came out early and applied force. Kobe and P2 were going back and forth exchanging baskets. Pau Gasol came hard at us, but we were ready for him. He did hit me with a "bow" and I needed 5 stitches. Didn't hold me out long and got me even more energized! The second unit really played well and it helped us get the lead and get a great victory. We executed our offense really well (60% field goal percentage) and locked down the defense for our victory. Another great win. We stayed overnight in LA and then caught a flight to Sacramento the next day.

Sacramento fought all night, but we got it done. Ray gave an emotional 1/2 time speech and got us going. If Ray's yelling, then somethings not right. He was right, we needed to play in control and not get caught up in the crap that Sacramento was trying to get us to do. Pulled it out and ended the road trip with a victory. Problem is that more snow back in Boston, so we had to go back to the hotel and stay over night instead of flying back home.

Flying out in the AM and then DALLAS on Friday. we've had 3 National TV games and have 4 out of the next 5 games on National TV. Need to sleep.

Keep Reaching Higher my Anta Friends.

Peace, KG
Click HERE to read KG's blog.