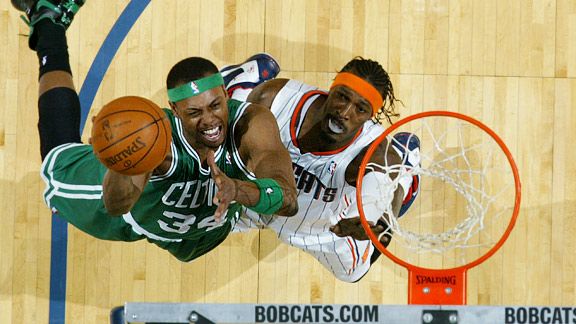 Kent Smith/NBAE/Getty Images
Paul Pierce and Gerald Wallace mixed it up often on Monday.Celtics captain Paul Pierce avoided a flagrant foul call on the court for a hard foul on Gerald Wallace in the fourth quarter of Monday's loss to the Charlotte Bobcats, but upon video review by the NBA, the call has been upgraded to a flagrant 1.
After Eduardo Najera knocked the ball free from Kevin Garnett's hands, he fed Wallace in transition. Pierce chased him down and delivered a hard foul, spilling into the baseline area with 4:09 to play in the game. Referees briefly conferenced, but did not award the flagrant call. Wallace made one of two free throws, keeping it a one-possession game with Charlotte out front, 82-79.
The Bobcats went on to win, 94-89.
For the Celtics, this is the second flagrant upgrade in recent days. Upon video review, Kevin Garnett earned a flagrant 1 for putting a shoulder into Tyson Chandler while running up the the court during a second-quarter possession in a lost to the Mavericks last Friday that drew no whistle on the floor.
In January, Shaquille O'Neal also had a foul upgraded to a flagrant for an incident in a win over Toronto on Jan. 7. O'Neal boasts a team-high two flagrant points; Pierce, Glen Davis, and Nate Robinson have one apiece. Suspensions don't begin until after five points are accrued.