PHILADELPHIA -- A collection of news and notes after the Philadelphia 76ers defeated the Boston Celtics 89-86 Friday night at the Wells Fargo Center:
The rundown: No excuses for Big 4 | Sorry Thibs, Collins is top coach | Loose Balls
Trying hard not to lean on a roster overhaul for Boston's recent troubles, Kevin Garnett expressed frustration in his team's ability to play consistent basketball after the Celtics fell for the second time in three days Friday night in Philadelphia.
"I'm not the one to make excuses, man," said Garnett. "We're in transformation here, and it's not an easy thing. We know what we gotta do, we gotta fix it. I'm sure we will. We're going to be more consistent with what we're doing, I think right now we're in spurts. Me, myself, I have to be a lot more consistent with what I'm doing. You just heard Doc say to me, 'Be aggressive, be aggressive.' We're all figuring it out on the go, nonetheless, you still gotta get it done."
Garnett missed 14 shots while shooting a mere 26.3 percent from the floor (5 for 19) in Wednesday's loss to the Clippers. He missed four of his first five attempts in the first half before finding his shot a bit in the second half. He finished 5-of-13 shooting with 14 points, six rebounds, and five assists over 33:29.
Boston's starters once again failed to set the tone, leaning on a new-look second unit to rally them back in the second half (where Boston overcame a 10-point third-quarter deficit to sneak ahead briefly in the final frame). After Ray Allen's 3-pointer put Boston out front, 81-79, with 6:26 to go, the Celtics missed nine consecutive shots and didn't muster another field goal until Garnett's layup in the final seconds merely trimmed the final spread.
Garnett knows the starters have to do better.
"It's on the four of us to get it done and we haven't done that," he said. "We'll get better at that."
Added Rajon Rondo of Boston's struggles down the stretch: "Nothing happened, that was the problem. We didn't get some calls, we took some bad shots, we turned the ball over. We just, like I said, it's not on the bench. With the exception of one guy, we've been together for four or five years now, so we've got to do a better job of executing down the stretch."
--SORRY, THIBS; DOC SAID COLLINS IS TOP COACH--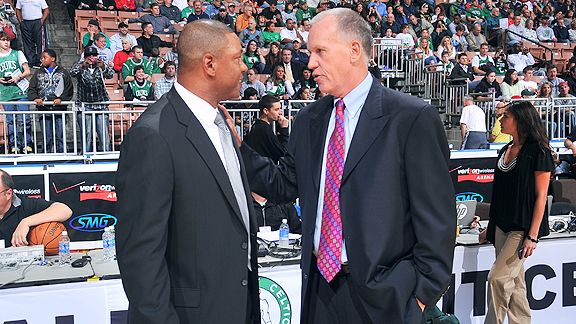 Steve Babineau/NBAE/Getty Images
Celtics coach Doc Rivers and Philadelphia coach Doug Collins catch up before a preseason game.He prefaced his impromptu Coach of the Year ballot by apologizing to good friend Tom Thibodeau in Chicago, but as the regular season winds down, Celtics helmsman Doc Rivers said Friday his vote would go to Philadelphia's Doug Collins.
And this was before the 76ers toppled his Celtics in Philadelphia for the first time in the Big Three era.
"I think it's Doug Collins -- and I love Thibs," Rivers said after Boston's morning shootaround. "I've said it since the middle of the year: There's nobody that's changed their team more. You know, I love Thibs, but my vote is Doug Collins, [Portland's] Nate McMillian, and Tom Thibodeau, in that order."
What has Collins done to earn that top spot?
"He's gotten them to buy in," said Rivers. "When you think about where they were last year, where they are this year, with the same personnel, I don't even think there's a choice as far as who's done the best job. In terms of wins and losses -- [Lakers coach] Phil Jackson, [San Antonio's] Greg Popovich, all those guys, Thibs -- but, as far as change, Doug Collins to me is [the choice] hands down."
Collins was effusive in his praise of Rivers as well.
"Earlier in the year, I remember going to Doc and just saying in the preseason, 'I might be talking to you this year. This could be a long year, and I want to make sure I handle it the right way,'" said Collins. "People forget that he had an 18-game losing streak and won [24] games one year before they won an NBA championship. So I always like to consult people I think have been through all the things you can go through in the NBA and can give you some sage advice. Doc has always been on of those guys."
--LOOSE BALLS: MURPHY GETS FIRST FIELD GOAL; KG & ALLEN ON KISS CAM--
* Jeff Green produced one of his finest efforts since coming to Boston, connecting on 7-of-14 shots for a team-high 18 points with four rebounds over 24:15. He said the Celtics' offensive struggles late in the game were easy to explain. "Execution," said Green. "I mean, we're missing shots, plain and simple, easy shots. KG normally makes his shots, Nenad [Krstic], Ray, Paul. We just missed easy shots."
* After missing the first 10 shots he took over his first four games in a Boston uniform, Troy Murphy buried his first shot (a dunk off a feed from Allen) with 9:01 to play in the second quarter. Murphy played only 4:10, but maybe that first bucket starts the process of getting him comfortable.
* During the second half, Garnett and Allen were placed on the arena's Kiss Cam. When Allen spotted it on the JumboTron, he smiled and tipped off Garnett. To the surprise of most, Garnett smiled broadly and rubbed Allen's bald dome to the delight of the crowd.