Rapid reaction after the Indiana Pacers defeated the Boston Celtics 107-100 Monday night at Conseco Fieldhouse in Indianapolis:
The rundown: Searching for Silver Linings | Ooo Baby Baby | Layup Line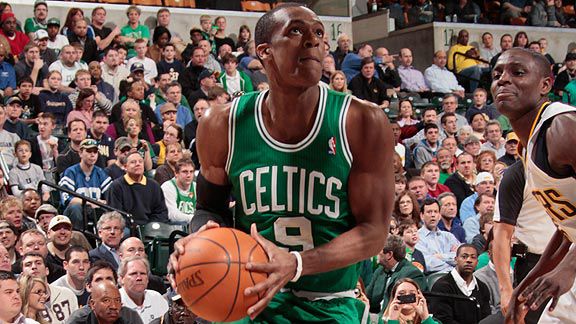 Ron Hoskins/NBAE/Getty Images
Rajon Rondo looked good early, but Boston could never separate from the Pacers.On a night that surely left most frustrated with the Boston's latest head-shaking effort, let's start with the positives: Rajon Rondo returned from a one-game absence (officially: pinkie injury; unofficially: mental vacation) and looked positively Rondo-like for three quarters; the Celtics reached triple figures for the first time in nearly three weeks; and Boston's offense was better than it had been all season on the second night of a back-to-back. Alas, Rondo and Co. fizzled in the fourth; gave up the most points they've allowed in nearly three weeks; and endured their ninth loss of the season on a back-to-back closing on the road (Boston is 3-9 in those situations and have three more back-to-backs looming, two that close on the road).
But we said we were here for silver linings, so here's some Celtics fans can hang their hats on:
--RONDO LOOKS LIKE THE OLD RONDO IN RETURN--
After sitting out Sunday's win in Minnesota, Rondo was scheduled to get another night off Monday in Indiana. But with two days of rest looming, Rondo talked his way into the starting lineup and responded with 22 points on 9-of-13 shooting with eight assists and four rebounds over a team-high 39:30.
Most encouraging was Rondo's first-quarter play: He converted all five shots he took (mostly layups) for 12 points and added a pair of assists as Boston converted 12 of its first 15 shots and built a double-digit lead. Unfortunately, Boston didn't create nearly as much separation as it should have (it also hit 12-of-15 shots to start Sunday's game against Minnesota and led by as much as 25) and Indiana trimmed its deficit to six by quarter's end (then led 57-49 at halftime).
Rondo finished the first half 8-of-10 shooting with 18 points, then turned into a distributor with five third-quarter assists (Boston's only assists of the frame). The only troubling part was that he didn't attempt a shot in the fourth quarter when the game slipped away, and Boston got just one assist from him as the offense fizzled.
But back to the positives: According to HoopData.com, Rondo had attempted only 3.3 shots per game at the rim over his previous 10 games (and 3.4 attempts per game for the month of March, which was down dramatically from 4.5 in November). What's more, Rondo had converted only 40 percent of his shots at the rim his last 10 games (50 percent for March) and clearly needed to get his confidence back attacking the hoop.
Rondo went to the rack nine times Monday, converting seven of those shots, while also getting to the charity stripe for four freebies. What's more, he created for others going toward the hoop, something he hadn't done nearly enough in his previous 10 games (highlighted by the fact that he averaged a mere 2.7 assists per game leading to buckets at the rim during that span, well below his season average of 4.7).
Despite a quiet fourth quarter, Rondo appeared to be the only player willing to hustle in the final moments, corralling a pair of offensive rebounds late with Boston desperate for a last gasp.
As part of his exploits, Rondo (2,832 career assists) shuffled up (appropriately) to No. 9 on the list of the Celtics' all-time assist leaders, leapfrogging Dave Cowens (2,828) on Monday. Next up: K.C. Jones (2,904), but there's a long, long way to go to reach list-topper Bob Cousy (6,945).
--OOO BABY BABY: A NICE NIGHT FOR DAVIS--
His shot selection under the microscope after connecting on 15-of-44 attempts (34.1 percent) for 37 points over his last four games -- including Sunday's cringe-worthy effort in which he missed 11-of-15 shots against Minnesota -- Celtics reserve big man Glen Davis responded by connecting on 7-of-11 for 20 points over 36:10 against Indiana.
Davis made 4-of-6 shots beyond four feet, but saved some of his finest work for around the basket, which he attacked aggressively at times. In the third quarter, he dropped jaws all over Conseco with a beautiful spin move that led to a 180-degree one-handed jam with Roy Hibbert fruitlessly chasing (words alone can't do the highlight-worthy dunk justice). Davis scored nine points in the third frame as Boston erupted for 36 points and led by four going into the final quarter.
Davis added five rebounds and a block, but committed three turnovers.
--LAYUP LINE: KG IN FOUL TROUBLE; C'S QUIET BEYOND THE ARC--
OK, there were only so many positives for Boston in this one. Here's a handful of odds and ends after Indiana's victory on Monday night:
* Kevin Garnett endured a frustrating night due to foul trouble that limited him to 25:21 of court time. He converted only 2-of-4 shots with two rebounds and two steals. Only 13 times in his career has Garnett been limited to four or fewer shots and this was only the second time since 1996. The only other time recently? When he injured his calf in Detroit in December.
* Captain Paul Pierce made 3-of-4 triples, but the rest of the Celtics combined to go 1-for-7 beyond the arc. Boston had converted only 19-of-75 3-pointers (25.3 percent) over its previous six games entering Monday's tilt.
* The Celtics blew a chance to make up ground on the Chicago Bulls, who lost to the Philadelphia 76ers at the United Center. The Celtics and Miami Heat are now tied with matching 51-22 records with nine games to go.