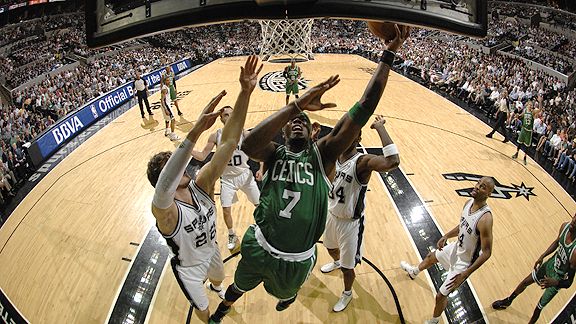 D. Clarke Evans/NBAE via Getty Images
Jermaine O'Neal returned to the court Thursday for the first time since Jan. 12.SAN ANTONIO -- When the Celtics and Jermaine O'Neal sat down to map out a plan of attack for his return to game action, they could have easily given him a couple of extra days of practice time and brought him back on Sunday at the TD Garden against the 26-win Detroit Pistons.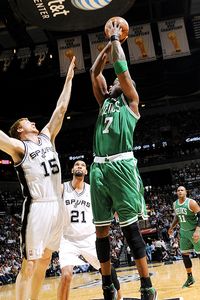 D. Clarke Evans/NBAE/Getty Images
Jermaine O'Neal admitted the hardest part was getting reacclimated to the speed of the game.But what's the fun in that? O'Neal figured if he was going to jump back in the fire, why not pick the spiciest game on the schedule?
So there was O'Neal, back on the floor at the AT&T Center on Thursday night for the first time since Jan. 12, giving a quick tap to San Antonio Spurs big man Tim Duncan, then immediately leaning on the future Hall of Famer to prevent him from establishing post position.
"You don't want to try to find a lesser talent," O'Neal said. "You want to put yourself to the test. We looked at the calendar and this is when we picked to come back. I've always, throughout my career, I've tried to contribute at a high level, so I couldn't have picked a better place to come and challenge what I've been through for the last three months [than] against a good team like San Antonio."
O'Neal's stat line was modest: 2-for-2 shooting with five points, a rebound and an assist over 11:12. He played in two short bursts midway through the first and third quarters, but earned big praise from Celtics coach Doc Rivers each time he came back to the bench.
He didn't block any shots, but he altered a couple of looks and blocked a couple of paths. In general he made things a little bit more difficult for San Antonio on a night that Boston lost its only other true center in Nenad Krstic to a second-quarter knee injury. (Krstic is out at least for the weekend and will need an MRI.)
O'Neal admitted he's still got rust to shake off and said the game came at him a lot faster than he expected, but he was happy with his effort.
"The only surprise that I had was the speed of the game," O'Neal said. "When you're gone for three months, you can simulate playing basketball, doing drills or whatever it may be. None of the conditioning that you can do can really set you up and put you in any great position for what you've got to go through out there. I was really shocked on how fast the game was, considering I've been gone for three months.
"Tony Parker is very fast. Manu Ginobili is very fast. I was just trying to get my speed back. But I looked at what I did today and I've got to get better tomorrow. It was very minimal, very minimal minutes, and you've just got to keep building. I still have more games to get where I need to be and to get in sync with the guys. I feel like the second unit did a great job and that's what we're really going to focus on, giving our starters some rest, and not having these guys play tremendous minutes. We get out there, we get some stops, we score. That's five more minutes for our starters to get some rest."
With Krstic sidelined for at least the next couple of games -- and maybe longer depending on the results of his MRI Saturday in Boston -- the Celtics might need to lean on O'Neal more moving forward. They're impressed with the early returns.
"I told him he came back right on time," captain Paul Pierce said. "We need him. We need these bodies late in the season. Hopefully Krstic is not too hurt and he'll be back in a few days or a week or however long he takes, but we want to be healthy going into the playoffs, bottom line. It's good to get [O'Neal] back in here and he looked good out there. I told him he moved well. You talk about a guy who hadn't played in two or three months. That's a big start."
Added Kevin Garnett: "He looked strong, he looked confident. We [saw] him in practice [Wednesday]. He was back to the J.O., bumping and bruising and dunking the ball. He was powerful. More than ever he has his confidence back, so that's a good sign."
O'Neal, who has appeared in only 18 games this season because of his troublesome left knee, spent a few minutes chatting with reporters, then politely excused himself. He needed to get into the trainer's room and begin treatment on that left knee to ensure no flareups that would prevent him from getting back on the court Friday in Atlanta -- and beyond.
"I felt good," O'Neal said. "I felt strong. I got a little winded a couple of times just because of the pace of the game, but it's like muscle memory. You've got to take the blows, go get the rebounds, challenge shots. Those are things I'm going to get better at. To be honest, the first game back, I feel very positive about it. My teammates are very positive about it. The coaches were [too], so I feel good about [how I played]."