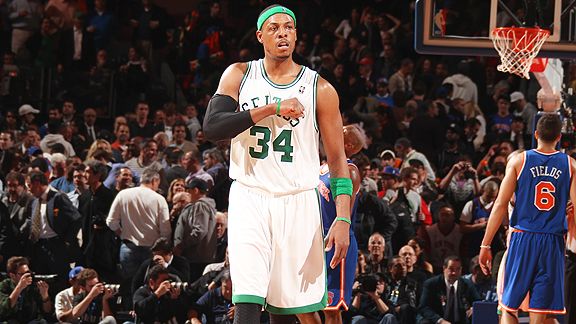 Nathaniel S. Butler/NBAE/Getty Images
Celtics captain Paul Pierce celebrates Boston's win in New York last month.WALTHAM, Mass. -- Celtics captain Paul Pierce wasn't willing to analyze Boston's first-round playoff matchup with the New York Knicks in great detail on Tuesday, but he did express excitement over the idea of the two sides meeting in the opening round of the postseason.
Speaking at an event advocating safe driving outside of the Celtics' practice facility in Waltham, Pierce said the excitement level of a Boston and New York battle could reach that of two other memorable playoff series the Celtics have engaged in in recent years.
"It's going to be a very interesting series," said Pierce. "I know everybody's going to tune in to watch it. I know this is going to be as exciting as probably that series versus the Lakers last year, or even the series we had [two years ago] versus the Bulls. I think it's going to be very exciting for the fans to watch."
Pierce hinted at the rivalry that's long existed between the Boston Red Sox and the New York Yankees, before suggesting a hard-fought playoff series between the Celtics and Knicks could cause some of that tension to spill over onto the basketball court.
"I think it's going to be fun," said Pierce. "You definitely have that rivalry in baseball. Maybe we can spark a rivalry there in basketball. You've got two cities who are close, next to each other, great sports towns. I think it's going to be great for the game."
In an ironic twist of fate, both the Celtics and Knicks will conclude their respective regular seasons against one another in Boston on Wednesday. Celtics coach Doc Rivers elected to hold out starters Pierce, Ray Allen, Kevin Garnett, and Rajon Rondo from Boston's 95-94 overtime loss to the Washington Wizards on Monday, and Pierce said he might sit out of Wednesday's tilt as well.
"I think it was good for the most part," Pierce said of resting against the Wizards. "Right now we're stuck in the third seed... going to see New York, so we don't want to show them all our cards on Wednesday, knowing that we have to play them in a playoff series. If I had to guess, I probably wouldn't play."
The Celtics and Knicks have already squared off three times this season, with Boston emerging victorious in each meeting, although not by much. The average margin of victory in those three games for Boston was just five points, which suggests neither team will have an easy time trying to advance to the second round of the playoffs.
Despite his team's recent struggles, Pierce acknowledged several key distinctions between the postseason and the regular season that should help to give the Celtics an edge.
"Well the focus is basically on one team," Pierce said of the playoffs. "Not as much traveling, you're not playing every day, and with the guys we've got, with the older players we've got, I think that's better for our advantage. We have a few days at home, a few days on the road, no back-to-backs. We can really focus in on one team, and like I said before, our team is really built for the playoffs, so there's definitely an advantage there, in that aspect, as far as the Boston Celtics."
***
As part of an effort advocating against distracted driving, Pierce toured and tested Arbella Insurance's Distractology 101 Mobile Distracted Driving Simulator on Tuesday.
Pierce took his turn in the driver's seat of the state-of-the-art driving simulator, which was designed to give drivers a real-life look at the hazards of driving while distracted. Pierce went through a number of simulations, finishing with one that called for him to text on a phone while still trying to navigate the simulated course. The final simulation ended with Pierce rear-ending a pickup truck while reading a text message aloud to one of the moderators.
"I was just taking a course on driving and trying to drive and text, which, right now, is illegal in Boston... from what I know," said Pierce. "But from my experience -- and I believe I have very good hand-eye coordination -- I can't do it. So it's definitely a learning experience because so many lives are at stake. You're putting your life at stake as well as other peoples' lives at stake when you're distracted while driving."
Pierce commented on the realism of the system throughout the multiple simulations, saying driving schools should look into utilizing such a device.
"This is definitely a good learning tool, not only for myself, but for people, adults, kids, everywhere," said Pierce.
"It was definitely a learning experience. I definitely don't recommend texting while driving, or any other kind of thing that can distract you while you're driving because it can be very hazardous."
Greg Payne is a student intern for ESPNBoston.com